UPDATE 1:30 p.m.: A University of Illinois at Chicago student was arrested Monday in relation to the threats made against students and faculty members at nearby University of Chicago.
According to a statement from UIC, the threats were made only toward the University of Chicago campus — not UIC. However, UIC police has increased its presence on campus.
"We are monitoring this situation closely and are concerned about the impact this has had on our campus and the University of Chicago," UIC Chancellor Michael Amiridis said in a statement.
The UIC student reportedly lives off-campus.
A University of Chicago spokesperson declined to comment on the arrest Monday afternoon.
Original story below
---
After a threat of gun violence, the University of Chicago closed its campus Monday.
According to a statement from the university, school officials received a tip from FBI counterterrorism officials of an anonymous online threat of gun violence deemed to be credible. The threat specifically mentioned the "campus quad" and warned of an incident occurring at 10 a.m. Monday.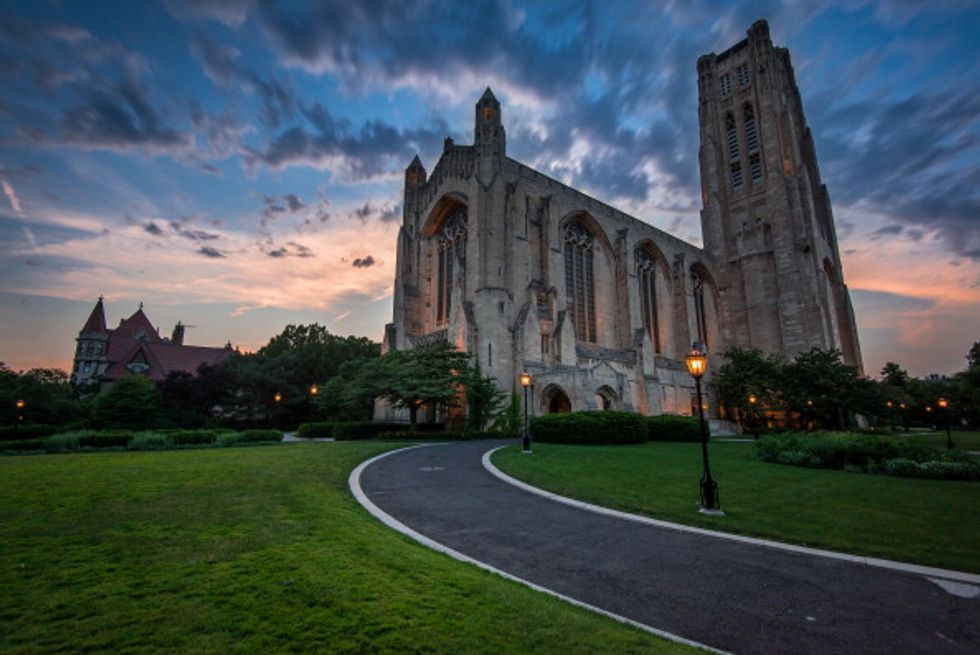 University of Chicago (Matt Frankel/Contributor/Getty Images)
The specifics of the threat were not revealed to the public, but university officials said that, based on the FBI's assessment of the threat, the school's Hyde Park campus would close Monday, according to an email sent to students and obtained by TheBlaze.
Max Freedman, a University of Chicago sophomore, told TheBlaze Monday morning that the campus remained relatively quiet as students were instructed to remain inside their residence halls. After 10 a.m. had passed, Freedman said he and his friends had not heard of any shooting taking place, but the students had not been informed that they were "in the clear."
In the email to students Sunday night, University of Chicago President Robert Zimmer encouraged all university nonemergency staff and faculty and off-campus students to stay away from the campus Monday.
"The threat has to be very credible if the school is acting like this," Freedman told TheBlaze from on campus.
Freedman, 20, said the mention by university of "counterterrorism officials" was worrisome to students. He speculated that because the Obamas' house is within eight blocks of the main campus quad, FBI counterterrorism officials took the lead.
"My friends and I don't really know what to make of that phrasing because usually campus shooting incidents don't get labeled as terrorism when they do happen — let alone before they occur," Freedman said. "I don't know if the threat was more specific than the university let on, or what."
Looking out his dorm room window, Freedman said he didn't see any unusual activity on campus. He said he did see law enforcement officials, but that wasn't necessarily an usual sight on the Chicago campus that boasts a large campus police force.
The University of Chicago Medical Center remained open Monday but with additional security.