CHICAGO (AP) -- The release of squad-car video showing a white Chicago police officer shooting a black teenager 16 times set off a dramatic chain of events, from days of demonstrations to Mayor Rahm Emanuel's firing of the city's police superintendent.
But it's unclear what will happen next.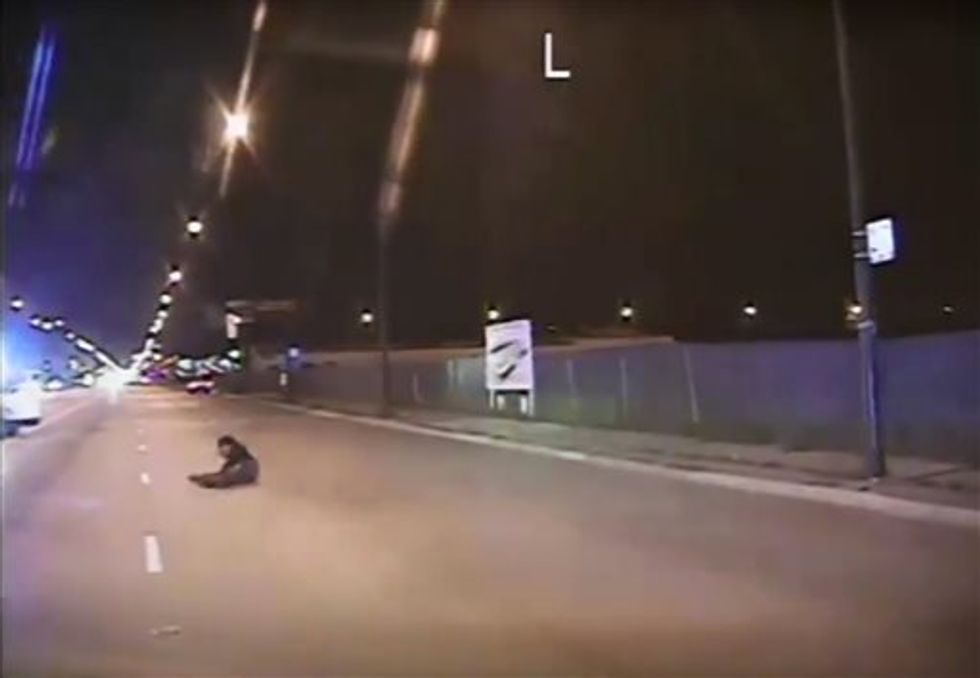 In this Oct. 20, 2014 frame from dash-cam video provided by Chicago Police Department, Laquan McDonald falls to the ground after being shot by officer Jason Van Dyke in Chicago. Van Dyke, who shot McDonald 16 times, was charged with first-degree murder Tuesday, Nov. 24, 2015. (Chicago Police Department via AP)
The U.S. Attorney's Office says it is still actively investigating the case. That raises the possibility that federal officials are looking into authorities' handling of the incident beyond the initial shooting. Activists contend city and police department officials dragged their feet on the investigation and video release and perhaps even sought to cover up what happened.
Here's a look at some unanswered questions about the case and what might be ahead:
INITIAL ACCOUNTS
The video footage of 17-year-old Laquan McDonald's fatal shooting the night of Oct. 20, 2014, contradicts initial accounts police officials gave.
Pat Camden, at the time a police union spokesman, described McDonald lunging at officers before shooting began, while a police statement just after the shooting said McDonald had refused to drop a knife and "continued to approach the officers." Initial media reports based on police information suggested McDonald was killed by a single shot to the chest.
But the video shows McDonald walking down the middle of a four-lane street. He then appears to veer away from police as Officer Jason Van Dyke, who is now charged with murder, opens fire. The video seems to show McDonald with something in his hand. Prosecutors say a 3-inch blade recovered from the scene had been folded into the handle.
In a phone interview Tuesday evening, Dean Angelo Sr., the president of the Fraternal Order of Police Chicago Lodge 7, agreed McDonald didn't appear to lunge. But he also said McDonald did seem to slightly "square his shoulders" toward Van Dyke, which he says Van Dyke may have perceived as a threat.
He said Camden, who is still affiliated with the union but not as a spokesman, is currently declining interviews. He added that he hasn't asked Camden about his initial comments because "one of the investigative agencies wants to talk to him," so it wouldn't be appropriate for the union to question him.
LACK OF AUDIO
The dashcam video of the shooting initially released by the city has no sound, nor do videos released later from other police cruisers at the scene. But they typically should have.
Chicago police cars are set up so audio records along with video, police have said.
Sound is often critical to understanding what's happening and why an officer or suspect acted the way they did, said Ed Primeau, a Michigan-based audio and video forensics expert.
Police spokesman Anthony Guglielmi suggested that the absence of audio was most likely a technological glitch. In an emailed statement, he wrote: "As with any technology, at times software issues or operator error may keep the cameras from operating as they normally should."
But Primeau said it is hard to believe none of the police vehicles had workable audio.
"It's a red flag," he said. "I see it all the time - not just by police, but by people trying to cover things up." Most officers, Primeau said, would want to make sure the video equipment is working properly so "internal affairs or investigators know exactly what was going on."
MISSING VIDEO
Among witnesses who testified before a federal grand jury investigating the shooting was a district manager for a Burger King near the shooting scene.
Jay Darshane told reporters that several police officers entered his restaurant and viewed surveillance video. Police spent almost two hours going through the footage, Darshane said, and staff determined later that around 90 minutes of footage had been erased. He said the deleted portions included the timeframe when McDonald would have been shot.
The camera angle would not have caught the actual shooting, but it could have provided clues about how matters escalated or how officers treated the scene and witnesses afterward.
Cook County State's Attorney Anita Alvarez, who approved the murder charge against Van Dyke, said that forensic testing was done on the Burger King video as part of the investigation, and that no tampering was found. In a statement, a spokesman for the independent police review board also said it had "no credible evidence at this time that would cause us to believe CPD purged or erased any surveillance video."
ONGOING INVESTIGATION
The U.S. attorney's office has not specified what issue it's investigating.
If it found evidence of a cover-up, any indictment would most likely involve a charge of obstruction of justice, which carries a maximum 20-year prison term and $250,000 fine on each count.
Another possibility is that prosecutors are looking into whether to charge Van Dyke with violating McDonald's civil rights. Because the shooting resulted in the teen's death, Van Dyke could face a maximum life sentence if convicted of such a federal charge.
Van Dyke's attorney, Dan Herbert, maintains that Van Dyke feared for his life, acted lawfully and that the video does not tell the whole story.
On Tuesday, Illinois Attorney General Lisa Madigan requested that the U.S. Department of Justice investigate whether the Chicago Police Department's practices violate federal and constitutional law. Madigan in a letter to U.S. Attorney General Loretta Lynch asked that the investigation weigh, among other things, the department's use of deadly force and whether a pattern or practice of discriminatory policing exists.