PONTIAC, Mich. (AP) -- Two men a sheriff labelled "cowards" stole a cellphone from a suburban Detroit man with cerebral palsy, beat him, recorded the assault on his cellphone and posted it to his Facebook page, authorities said.
Nikey Dashone Walker and Shadeed Dontae Bey were arrested following the Sunday morning attack in a stairwell at the 23-year-old victim's apartment complex in Pontiac, the Oakland County sheriff's department said.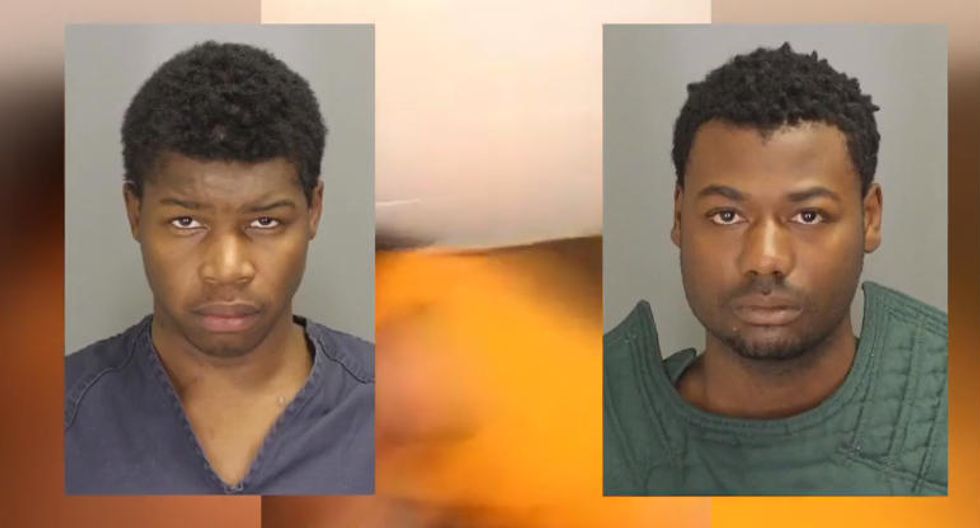 Image source: WJBK-TV
"Preying on those in our community who suffer from disabilities will not be tolerated and furthermore, to have the audacity to post their actions on the victim's page is beyond belief," Sheriff Michael Bouchard said in a statement. Police have released video of the attack.
Authorities have not released the name of the victim, but Frankie Santana, a resident at the complex, told WJBK-TV that he was the man who was assaulted.
"Why would they do that and put it on Facebook? That's how you are going to get caught real quickly," Santana said.
Bouchard credited the work of his investigators for bringing "these two cowards to justice."
The 20-year-old suspects were arraigned Tuesday on charges including assault with intent to do great bodily harm less than murder, and ordered held on $25,000 bond ahead of a Dec. 8 court date. If convicted, they could be sent to prison for 10 years.
The men didn't yet have lawyers on record to comment on the case, according to a check of 50th District Court records on Wednesday.
Santana said the men spit and stomped on him, injuring an eye, but that "nothing is broke." He said he had seen one of the men before, but suspected that they snuck into the apartment complex.
"I crawled through the hallway and knocked on someone's door and that's how I got help," Santana told the TV station.
Investigators responding to a report of the assault said they were told the suspects also posted the video to their own Facebook pages. The victim's phone, which was taken while he was inside his apartment, was found at the home of one of the suspects, the department said.
The Associated Press sent a message for the sheriff's department spokesman for information on how the men entered Santana's home.
Cerebral palsy is a brain disorder that can affect movement, posture and muscle coordination.