A distrust of the U.S. among Iraqis is growing stronger — and it stems from a deep-seated suspicion that America is helping the Islamic State.
According to the Washington Post, several Iraqis have reported seeing videos of U.S. helicopters airdropping weapons to the Islamic State militants, and others have reported seeing it in person.
"It is not in doubt," Mustafa Saadi, commander of one of Shiite militias, said.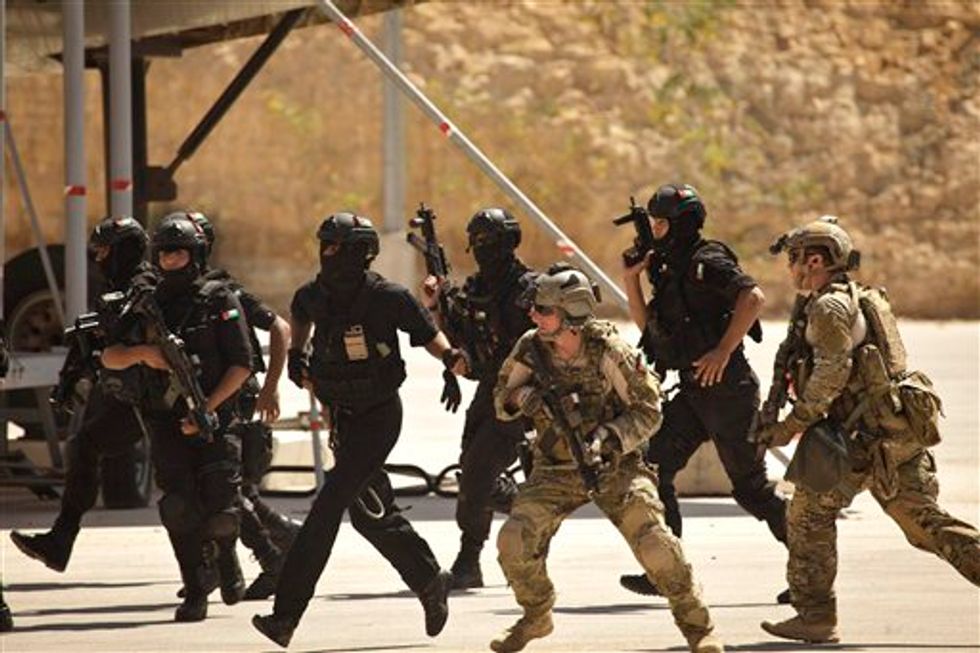 Special operations forces from Jordan and the U.S. conduct a combined demonstration with commandos from Iraq. Defense Secretary Ash Carter told Congress that the U.S. military will deploy a new special operations force to Iraq to step up the fight against Islamic State militants. (AP Photo/Maya Alleruzzo)
Saadi told the Washington Post that his friend saw American helicopters dropping bottled water to Islamic State militants. Saadi contended that the Islamic State is "almost finished."
"They are weak. If only America would stop supporting them, we could defeat them in days," he said.
The idea that the U.S. is aiding the Islamic State is widespread among the Sunni-Shiite divide, and it illustrates the troubled and untrusted relationship the U.S. has with Iraqis in the region.
However, according to U.S. military officials, the idea that the country is in cahoots with the Islamic State is absurd.
"It's beyond ridiculous," Col. Steve Warren, the military's Baghdad-based spokesman, told the Washington Post. "There's clearly no one in the West who buys it, but unfortunately, this is something that a segment of the Iraqi population believes."
(H/T: Washington Post)