CNN's Carol Costello pressed Donald Trump spokeswoman Katrina Pierson on the air Wednesday over the defiant GOP candidate's claim that Muslims celebrated in New Jersey following the 9/11 attacks. While Trump's initial "thousands and thousands" of Muslims claim appears to be false, other reports have surfaced suggesting small number of Muslims were witnessed celebrating.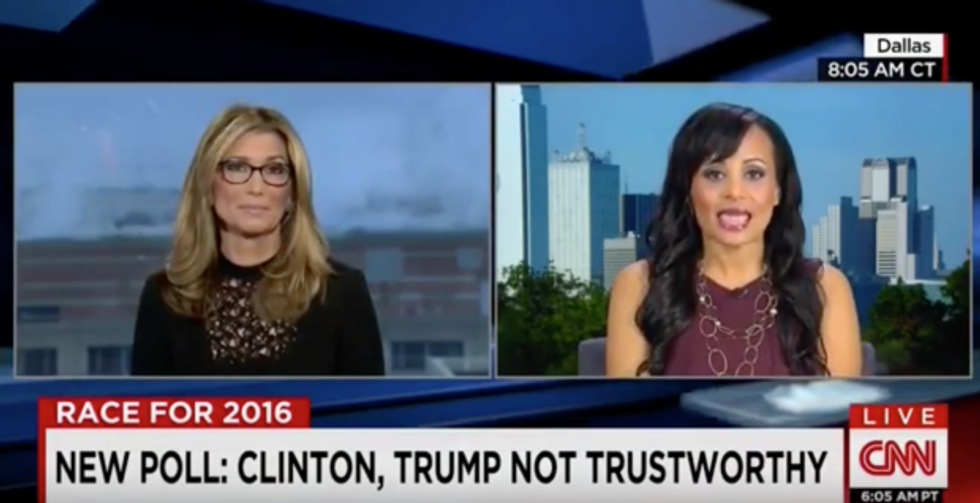 CNN
The distinction is what drove the tension during the interview as Costello pushed for a retraction while Pierson asserted that the new developments have bolstered Trump's claim.
"No one remembers seeing thousands and thousands of Muslims celebrating in the United States after 9/11," Costello said
"You guys changed it and made it out of quantity instead of quality," Pierson shot back.
"Doesn't quanity matter? Doesn't six people celebrating differ from thousands and thousands?" Costello replied.
Pierson then repeated that Trump was merely talking about what he "saw," and wasn't pulling his information from an "intelligence report."
At the end of the interview, Pierson asked Costello her own question.
"You believe it happened, right?" she asked.
After letting out a sigh of apparent frustration, Costello stated, "thousands and thousands of Muslims were not celebrating after 9/11."
---