The saga of Ahmed Mohamed — the Texas student arrested in September after bringing a clock to school that looked like a bomb — is well known.
In the wake of his ordeal, the 14-year-old drew sympathy the world over, met President Barack Obama and moved out of the country with his family — who've since demanded $15 million from the school district and the city of Irving over alleged Islamophobia.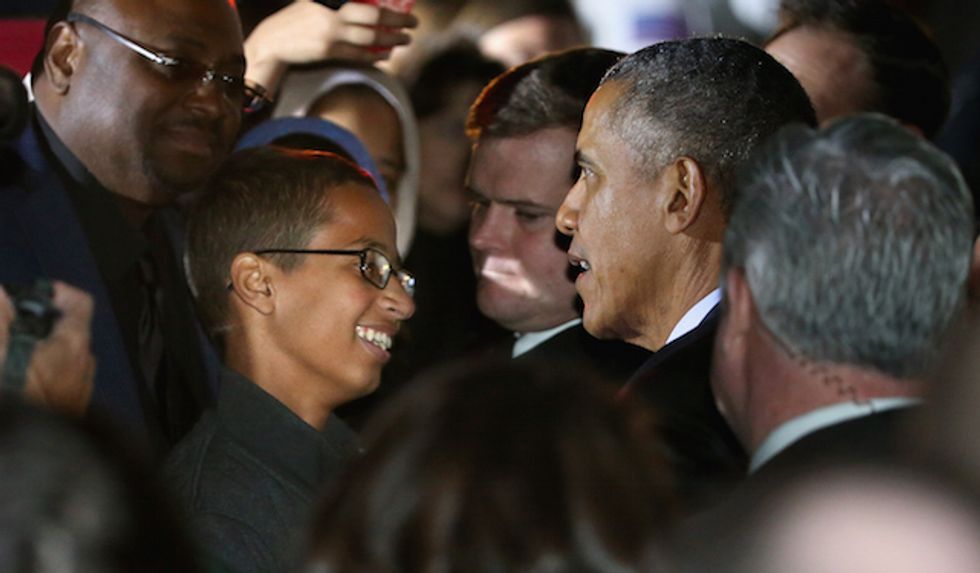 President Barack Obama talks with 14-year-old Ahmed Mohamed during the second Astronomy Night on the South Lawn of the White House Oct. 19 in Washington, D.C. (Chip Somodevilla/Getty Images)
What isn't well known is the story of Amena Jamali, an 18-year-old who also attended MacArthur High School in Irving. Last year's valedictorian, Jamali has nothing but good things to say about her experience as a Muslim at the same school Mohamed attended.
Not that she wasn't nervous as a freshman walking the halls for the first time dressed in traditional Muslim garb.
"This sort of uncertainty, 'Do I really belong in this country after everything that's happened?'" Jamali explained to KDFW-TV. "But Mac really put it into me that no matter what other people think, I do belong here ... I am an American, and I'm proud to be one."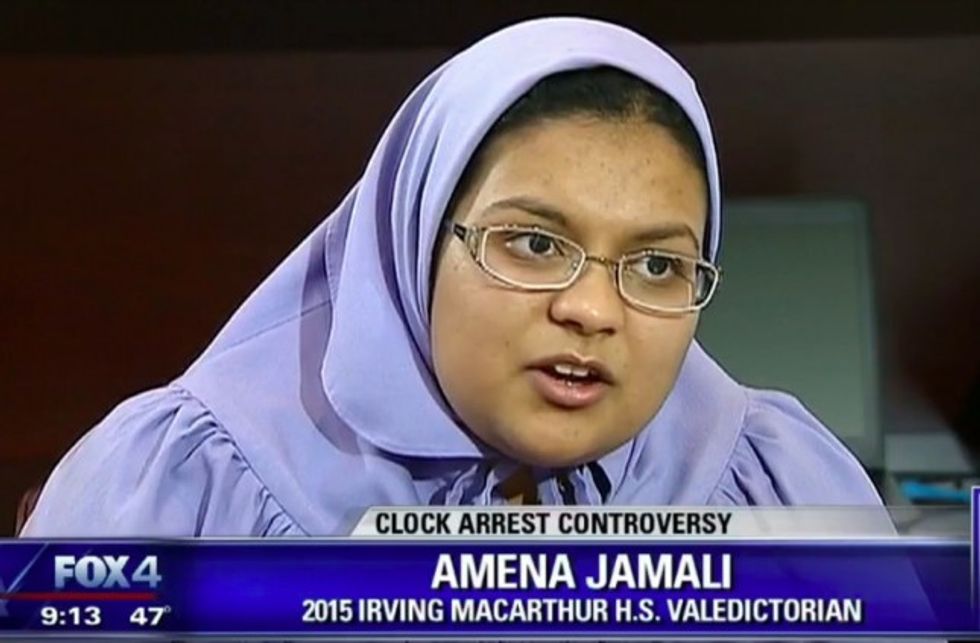 Image source: KFDW-TV
In fact, Jamali said both teachers and administrators went out of their way to accommodate the practice of her faith.
"How some of my teachers had given me permission to go out of class, how the school gave me a pass for that, how some teachers actually delayed the UIL bus from leaving our tournaments just so I would have time to finish praying," she recalled.
Jamali told KDFW a number of other Muslims attended MacArthur with her and none of them complained about poor treatment.
All of which left her feeling bad for those she knew at the school after the Mohamed clock incident. Now a University of Dallas student, Jamali said in October that she sent principal Dan Cummings an encouraging email and read part of it to KDFW: "Mac is the reason that I do not fear prejudice."
"Mac is not an intolerant place," Jamali added to the station, "and I've had four years to test that hypothesis and come out saying that I'm very proud to have been a MacArthur Cardinal."
Mohamad's uncle had no comment for KDFW regarding its story about Jamali.
—
Follow Dave Urbanski (@DaveVUrbanski) on Twitter