© 2023 Blaze Media LLC. All rights reserved.
Obama Calls San Bernardino Attack 'Terrorism,' Endorses Controversial Gun Control Provisions
"What could possibly the the argument for allowing a terror suspect to buy a semi-automatic weapon?"
President Barack Obama on Sunday night asserted that the San Bernardino shooting was a terrorist act, called for gun control, and asked for tolerance toward American Muslims.
"They had stockpiled assault weapons, ammunition, and pipe bombs, so this was an act of terrorism designed to kill innocent people," the president said during a prime-time Oval Office address.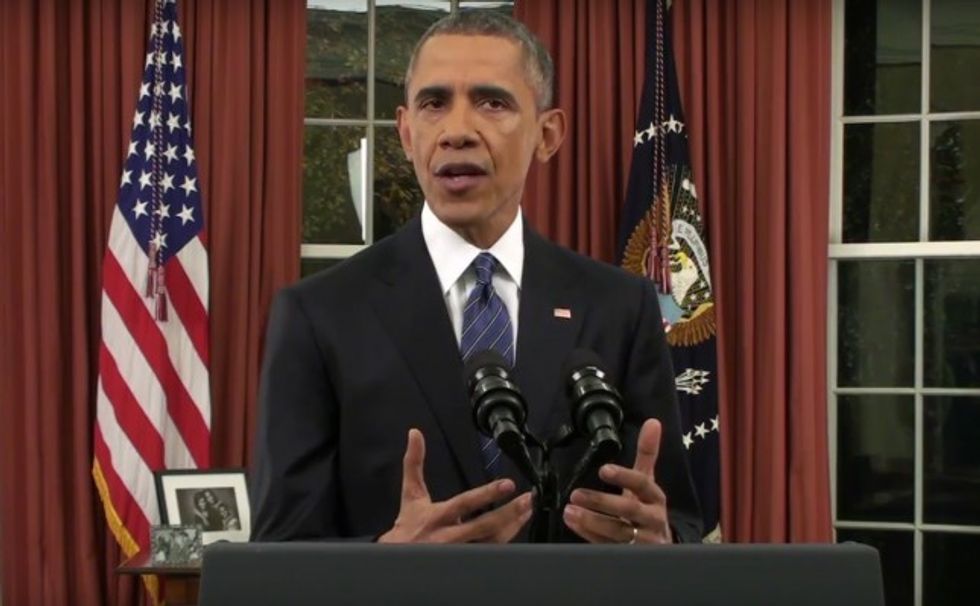 Image source: YouTube/WhiteHouse.gov
Obama focused on the evolving terrorist threat and how to keep the country safe, but did not announce a new policy: "The threat of terrorism is real, but we will overcome it."
The FBI officially announced the shooting in San Bernardino, California, was a terrorism investigation. Obama and other administration officials had been reluctant to refer to the shooting – which killed 14 at a social service facility for the disabled – as terrorism.
The shooters, Syed Farook, 28, and Tashfeen Malik, 27, both Muslims, were killed in a shootout with police. Federal and local law enforcement officials are still trying to determine their motives and how the couple became radicalized.
"So far, we have no evidence that the killers were directed by a terrorist organization overseas or that they were part of a broader conspiracy here at home, but it is clear that the two of them had gone down the dark path of radicalization, embracing a perverted interpretation of Islam that calls for war against America and the west," Obama said.
The speech also comes less than a month after the Islamic State terrorist attack on Paris which killed 130. Obama had insisted in an interview that aired close to the time of the Paris massacre that the Islamic State has been contained.
"The terrorist threat has evolved into a new phase. As we've become better at preventing complex attacks like 9/11, terrorists turn to less complicated acts of violence like the mass shootings that are all too common in our society," Obama said. "It is this type of attack that we saw at Fort Hood in 2009, in Chattanooga earlier this year and now in San Bernardino. As groups like ISIL grew stronger amidst the chaos of war in Iraq and Syria and as the Internet erases the distance between countries, we see growing efforts by terrorists to poison the minds of people like the Boston Marathon bombers and the San Bernardino killers."
Since the day of the attack, the president' s primary focus was almost singularly on gun control, which has drawn steep criticism. The Sunday speech was about terrorism more broadly, but also hit gun laws.
"There are several steps that Congress should take right away. To begin with, Congress should act to make sure no one on a no-fly list is able to buy a gun," Obama said. "What could possibly be the argument for allowing a terrorist suspect to buy a semiautomatic weapon?"
He added, "We also need to make it harder for people to buy powerful assault weapons like the ones that were used in San Bernardino."
This is only the third time Obama has given an Oval Office address, an event reserved for major topics. The president delivers Oval Office addresses from behind his desk. But Obama instead delivered the address standing behind a podium in the Oval Office with his desk and the American flag behind him.
Obama said Muslims around the world need to root out radicalization but that Americans also have a role to play.
"It is our responsibility to reject religious tests on who we admit into this country. It's our responsibility to reject proposals that Muslim-Americans should somehow be treated differently. Because when we travel down that road, that kind of divisiveness, that betrayal of our values plays into the hands of groups like ISIL," Obama said.
He added, "Muslim-Americans are our friends and our neighbors, our co-workers, our sports heroes, and, yes, they are our men and women in uniform who are willing to die in defense of our country."
Here's Obama's address; it begins at the 28:50 mark:
This story has been updated.
The Associated Press contributed to this story.
Want to leave a tip?
We answer to you. Help keep our content free of advertisers and big tech censorship by leaving a tip today.
more stories
Sign up for the Blaze newsletter
By signing up, you agree to our
Privacy Policy
and
Terms of Use
, and agree to receive content that may sometimes include advertisements. You may opt out at any time.