The presence of Vermont Sen. Bernie Sanders in the 2016 Democratic presidential race has pushed Hillary Clinton even farther to the left in order to appeal to her base, Brian Rogers, the newly minted executive director of America Rising Squared said.
Rogers, a longtime communications strategist for Arizona Sen. John McCain, was recently tapped to head the nonprofit, policy-focused wing of the political action committee America Rising.
"We have a socialist running strong in the Democratic party," he said. Sanders' appeal with a chunk of Democratic voters, as well as the Internet denizens who voted him "Person of the Year" in Time's online readers' poll, has put Clinton on the defensive, Rogers argued.
"It says that the base of the Democratic Party has shifted dramatically left, and she is having to backtrack and I think take some positions on key economic issues which are fundamentally out of step with the mainstream American public," he said.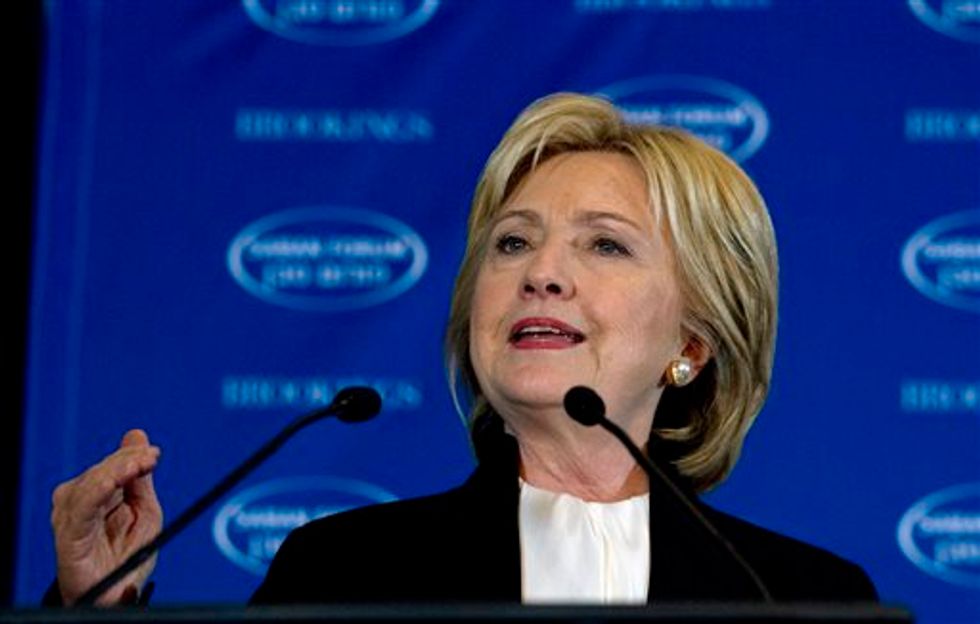 Democratic presidential candidate Hillary Clinton speaks at Saban Forum 2015 in Washington, Sunday, Dec. 6, 2015. (AP/Jose Luis Magana)
America Rising is mostly focused on opposition research about Democratic front-runner Clinton, and America Rising Squared will bring the PAC's "trademark aggressiveness" on politics to the policy side, Rogers said.
"Anybody can look around the world and see the consequences of the president's failed leadership, and Secretary [of State] Clinton along with him every step of the way," he said.
Rogers, who worked on McCain's 2008 campaign and most recently in the Arizona senator's Capitol Hill office, said he believes America Rising Squared has an important role to play in the coming year of the presidential race.
"It's very important that conservatives stay aggressive on these policy fights over the next year," Rogers said. "Because we see what the consequences of not doing that are."