Archaeologists say they can't figure out the design engraved into an ancient potsherd found in soil from Jerusalem's Temple Mount. So they have turned to the public asking what image they think its ancient creator was trying to portray.
Here's a photo of the artifact: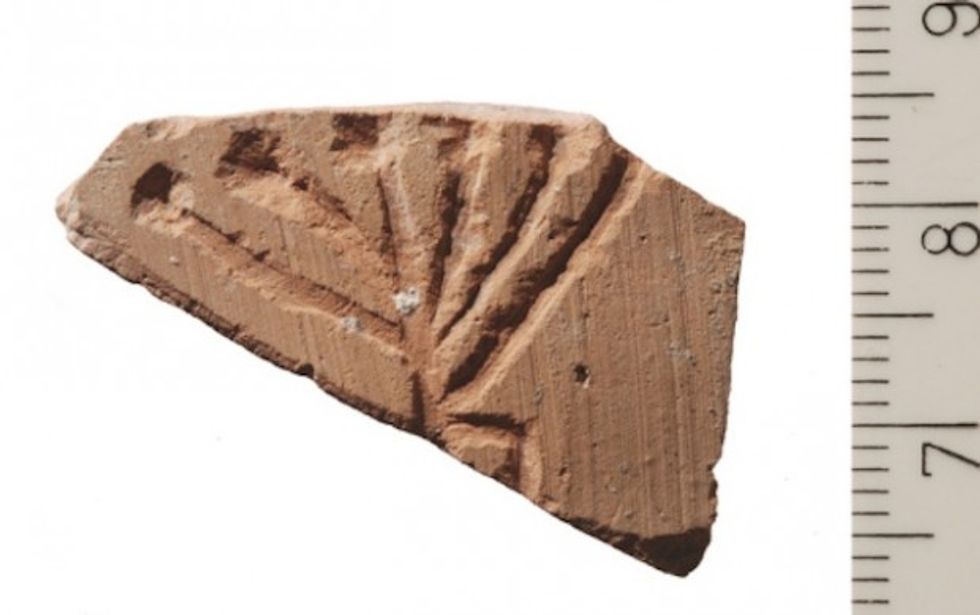 The mystery potsherd. (Photo: Temple Mount Sifting Project)
The artifact — believed to date to the Byzantine period — was found three years ago in soil from the Temple Mount once secretly dumped by Islamic authorities who run what is the most holy site in the Jewish faith and the third holiest in Islam, after Mecca and Medina in Saudi Arabia.
The Temple Mount Sifting Project, an organization dedicated to sifting through the archaeologically rich rubble, posted the appeal for help, asking, "Want to help decipher an archaeological mystery?"
The Sifting Project wrote:
A very interesting incised design appears on an ancient potsherd found in the sifting of the soil from the Temple Mount. Is it the Temple Menorah? Some kind of floral design? Something else? How can we date this potsherd? When was the incision done? By whom and for what purpose? If it is a menorah, what can we learn from this artifact?
"All these questions are currently being debated by the archaeologists studying this potsherd. We welcome your suggestions," the organization added.
The Jerusalem Waqf Islamic trust 15 years ago secretly moved hundreds of truckloads of earth bulldozed from the Temple Mount site, an act that was decried by Israelis who accused the Islamic authority of trying to erase the biblical — and thus Jewish — history from the site and by archaeologists livid at the ham-fisted handling of archaeological artifacts.
Several significant objects have been discovered in the Temple Mount topsoil by volunteers, including a 3,000-year-old seal dating to the eras of Kings David and Solomon found in September by a 10-year-old Russian tourist. That, and other discoveries, belie Palestinian assertions rejecting the Jewish historical and biblical connection to Jerusalem, a city they claim as the capital of a future Palestinian state.
The Sifting Project is run by the City of David Foundation and Bar-Ilan University and invites tourists to help comb through the 400 truckloads of dirt dumped in a valley outside the Old City of Jerusalem in 1999 by the Islamic trust.