RIVERSIDE, Calif. (TheBlaze/AP) — The man who purchased two high-powered rifles used in the San Bernardino massacre was more than just a friend to the gunman — he was also a relative.
Enrique Marquez, who legally bought the weapons at least three years ago, and gunman Syed Rizwan Farook had a sister-in-law in common, according to marriage records. Marquez, a longtime friend of Farook who grew up next door in Riverside, became family last year when he married that woman's sister. Both women are from Russia.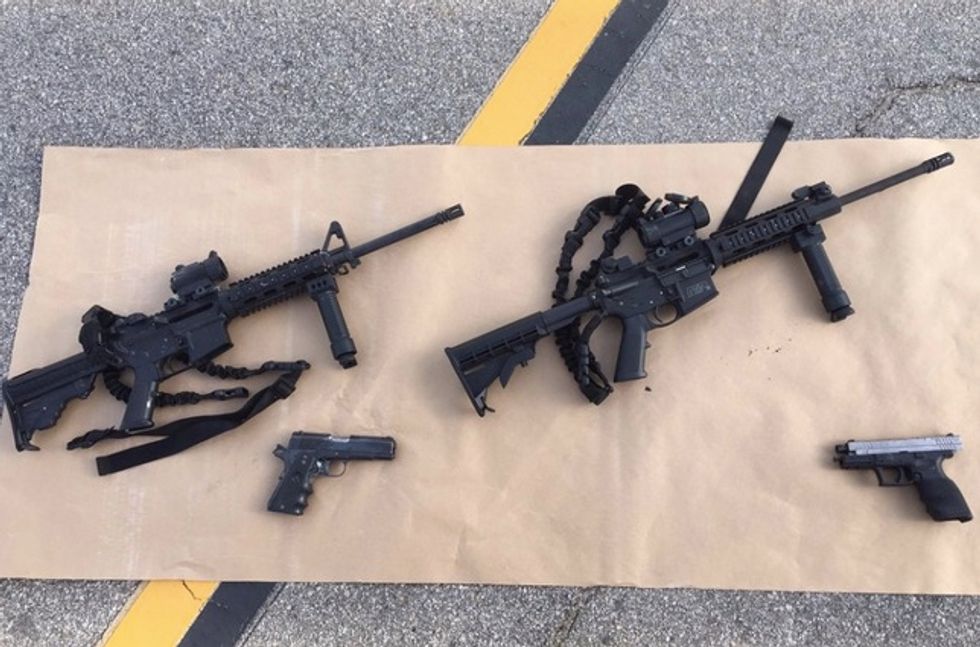 Image source: San Bernardino County Sheriff
Farook, 28, a public health inspector, and his wife, Tashfeen Malik, 29, used the guns to ambush his colleagues Dec. 2 at what was supposed to be a festive annual meeting of county employees, killing 14 people and wounding 21. The couple, who left behind a 6-month-old daughter, were killed hours later in a shootout with police.
The FBI has labeled the killings a terrorist attack and investigators are also trying to determine if Farook had abandoned plans to launch an attack in 2012, according to two people familiar with the investigation who were not authorized to discuss the matter publicly and spoke on condition of anonymity.
Federal authorities questioned Marquez, 24, after searching his mother's Riverside house over the weekend, but have not charged him with a crime. They are still trying to determine how the couple got the weapons.
Marquez told investigators that he and Farook planned an attack in the United States in 2012 but never followed through, according to one law enforcement official briefed on the investigation.
That account was confirmed by Idaho Sen. Jim Risch, a Republican who sits on the Senate Select Committee on Intelligence. Risch said Marquez and Farook "were plotting an actual attack" that year, including purchasing weapons, but became apprehensive and shelved the plan because of law enforcement activity and arrests in the area.
Marquez, whose security guard license in California expired last year, had worked at Wal-Mart since May, but has since been fired, spokesman Brian Nick said.
Documents show that ties between Marquez and Farook go deeper than what authorities revealed when they said Marquez was a longtime friend. The two were not only neighbors, but were both listed as witnesses on the marriage license when Farook's brother, Raheel, married in 2011.
Three years later, Raheel Farook and his wife, Tatiana, were witnesses at Marquez's nuptials with Mariya Chernykh, Tatiana's sister, according to Riverside County records.
The ceremony took place at the Islamic Society of Corona-Norco, according to the marriage license, though the mosque's facility manager denied it occurred there.
Azmi Hasan said Wednesday that he understood Marquez had converted to Islam, but said he was not a member of that mosque. Marquez had only worshipped there three to four times over seven years, Hasan said. He hadn't seen Marquez in about four years.
Viviana Ramirez, 23, a fellow student with Marquez at Riverside Community College, told the Los Angeles Times they bonded over a mutual desire to join the military. Raheel Farook is a Navy veteran, serving from 2003 to 2007 and earning the Global War on Terrorism Expeditionary Medal and the Global War on Terrorism Service Medal, among other awards.
Ramirez said Marquez rarely spoke about his family or his marriage but is friendly once he knows someone.
Tommy Lopez, who said he became friends with Marquez after meeting at a punk rock show seven months ago, said he never talked about his wife and was not religious.
He last saw Marquez in the past month or so when Marquez fell asleep at a friend's house. Lopez and others stacked beer cans on his body.
"When he woke up he just started laughing," Lopez said. "He was a pretty laid-back guy."
Right after the shootings, Marquez called his mother to say he was safe, but that he wouldn't be coming home, neighbor Lorena Aguirre said. He later checked into a mental health facility. It's unclear where he is now.
Marquez and Chernykh listed their address at the same Corona home where Raheel and Tatiana Farook live.
The Russian sisters came to the United States on visas for work or study exchange programs, according to a federal official who requested anonymity. The official was familiar with the visas, but not authorized to speak publicly.
The FBI has not tied any Farook family members to the attack.
Contributing to this report were AP reporters Eric Tucker and Tami Abdollah in Washington, Amanda Lee Myers in Los Angeles and Brian Skoloff in San Bernardino.
—
Follow Dave Urbanski (@DaveVUrbanski) on Twitter