A Black Lives Matter protester went on MSNBC Thursday to call for the defunding of the Chicago Police Department in the wake of documents that show discrepancies between police officers' accounts and the dashcam video of the 2014 killing of a black teenager.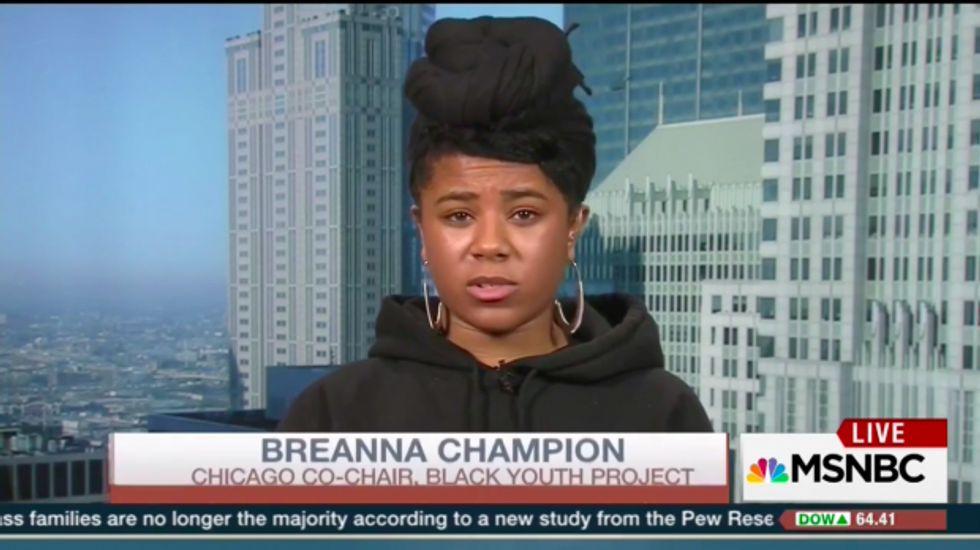 Black Lives Matter activist Breanna Champion on MSNBC Thursday. (Image source: YouTube)
Breanna Champion, the co-chair of Black Youth Project 100, shared her demand while also echoing the call from many protesters that Chicago Mayor Rahm Emanuel resign his post.
"So getting Mayor Rahm Emanuel to resign is definitely not the main goal of the movement right now," Champion said. "In Chicago, police receive 40 percent of our city's budget to remain operational — that is completely unheard of and unacceptable."
The activist went on to make this demand: "One of our major demands is that police be defunded and that money, used to fund police, be used to fund black futures and be used to fund our communities and things that we need."
According to the Chicago clerk's office, the city's proposed 2016 budget assigns 38 percent of its revenue to the police department.
Champion went on to say that she thinks it's "important" that the Justice Department investigate the Chicago Police Department but doesn't believe that's enough.
"I believe that it'll bring national attention to our efforts, but it's not going to — we still have a lot of organizing work to do on the ground," she said.
Champion told MSNBC to expect "young folks will continue to protest" and continue calls for Emanuel's resignation. In addition, she said that the city needs to rethink how it uses its money, "especially for young, black folks in Chicago."
"You can expect to see more protests, expect to see us show up at the polls — there are a few things you can expect from young folks in Chicago," Champion said.
Watch the MSNBC interview below:
—
Follow Tré Goins-Phillips (@tregp) on Twitter