JEFFERSON CITY, Mo. (TheBlaze/AP) — A state legislator is proposing that student athletes should lose their scholarships if they go on strike, a response to a threat by University of Missouri football players not to play over criticism of the administration's handling of campus racial discrimination complaints.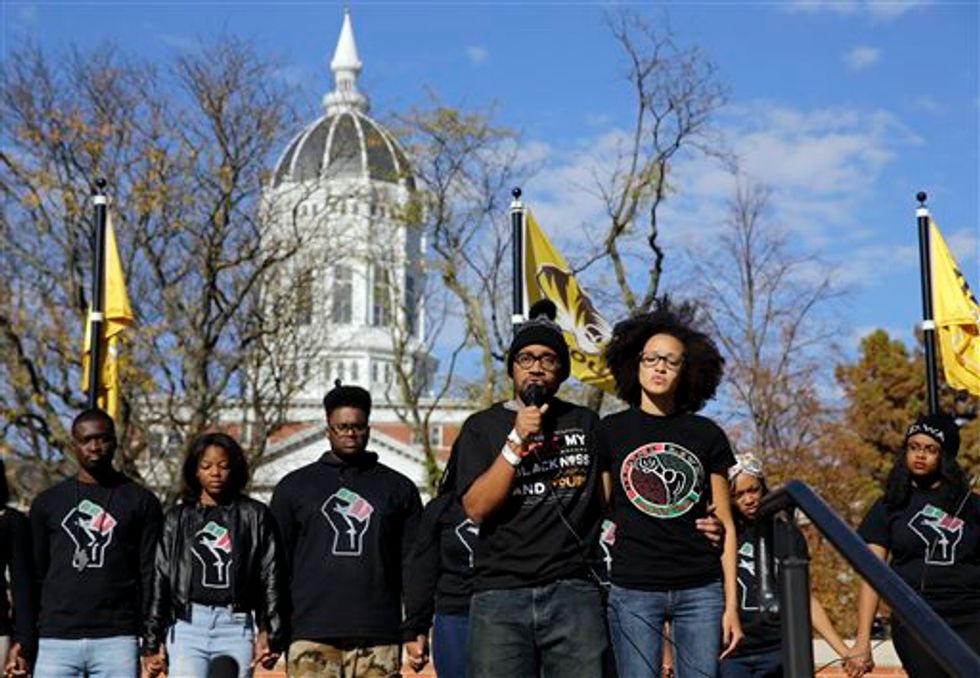 Jonathan Butler, front left, addresses a crowd following the announcement that University of Missouri System President Tim Wolfe would resign Monday, Nov. 9, 2015, at the university in Columbia, Mo. Butler has ended his hunger strike as a result of the resignation. (AP Photo/Jeff Roberson)
The bill Republican Rep. Rick Brattin proposed last week in the Missouri House would strip scholarships from any athlete who "calls, incites, supports or participates in any strike." Colleges and universities would be required to fine coaching staff who encourage or enable such student protests.
"That is state money. We can, as a Legislature, make sure the money is being used wisely," Rep. Kurt Bahr, who is co-sponsoring the bill, told the St. Louis Post-Dispatch.
University of Missouri Department of Athletics spokesman Ryan Bradley didn't immediately respond Monday to requests for comment from The Associated Press.
Brattin also wasn't immediately available to comment, but co-sponsor Rep. Kurt Bahr said his goal in supporting the bill is to show that some state lawmakers don't approve of how University of Missouri administrators handled student unrest. Bahr said he hopes it fosters discussion between the Legislature and university leadership.