The majority of Americans "balk" at Republican presidential front-runner Donald Trump's proposal to ban all Muslims from entering the Untied Sates, a new Monmouth University poll released Tuesday found.
According to the poll, just 26 percent of Americans support the idea, while 67 percent oppose it. The majority of Republicans, Democrats and independents were found to oppose the billionaire businessman's proposal.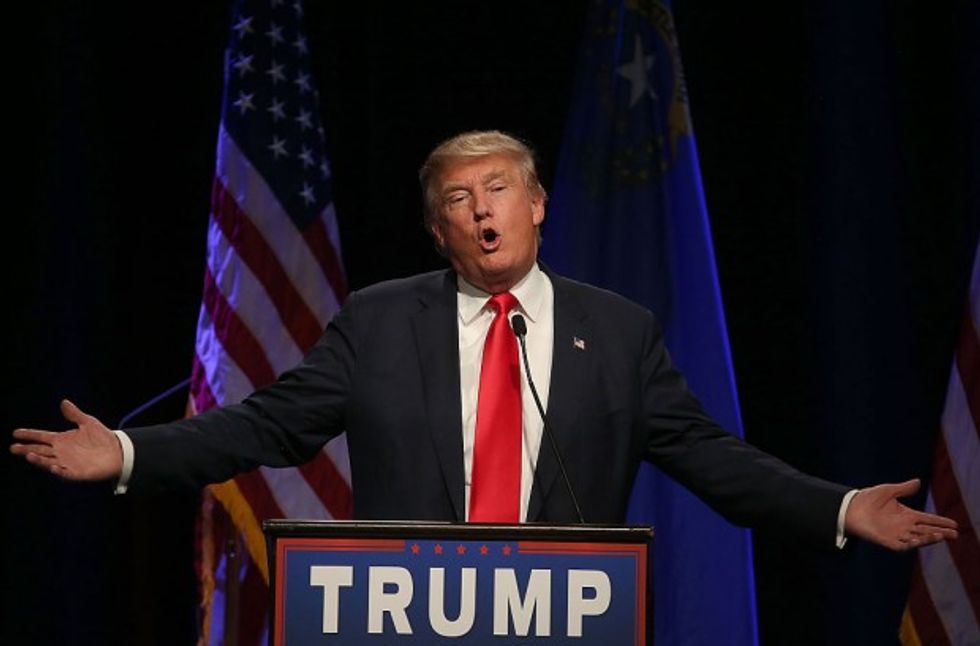 Donald Trump speaks during a campaign rally at the Westgate Las Vegas Resort & Casino Monday. (Getty Images/Justin Sullivan)
In fact, the poll found that most of the people who support Trump's proposal are those who already support the real estate tycoon for the Republican nomination — 61 percent of Trump backers agree with the plan, while 29 percent oppose. Overall, among non-Trump-supporting Republican and Republican-leaning voters, 65 percent said they oppose Trump's plan.
In addition, the majority of Americans are found to believe that radicalized U.S. citizens pose a greater threat to the homeland than do terrorists who infiltrate U.S. borders — 46 percent to 36 percent, with 13 percent saying that both pose an equal threat.
Still, 62 percent of registered voters said the U.S. government is not doing enough to thwart a future terrorist attack on U.S. soil, compared to only 31 percent who said the government is doing enough. When it comes to combating the Islamic State, 69 percent of registered voters said the government is not doing enough. A majority, 57 percent, also support sending U.S. ground troops to the Middle East to fight the Islamic State.
Only 41 percent of registered voters said Trump is saying the "things that need to be said," while 47 percent said he is "making things worse." Along party lines, the disparity was telling: 68 percent of Republican said Trump is saying the right things, while 78 percent of Democrats said he is making things worse.
The survey of 1,003 voter-age adults conducted between Dec. 10-13 had a margin of error of +/- 3.1 percentage points. Among the 856 registered voters, the margin of error was +/- 3.4 percentage points.
—
Follow the author of this story on Twitter and Facebook:
[facebook //www.facebook.com/plugins/like.php?href=