Ryan Douglas did not mince words — he says 14 years ago, he had a president.
In a viral Facebook post, the former soldier shared a few photos of former President George W. Bush visiting with injured veterans and bringing a turkey meal to active duty soldiers. And although he made mistakes, Douglas said, he owned up to those errors.
"[Fourteen] years ago, I had a President who was proud to be an American and who shared that pride with the people," the veteran wrote. "Today, I have an eloquent but petulant schoolchild pretending to be a leader. On the worst day in American history since Pearl Harbor, I had a President who told the world that America will not bow down. Today, I have a charlatan snake oil salesman who bows to my enemies."
"But 14 years ago, I had a President," he continued.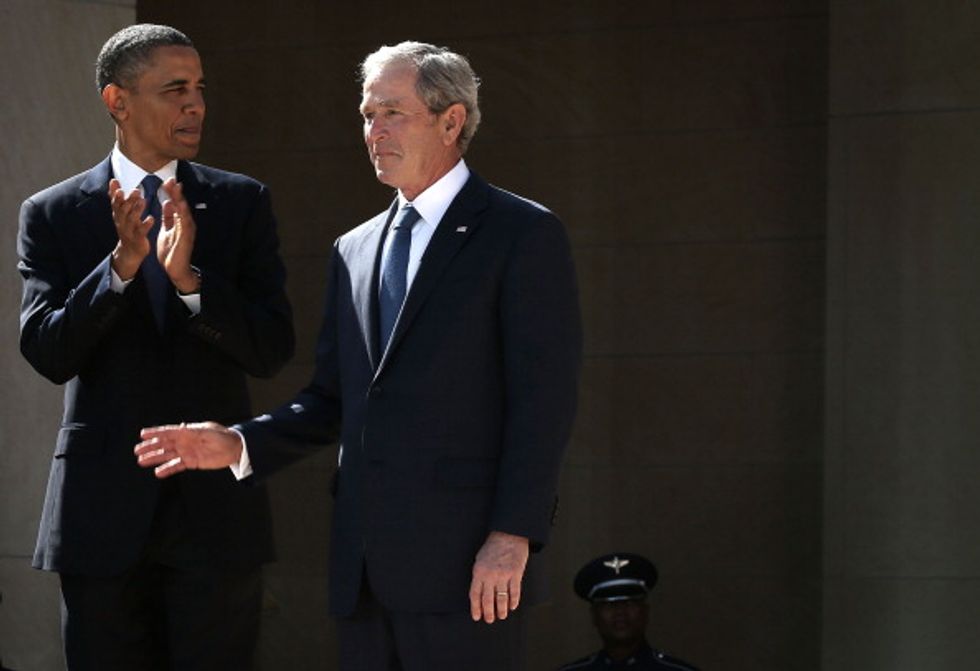 DALLAS, TX - APRIL 25: U.S. President Barack Obama (L) and former President George W. Bush (R) arrive at the opening ceremony of the George W. Bush Presidential Center April 25, 2013 in Dallas, Texas. (Photo by Alex Wong/Getty Images)
When Bush was in office, the former solider said he was "proud to take the Oath of Enlistment" and praised him for sharing "the sorrow of the nation instead of blaming the nation for the heinous deeds of others."
The post was initially published on Facebook on Sept. 11, but his message started garnering national attention on Monday.
Read the entirety of Douglas' heartfelt message below.
(H/T: IJR)