Donald Trump's Wednesday night appearance on "Jimmy Kimmel Live" covered a host of topics, but ended with Kimmel having some fun with the GOP frontrunner, with Kimmel revealing the Dr. Seuss-like book he "ghost wrote" for the billionaire titled, "Winners Aren't Losers."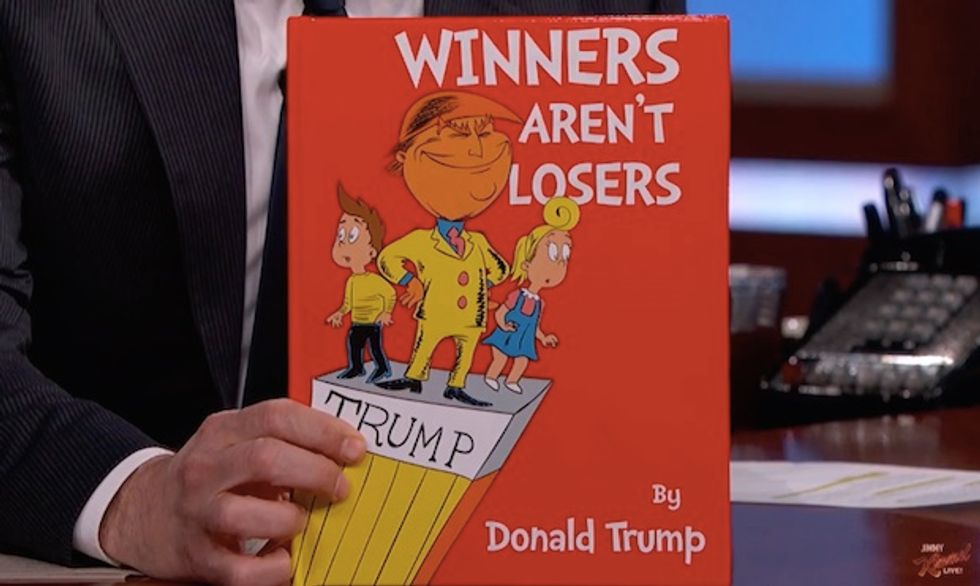 Image source: YouTube
Trump sat down with Kimmel for an in-depth interview. The late night comic quizzed the candidate about his proposal to temporarily block Muslims from entering the United States (Trump says Muslims support his plan), his oft-repeated talk of building a wall along America's southern border and Trump explained why CNN should pay him for appearing on the GOP debates.
The interview wrapped up with a lighter segment talking about Trump's relationship with NFL star Tom Brady, the fact the character of "Biff" from "Back to the Future 2" was based on Trump and the recently-released report from Trump's doctor.
Then Kimmel closed by showing Trump the children's book -- and reading it to him.
Watch the segment below:
--
Follow the author of this story on Twitter and Facebook: