Since it's a great time of year to make lists, President Barack Obama said he's made one of his own — the top 10 things that happened in 2015.
From the economy to healthcare, Obama spent his weekly address counting the accomplishments of the year thus far "that should make every American confident about 2016."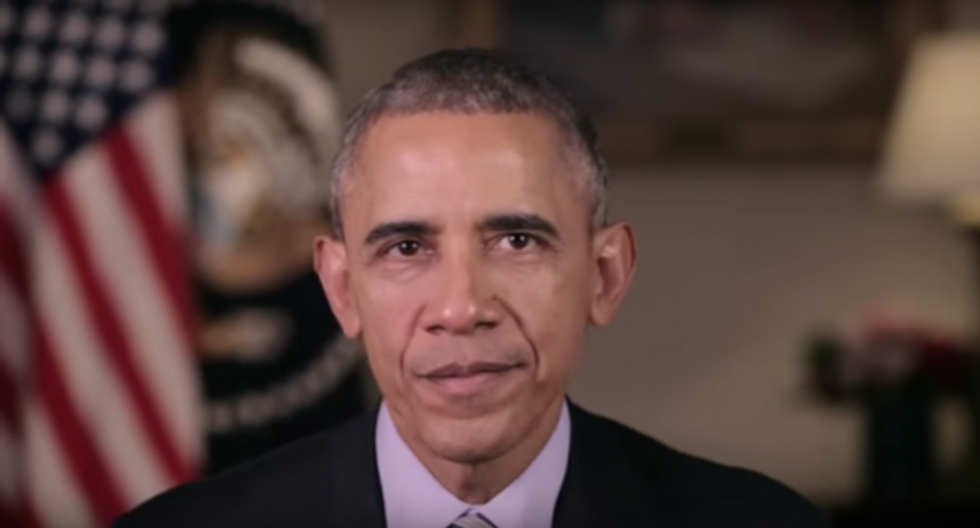 Image source: YouTube
Among the accomplishments, Obama listed the controversial Iran nuclear deal.
"We succeeded in forging a strong deal to stop Iran from obtaining a nuclear weapon," the president said. "In fact, Iran has already dismantled thousands of centrifuges that enrich uranium."
Obama also counted the Paris climate change summit earlier this month among the year's accomplishments.
"America's global leadership on climate change. Last week, in Paris, nearly 200 countries came together to set the course for a low-carbon future," he said. "And it was only possible because America led with clean energy here at home and strong diplomacy around the world."
"And the number one reason I'm optimistic going into 2016:  It's you — the American people," Obama said. "All of this progress is because of you — because of workers rolling up their sleeves and getting the job done, and entrepreneurs starting new businesses. Because of teachers and health workers and parents — all of us taking care of each other. Because of our incredible men and women in uniform, serving to protect us all.  Because, when we're united as Americans, there's nothing that we cannot do."
Watch Obama count down his top moments below.