President Barack Obama accused Republican presidential candidate Donald Trump of "taking advantage" of the frustrations of blue-collar workers amid economic and demographic changes.
Obama explained during a National Public Radio interview that he believed Americans are more tolerant of people who are different. But he added that with wages going down in some areas, it has created angst. The president also reportedly claimed that his status as the first black president has resulted in some of the animosity directed at him.
The Drudge Report accused Obama of playing the "race card" on Trump.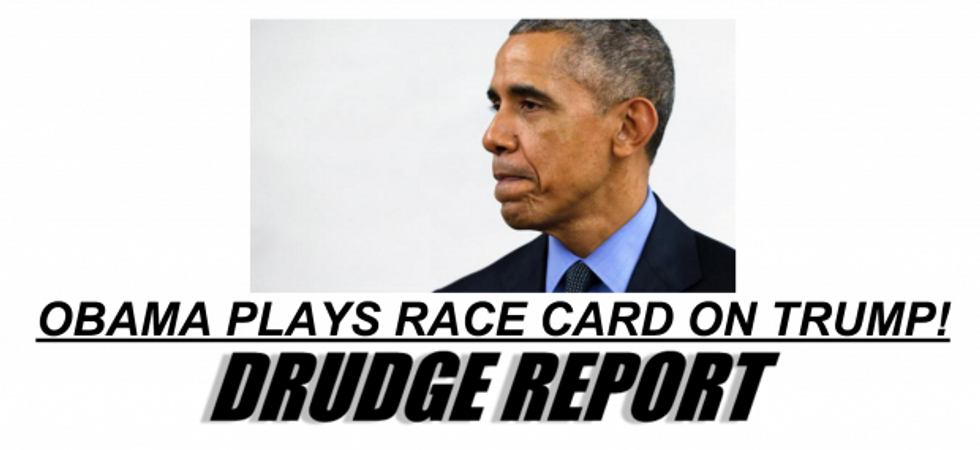 DrudgeReport.com
"When you combine that demographic change with all the economic stresses that people have been going through because of the financial crisis, because of technology, because of globalization, the fact that wages and incomes have been flatlining for some time, and that particularly blue-collar men have had a lot of trouble in this new economy, where they are no longer getting the same bargain that they got when they were going to a factory and able to support their families on a single paycheck, you combine those things, and it means that there is going to be potential anger, frustration, fear," Obama said. "Some of it is justified but just misdirected."
Obama went on to take a shot at the real estate billionaire and GOP frontrunner.
"I think somebody like Mr. Trump is taking advantage of that," Obama said. "That's what he's exploiting during the course of his campaign."
At a different point during the interview, Obama made reference to his race.
"If you are referring to specific strains in the Republican Party that suggest that somehow I'm different, I'm Muslim, I'm disloyal to the country, etc., which unfortunately is pretty far out there and gets some traction in certain pockets of the Republican Party, and that have been articulated by some of their elected officials, what I'd say there is that that's probably pretty specific to me and who I am and my background, and that in some ways I may represent change that worries them," Obama said."But that's not to suggest that everybody who objects to my policies may not have perfectly good reasons for it. If you are living in a town that historically has relied on coal and you see coal jobs diminishing, you probably are going to be more susceptible to the argument that I've been wiping out the economy in your area."