Shortly after a police officer pulled over a man on a scooter in Florida, all hell broke loose.
A dash cam video captured the altercation between Indian River County Sheriff's Deputy Christopher Lester and Andrew Coffee early Friday morning. According to WPTV, Lester pulled Coffee over as his scooter did not have a license plate.
That's when Coffee sucker punched the officer in the face, pulled out a gun and shot him.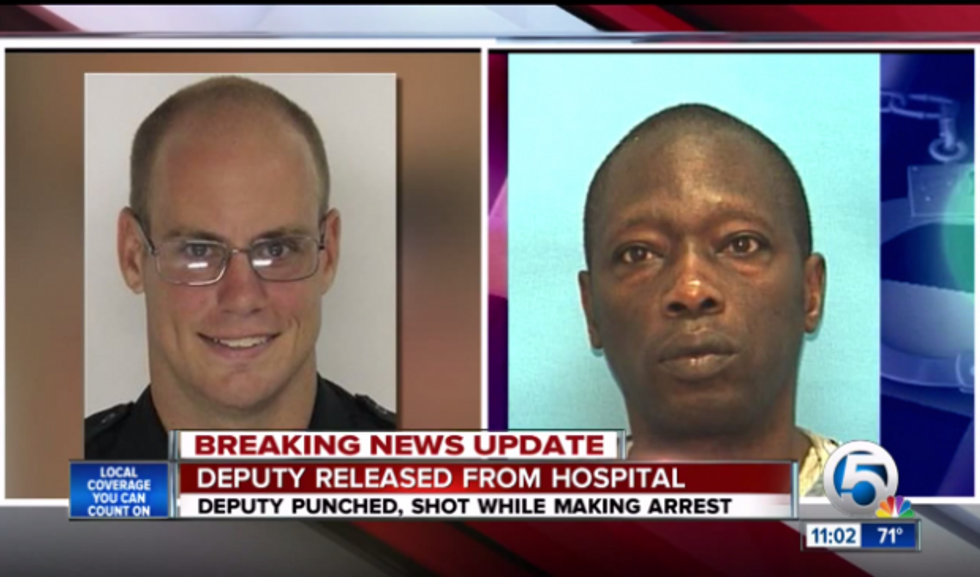 Deputy Christopher Lester (L) is recovering from injuries after Andrew Coffee (R) punched and shot the officer in an attempt to 'end his life.' (Image source: WPTV)
Sheriff Deryl Loar said Coffee attempted to kill the officer who was shot in the leg. However, Lester, 26, was released from the hospital later Friday. The officer, who has been with the department since 2014, is engaged to be married.
"As he knocked Deputy Lester down with a sucker punch, he continued to stand over him and attempt to end his life," Loar told reporters. "It reminds us of the dangers that are faced every day in law enforcement. It is a war on the streets, and we're sick and tired of it."
Coffee, 53, remained in the hospital over the weekend with wounds to his own leg and torso as Lester fired back. A convicted felon, it is unclear how he was able to obtain a gun, WPTV reported.
Coffee had been released in prison in May where he was held on an attempted murder conviction from 1993. He has a total of 11 felony arrests and four felony convictions, according to WPTV. He also has five misdemeanor arrests and three misdemeanor convictions.
"I was a little hurt because that's not the person that I know," Wanda Scott, Coffee's boss, told WPTV. "That's not the person that hangs here."
Scott speculated that Coffee could have been intoxicated and  "having a good time leading up to his birthday."
After the altercation, Coffee was found by a police dog as he hid in a stack of crates at a nearby fruit packing facility.
(H/T: WPTV)