With cohosts Steve Doocy and Brian Kilmeade at her side and a production crew standing behind her, "Fox and Friends" cohost Elisabeth Hasselbeck bid an emotional farewell to the morning program.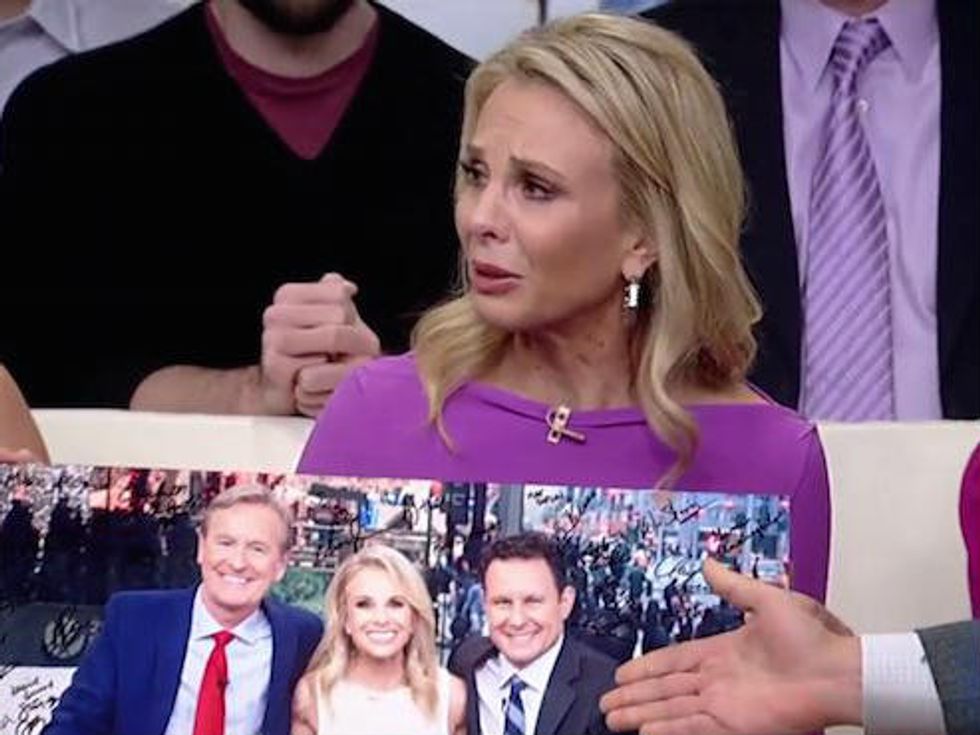 Image source: Fox News
Hasselbeck announced her departure from Fox News last month after more than two years with the cable network. Hasselbeck cited a "personal" reason for leaving, saying that she wants to spend more time with her three children.
"You are looking at one heck of a family, and this great team is because of one great man, our CEO and chairman," Hasselbeck said Tuesday, referring to Fox News head Roger Ailes. "He gave me two great gifts. One, he gave me the opportunity to join you all in this family, and two, he gave me an outstanding amount of understanding and guidance when I decided to make this decision to go home."
"Mr. Ailes, I can't thank you enough. I can't thank all of you enough for this chance," Hasselbeck added, as Doocy presented her with a portrait of the three cable cohosts.
Watch the emotional farewell:
Prior to joining Fox News, Hasselbeck was a co-host on ABC's "The View," where she frequently took on her liberal cohosts as the daytime talk show's sole conservative.
A number of cohosts will fill in on the curvy couch until Hasselbeck's permanent replacement is named, Fox News said in a November statement.
–
Follow Jon Street (@JonStreet) on Twitter