A New York City police officer was arrested and placed on unpaid leave after he was accused of lying to authorities to hide alleged misconduct during a 2014 arrest, WNBC-TV reported.
Officer Jonathan Munoz, 32, was caught on surveillance video making an unlawful arrest and conducting an illegal search, District Attorney Cyrus Vance, Jr. told the station. Munoz faces four years in jail for filing a falsified report — a felony — WNBC said.
Cameras caught Munoz searching the pockets of Jason Disisto's friend over suspicion of buying marijuana on a New York City street on March 12, 2014.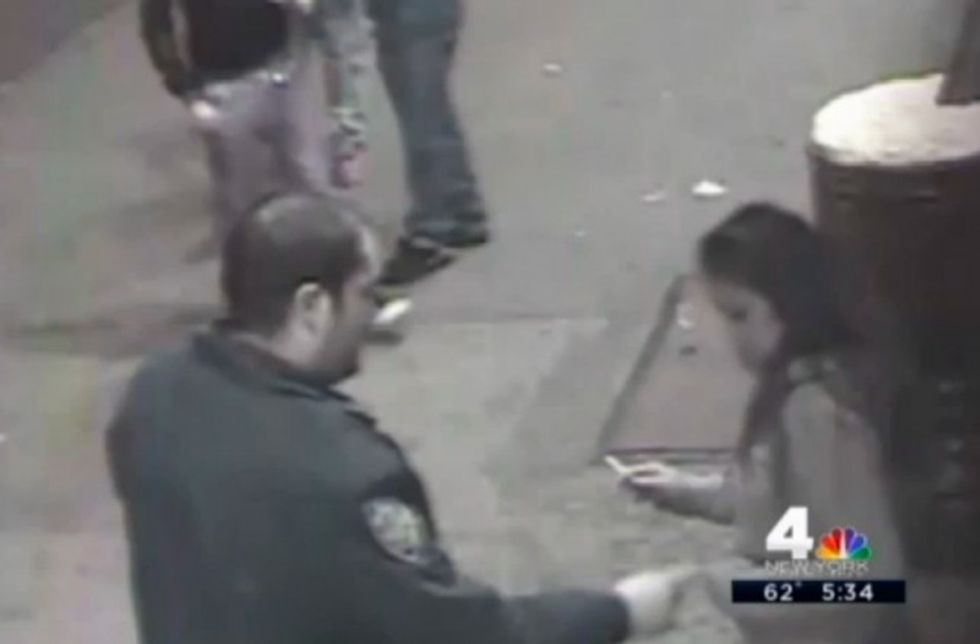 Image source: WNBC-TV
Surveillance video showed Disisto borrowing a cellphone to record the arrest and then Munoz coming at Disisto and trying to grab the phone.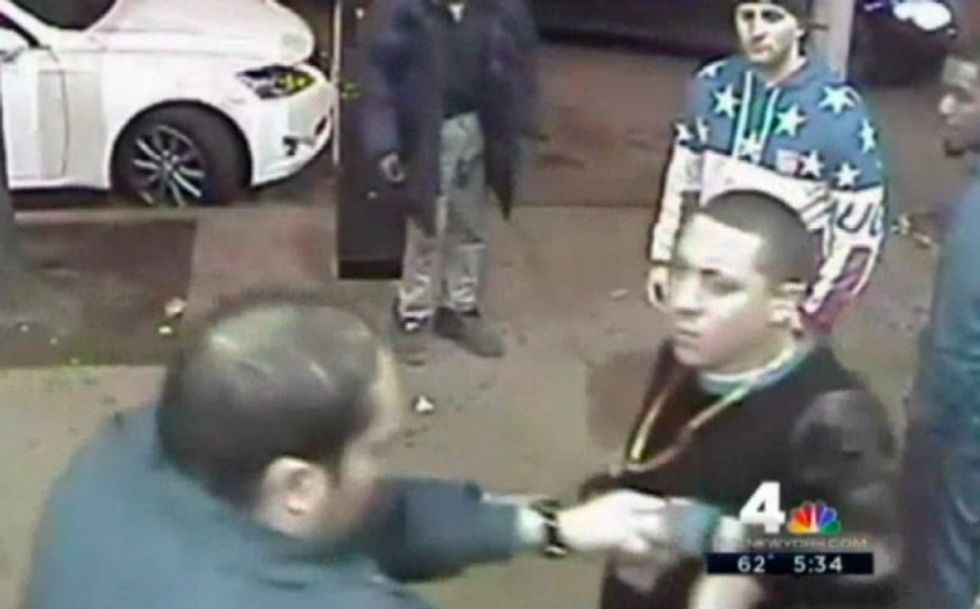 Image source: WNBC-TV
Munoz and other officers then pushed Disistro into a police cruiser, arrested him and drove away after tossing the cellphone out a window, WNBC said.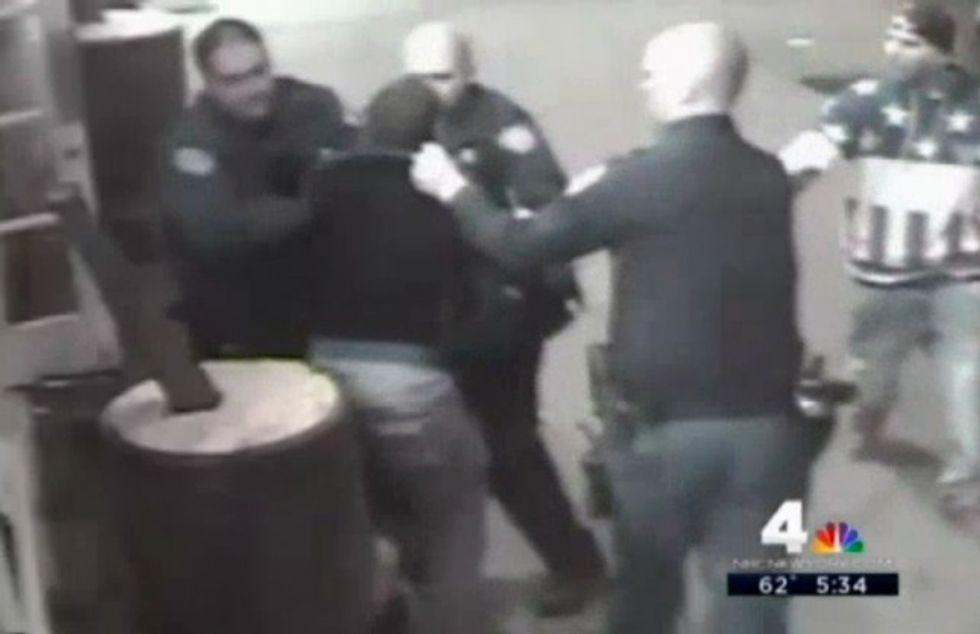 Image source: WNBC-TV
"I was shocked. I was scared, shocked," Disisto, 21 at the time, told WNBC. "I had a whole bunch of feelings all mixed up."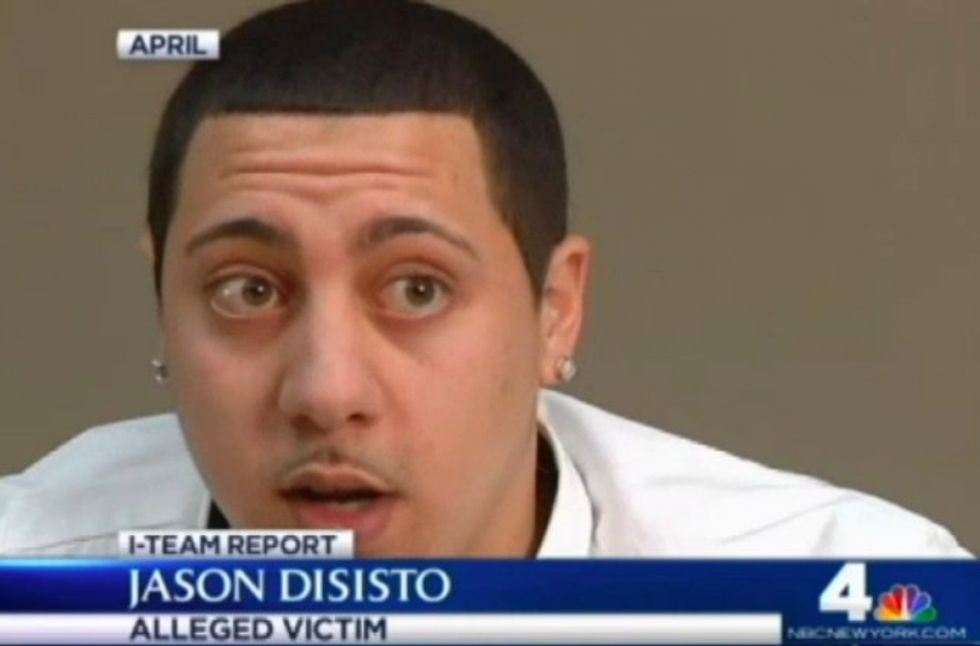 Image source: WNBC-TV
More from the station:
Munoz swore after the fact in a complaint that Disisto got in a "fighting stance" before lunging and swinging at him with a closed fist. Disisto's lawyer argued that this account was inconsistent with a video taken of the incident.

Surveillance video obtained by police showed that Disisto had not tried to fight Munoz and that Munoz had unlawfully searched Disisto's friend as she stood on the sidewalk.

Due to Munoz's misconduct, all charges against Disisto were dropped.
"Had this officer's attempts to conceal his alleged misconduct succeeded, an innocent man may still be facing charges for a fabricated crime," District Attorney Vance told WNBC.
Disisto's attorney, David Rankin, said he's "delighted" with Munoz's arrest Tuesday and that "an example" was being made of him.
"The routine fabrications and misstatements by members of the NYPD has to stop," Rankin told the station. "Hopefully next time an officer attempts to frame a citizen of our city, they will think twice."
Two of the three officers involved in the case were placed on modified assignment in December 2014, police told WNBC, adding that internal affairs and the Manhattan district attorney's office were investigating.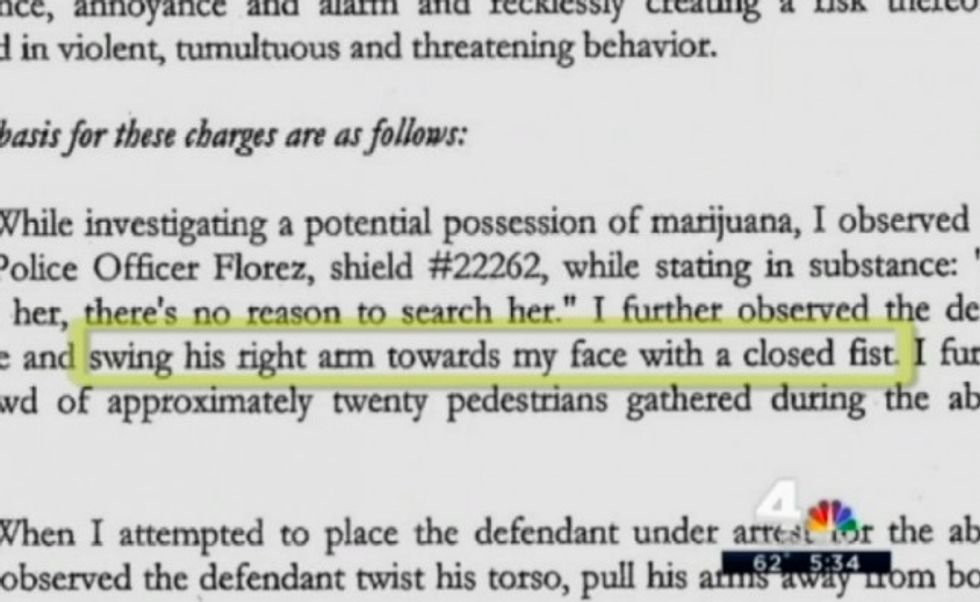 Image source: WNBC-TV
More from the station:
Rankin said his client's case is unusual because the encounter was captured on surveillance from three different angles. The footage started well before Disisto arrived and paints a clear picture of what prompted the confrontation and how it went down, Rankin says.

In April, Disisto filed a lawsuit against the city, the NYPD and the officers involved in the encounter.
Munoz was released on his own recognizance but had to surrender his passport, WNBC reported, adding that his attorney is confident he'll be exonerated.
(H/T: Daily Mail)