GOP presidential frontrunner Donald Trump looks familiar to talk show host Stephen Colbert.
In fact, Colbert said Trump is "my old character with $10 billion."
"I'm not the first person to say this, but I completely agree that he's my old character with $10 billion," Colbert said during an interview with CBS' "Face the Nation." Colbert, the current host of "Late Night" on CBS spent almost 10 years as an ultra-conservative character while he hosted "The Colbert Report" on Comedy Central.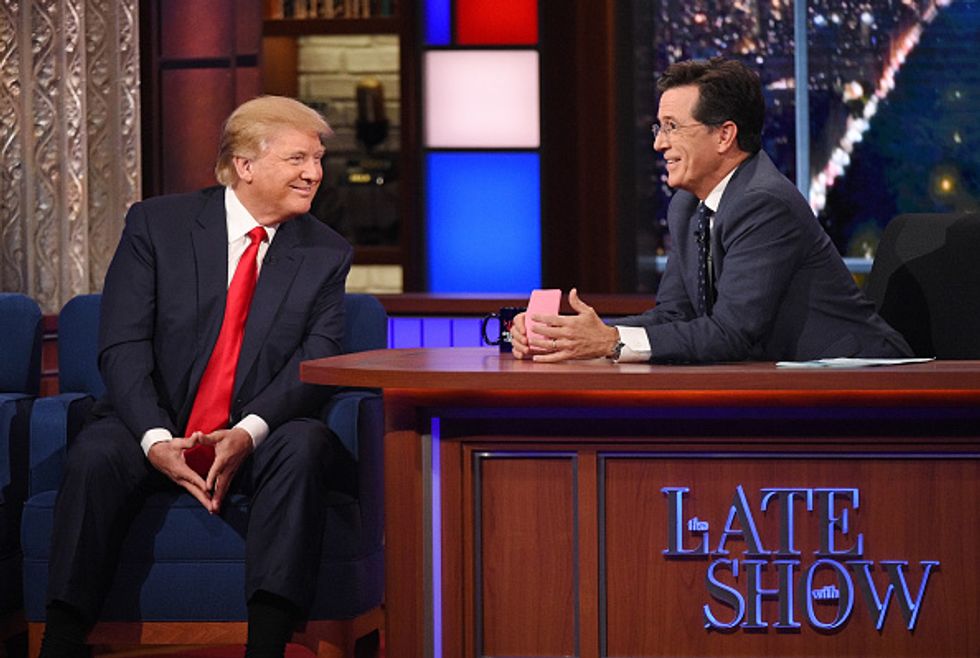 NEW YORK - SEPTEMBER 22: Donald Trump talks about his US Presidential campaign on The Late Show with Stephen Colbert, Tuesday Sept. 22, 2015 on the CBS Television Network. (Photo by Jeffrey R. Staab/CBS via Getty Images)
"One of the reasons why you can't do that old character anymore [is] because he's doing it better than I ever could," Colbert told CBS' John Dickerson. "Because he's willing to drink his own Kool-Aid, and manufacture and distribute it. If money is speech, he's got a $10 billion mouth and doesn't have to spend any of it because everyone will point a camera at him."
Colbert contended that there is a "populism" about Trump that he likes as the "party elders would like him to go away."
"I may disagree with anything that he's saying and think that his proposals are a little, well, more than a little shocking, but there is something really hopeful about the fact that 36 percent of the likely voters want him, so the people in the machine don't get to say otherwise. That's one saving grace, I think, of his candidacy."
During an interview on "Late Night" in September, Colbert thanked the real estate mogul and said, "I'm not going to say this stuff writes itself, but you certainly do deliver it on time every day."  
Watch Colbert's interview on Sunday's "Face the Nation" below.