The U.S. military said Wednesday that Iran over the weekend fired several unguided rockets near a U.S. aircraft carrier, destroyer and a French warship passing through the Strait of Hormuz, an exercise the U.S. Central Command spokesman called "highly provocative."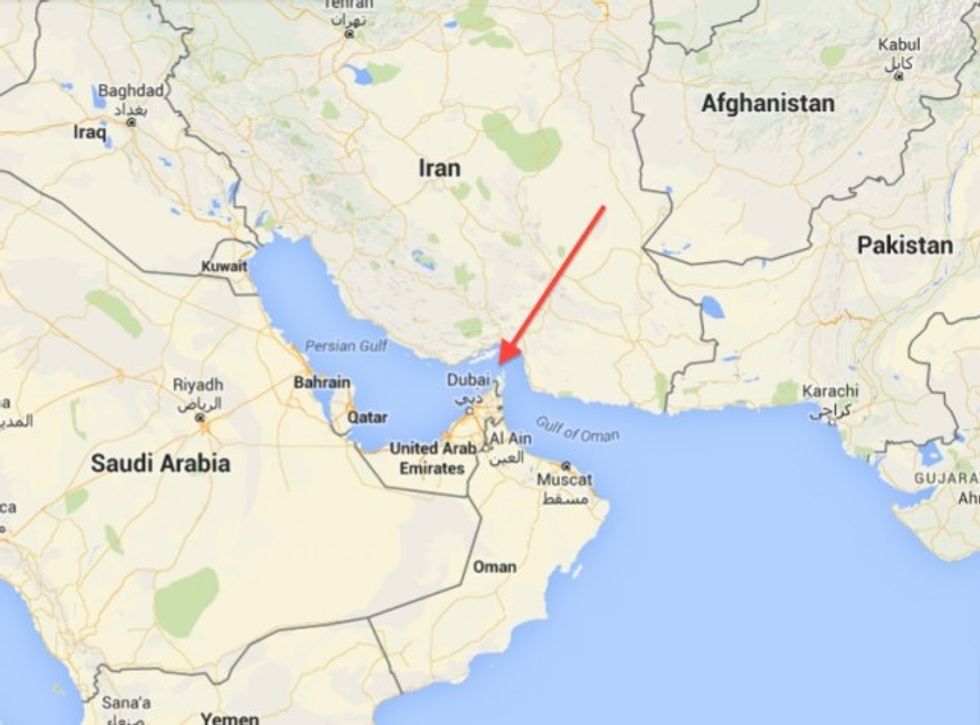 Strait of Hormuz (Image source: Google Maps)
U.S. Central Command spokesman Cmdr. Kyle Raines said in a statement quoted by the Associated Press that Iranian Revolutionary Guard naval vessels fired "several unguided rockets" about 1,500 yards from the USS Harry S. Truman aircraft carrier, the USS Bulkeley destroyer and the FS Provence, a French frigate.
The Iranian ships announced on maritime radio that they were planning to conduct a live fire drill only 23 minutes before it commenced.
Firing near the warships as well as nearby commercial vessels was "highly provocative," Raines said.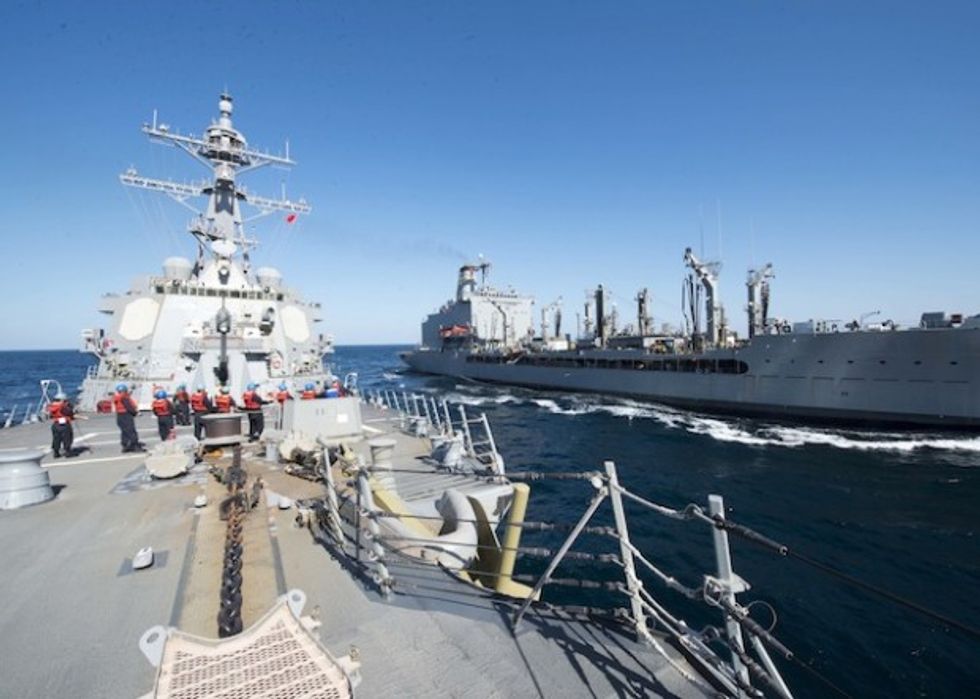 In this Thursday, Dec. 24, 2015 photo released by the U.S. Navy, guided-missile destroyer USS Bulkeley participates in a replenishment-at-sea with fleet replenishment oiler USNS John Lenthall in the Gulf of Oman. Iranian naval vessels conducted rocket tests last week near the USS Harry S. Truman aircraft carrier, the USS Bulkeley destroyer and a French frigate, the FS Provence, and commercial traffic passing through the Strait of Hormuz, the American military said Wednesday, Dec. 30, 2015 causing new tension between the two nations after a landmark nuclear deal. (Mass Communication Specialist 2nd Class M. J. Lieberknecht/ U.S. Navy via AP)
"Firing weapons so close to passing coalition ships and commercial traffic within an internationally recognized maritime traffic lane is unsafe, unprofessional and inconsistent with international maritime law," Raines said.
"These actions were highly provocative, unsafe, and unprofessional and call into question Iran's commitment to the security of a waterway vital to international commerce," Raines said in an email to Military Times.
"While most interactions between Iranian forces and the U.S. Navy are professional, safe, and routine, this event was not and runs contrary to efforts to ensure freedom of navigation and maritime safety in the global commons," the U.S. military spokesman added.
NBC News, which was the first to break the story, reported that the rockets were not fired at the U.S. and French ships which were sailing in international waters, just near them.
A French military official told the AP on condition of anonymity that the rocket fire clearly wasn't directed toward the Western vessels and thus the French did not consider the incident to be threatening in nature.
The Western military ships are providing support to U.S.-led coalition airstrikes against the Islamic State group in Iraq and Syria, Reuters noted.