The daughter of famed Western film actor John Wayne announced her support for GOP presidential front-runner Donald Trump Wednesday in a letter to the billionaire businessman.
"Please know that I am in your corner, and I am certain that my dad would have been a big supporter of Mr. Trump," Aissa Wayne wrote in her note, which Trump posted on Facebook. "If there is anything I can do to assist in the campaign, I am humbly at your service."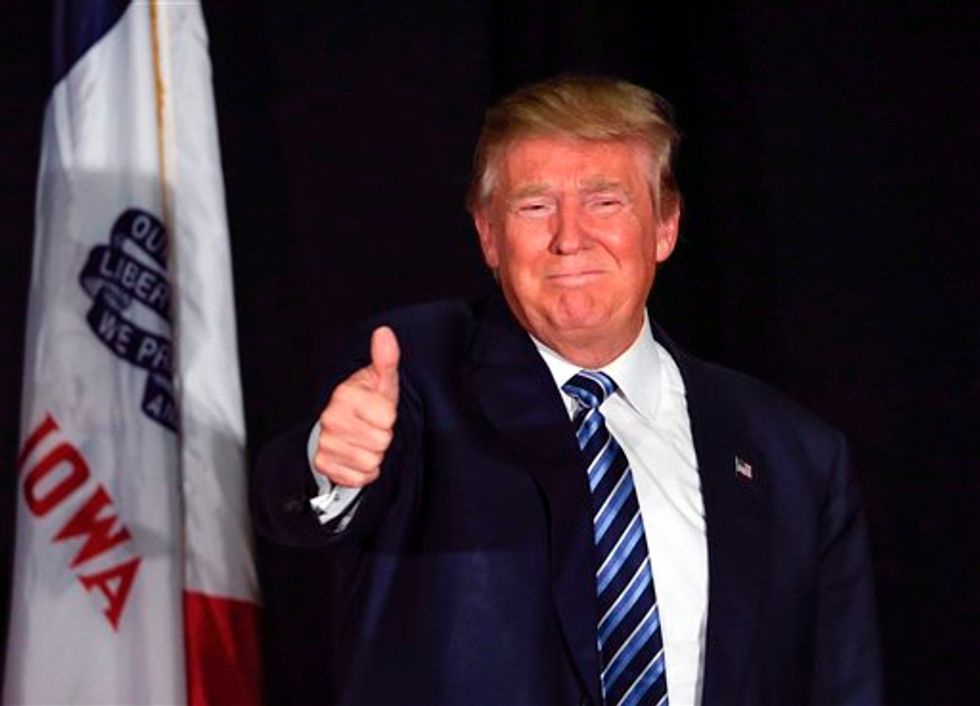 Republican presidential candidate Donald Trump gives the thumbs up during a campaign stop in Council Bluffs, Iowa, Dec. 29. (AP Photo/Nati Harnik)
In June, shortly after launching his presidential bid, Trump hosted a reception at the John Wayne Birthplace Museum in Winterset, Iowa, an event Wayne refers to in her message.
"My dad, I am sure, would be very proud of Mr. Trump and the goal to Make America Great Again!" she wrote. "I want to thank Mr. Trump for the tireless work he is doing for this country. The average American citizen is mad as hell that our country is being sold down the river."
She also said that she is "grateful" that Trump has "finally given the people of America a voice."
Wayne is the latest celebrity in a long list to throw her support behind the billionaire. Trump also enjoys celebrity endorsements from Mike Tyson, Stephen Baldwin, Gary Busey, Dennis Rodman, Lou Ferrigno, Hulk Hogan, Ted Nugent, Tila Tequila, Wayne Newton, Willie Robertson, Jessie Ventura, Charlie Sheen, Mike Ditka, and Terrell Owens.
After receiving the glowing letter from Wayne, Trump offered compliments to Wayne and her father in return.
"A lovely letter from the daughter of the late great John Wayne. Our country could use a John Wayne right now," Trump wrote in a Facebook post.