The campaign of Democratic presidential candidate Hillary Clinton sent an email to supporters New Year's Eve with a message directly from Clinton. In the subject line was a warning for potential donors: "If we lose…."
While every presidential candidate has been sending out a flurry of email appeals in the final days of the fourth quarter of 2015, Clinton's message seemed to take a decidedly dour tone.
"I can't say it any more clearly: If we lose Iowa or New Hampshire, it's going to be a lot harder to win the nomination, and we're going to be in a weaker position when it comes time to keep a Republican out of the White House," Clinton said in the message.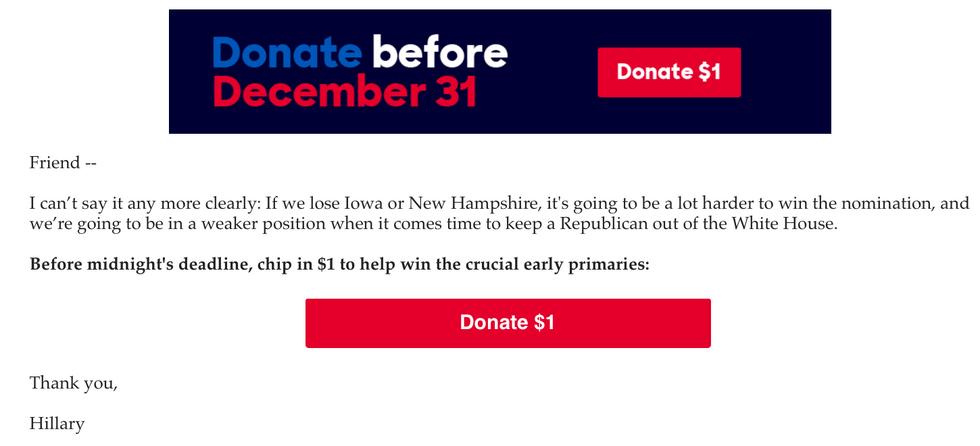 Hillary Clinton's New Year's Eve fundraising appeal to supporters warns about the consequences of losing in Iowa or New Hampshire. (TheBlaze/Fred Lucas)
It continues by appealing to backers, "Before midnight's deadline, chip in $1 to help win the crucial early primaries." After clicking on the $1 form, a page comes up allowing people the option of donating up to $250 or "other amount" to the campaign.
Clinton holds a commanding lead over fellow Democratic candidate Vermont Sen. Bernie Sanders in Iowa, where the first caucuses will be held on Feb. 1. However, Sanders leads Clinton in most polls in New Hampshire, which will hold the nation's first primary on Feb. 9.