InterVarsity Christian Fellowship, an evangelical college ministry, has responded after a keynote speaker at its Urbana conference expressed support for the Black Lives Matter movement, and made controversial comments about the fight against abortion and Planned Parenthood.
The evangelical organization has come forward in the wake of the speech to reiterate that its leaders believe that "all lives are sacred — born and unborn," seeking to dispel any notion that they are "dismissive of pro-life concerns."
As TheBlaze previously reported, Michelle Higgins, director of Faith for Justice, a Christian advocacy group in St. Louis, Missouri, and an active member of the Black Lives Matter movement, grabbed attention this week for a speech that she delivered at Urbana, a student missions conference that is co-sponsored by InterVarsity.
Higgins delivered favorable remarks about the Black Lives Matter movement throughout the keynote address, and issued some strong comments about the abortion fight — claims that sparked questions and push-back among pro-life advocates.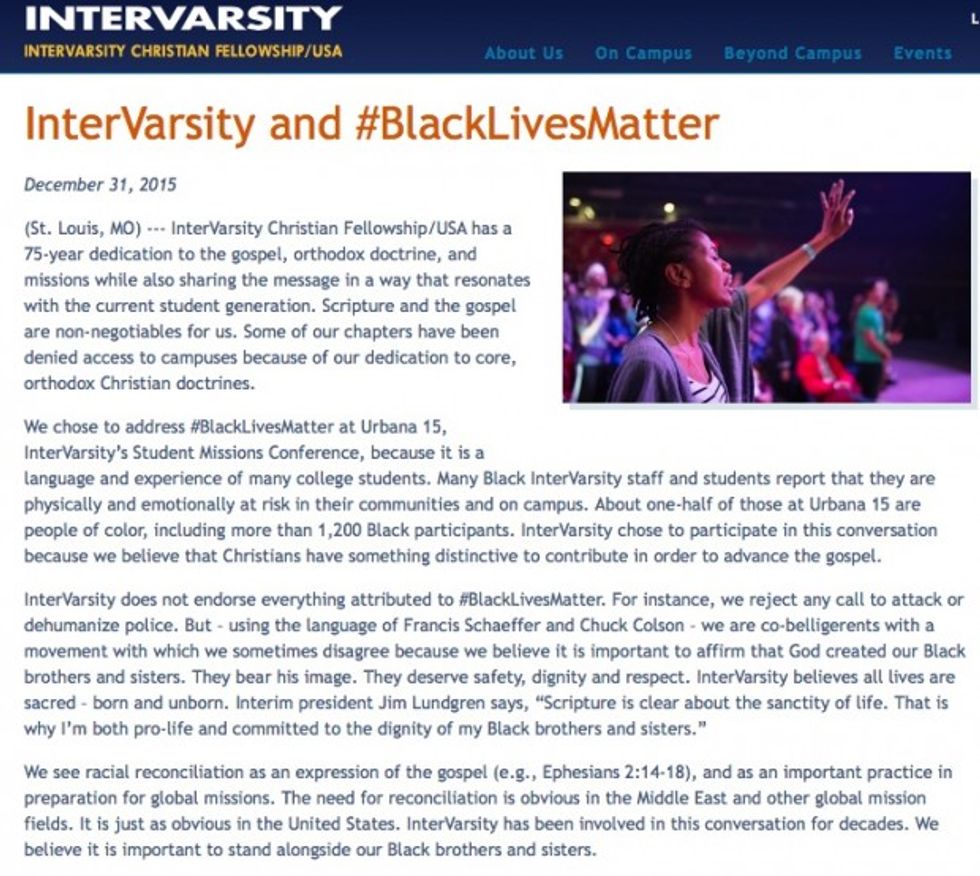 A statement published on the InterVarsity website
"In the United States, there are 100,000 children in foster homes. In the United States, there are 300,000 churches who identify as Protestant, so our Catholic brothers and sisters — they're not even on that list," she said. "We can wipe out the adoption crisis tomorrow. We could wipe it out this week, but we're too busy arguing to have abortion banned, we're too busy arguing to defund Planned Parenthood."
Huggins continued, "We are too busy withholding mercy from the living, so that we might display a big spectacle of how much we want mercy to be shown to the unborn. Where is your mercy? … What is your goal in only doing activism that makes you comfortable?"
InterVarsity released brief statements to TheBlaze on Thursday before delving deeper into an explanation of its views on Black Lives Matter in a statement published on the organization's website.
"We want to dispel any perception that InterVarsity is dismissive of pro-life concerns, and we want to refocus attention on the core issues raised by that session," a spokesperson told TheBlaze. "We would be even happier if people looked at the whole of Urbana's emphases."
The statement continued by noting that InterVarsity believes that "all lives are sacred — born and unborn." The response also included a quote from the organization's interim president, Jim Lundgren, who said, "Scripture is clear about the sanctity of life: that is why I'm both pro-life and committed to the dignity of my black brothers and sisters."
Watch Higgins' remarks below:
In a separate explanation published on the InterVarsity website, the organization highlighted its 75-year dedication to the Christian gospel, proclaiming that "scripture and gospel are non-negotiables" for the group, going on to explain why the Urbana conference addressed the Black Lives Matter movement.
"We chose to address #BlackLivesMatter at Urbana 15, InterVarsity's Student Missions Conference, because it is a language and experience of many college students," the statement said. "Many Black InterVarsity staff and students report that they are physically and emotionally at risk in their communities and on campus. About one-half of those at Urbana 15 are people of color, including more than 1,200 Black participants."
InterVarsity was careful to note that the organization does not endorse every element of the Black Lives Matter movement.
"For instance, we reject any call to attack or dehumanize police," the statement continued. "But – using the language of Francis Schaeffer and Chuck Colson – we are co-belligerents with a movement with which we sometimes disagree because we believe it is important to affirm that God created our black brothers and sisters. They bear his image. They deserve safety, dignity and respect."
The group believes in advancing racial reconciliation "as an expression of the gospel," saying that it is "important to stand alongside our black bothers and sisters."
--
Follow the author of this story on Twitter and Facebook: