In what would be its first attack of the new year, a Taliban suicide car bomber targeted a popular French restaurant Friday in Kabul, Afghanistan, the New York Times reported.
After the bomb exploded, gunmen waiting nearby engaged in an extended shootout with the police.
A 12-year-old boy was killed during Friday's attack, and 15 people were wounded, doctors at Emergency, a trauma hospital in central Kabul reported on its Twitter account.
#Kabul, Attack at Le Jardin Restaurant. 15 wounded referred to @emergency_ong hospital; 12 years old boy dead on arrival. #HappyNewYear?

— EMERGENCY ONG/Onlus (@emergency_ong) January 1, 2016
According to the Times, Afghan government officials initially said only that the attack, which targeted Le Jardin restaurant, was under investigation.
Le Jardin, an Afghan-owned restaurant, is one of the few Kabul restaurants formerly frequented by foreigners that is still open. Frequent Taliban attacks over the past two years at similar spots have significantly harmed the local economy, and many businesses have close their doors after estimating the likelihood of threat.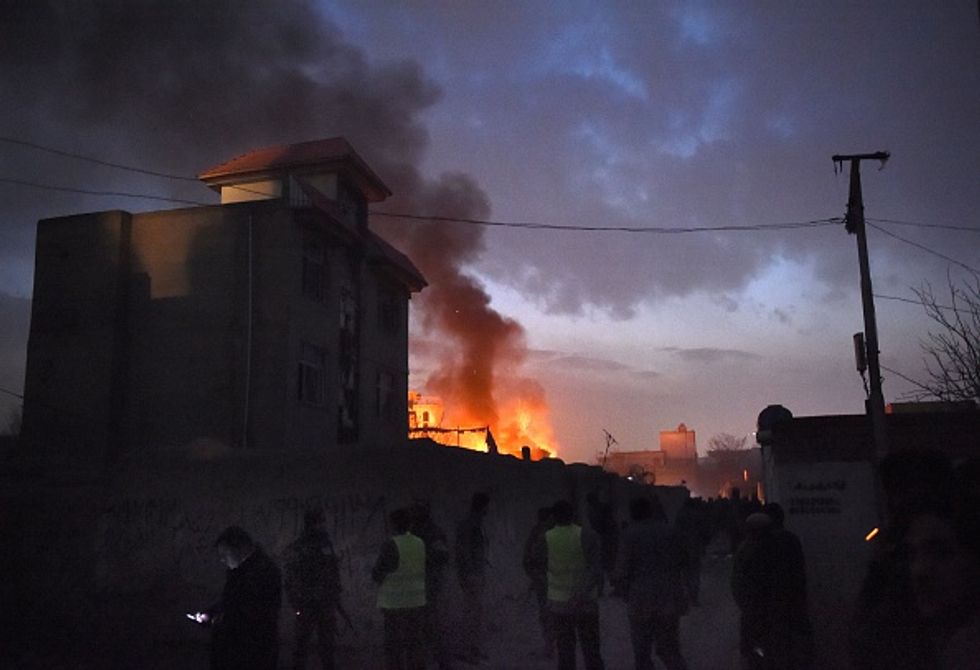 Security personnel and bystanders look on as flames and smoke rise at the site of a suicide car bomb attack at a French restaurant- Le Jardin in Kabul on January 1, 2016. Image source: Wakil Kohsar / AFP / WAKIL KOHSAR
Friday's attack took place at 5 p.m. local time, before the restaurant was open for customers, according to the Times. After the explosion and shooting occurred, Afghan police closed off the area, refusing to allow residents to return to their homes and even blocking access to the site by medical teams.
A woman who identified herself as "Frozan" pleaded with police officers cordoning of the area to retrieve her sister, who was in a home near the restaurant and had been injured.
"She keeps calling for help, but police are not allowing anyone to come out of their homes, and she is stuck inside losing blood," the woman told the Times.
Most of the victims in Friday's attack were believed to be civilians who lived near the restaurant.
Le Jardin is located in the Taimani neighborhood of Kabul, where many foreigners reside. Last year at least two Westerners were kidnapped in the same area. The individuals were abducted near their homes and offices.
Zabihullah Mujahid, a spokesman for the Taliban, announced Friday on Twitter that the attack was still underway. "Reports suggest that a heavy fight is still ongoing, the devoted Mujahedeen will continue its struggle to target invaders and their mercenaries," he wrote.
H/T: New York Times
---