The Anglican Communion faces staunch division in anticipation of a summit that will be held next week in Canterbury, England. The issue of gay marriage has long been a controversial subject among Protestant Christians, and some churches like the Presbyterian Church USA have opted to include same-sex couples in their marriage ceremonies.
Though the Church of England has refused to support the legalization of gay marriage, many bishops within the Anglican Communion, including American church officials belonging to the Episcopal tradition, have endorsed the practice.
This has now led to a deep divide between Anglican clerics.
African and Asian bishops who firmly reject any approval of same-sex unions have already threatened to walk out on Archbishop Justin Welby during next week's summit unless the liberal supporters of gay marriage "repent" or the archbishop throws them out, the Daily Mail reported.
The cohort of eight to 12 conservative bishops who represent some of the biggest of the 38 individual Anglican Churches in the worldwide Communion are then likely to adjourn to their own headquarters nearby for the rest of the meeting, challenging if not defying Archbishop Welby's authority.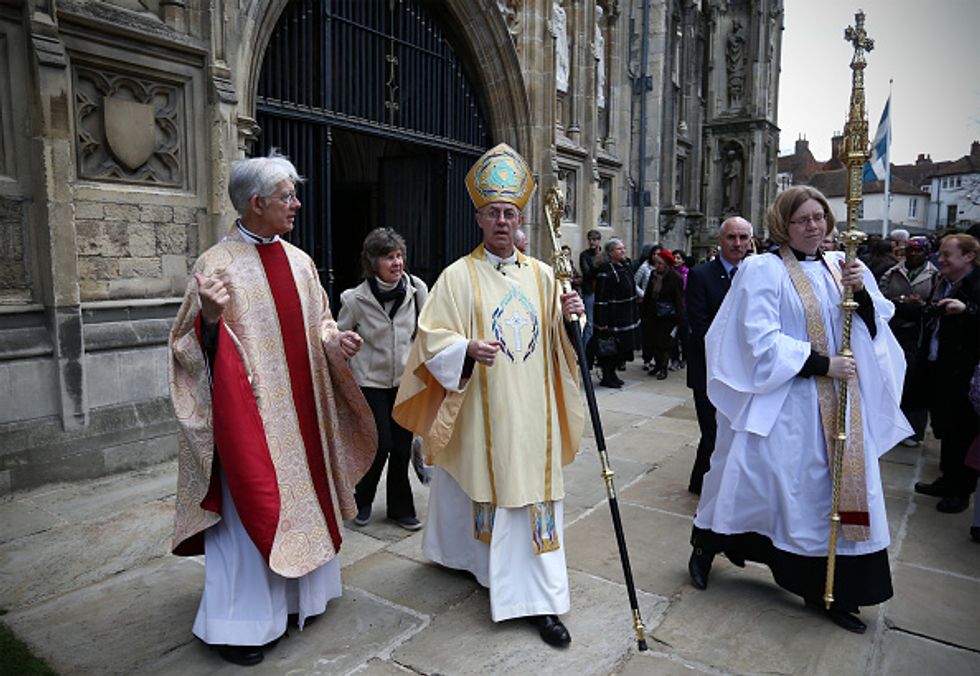 Archbishop of Canterbury Justin Welby leaves after delivering his Easter sermon on April 5, 2015, in Canterbury, England. (Carl Court/Getty Images)
According to the Daily Mail, the archbishops of Nigeria, Kenya and Uganda were poised to boycott the upcoming meeting altogether but were apparently persuaded by colleagues to attend and listen to Welby's plan for peace.
"The Archbishop has invited everyone. If people walk out, that will be viewed with disappointment rather than anger, and the door will always be open," the Church of England announced, confirming that no one will be dismissed from the meeting.
The archbishop is expected to propose that the Communion becomes more like a loose "federation" in order to keep affiliated churches in the "family," which aides have equated to "moving into separate bedrooms" rather than full-scale divorce.
Such disagreements prompted Archbishop Welby to postpone last year's Lambeth Conference, the regular gathering of all Anglican bishops from around the world that has been held every decade, except during two world wars, since the 1860s.
The 2008 conference was boycotted by key conservatives who condemned the liberal American Church for consecrating Gene Robinson, an openly gay bishop, in 2003.
Right now, the Church of England officially opposes same-sex marriage in church, but the pressure to change its views has been mounting for years.
In June 2015, Archbishop Welby expressed "deep concern" over a move within the U.S. Episcopal Church's House of Bishops to remove references to marriage as a union exclusively between a man and a woman.
The revised marriage rites in Resolution A037 suggested allowing the option of using the words "wife," "husband," "person" or "spouse," to make them potentially applicable for both heterosexual and same-sex couples.
"While recognizing the prerogative of The Episcopal Church to address issues appropriate to its own context, Archbishop Justin Welby said that its decision will cause distress for some and have ramifications for the Anglican Communion as a whole, as well as for its ecumenical and interfaith relationships," a June press release read.
Welby, who has always personally supported traditional marriage, has continuously called for Anglican bishops to work toward reconciling their views on the issue of same-sex marriage. It remains to be seen whether such reconciliation is possible.
In December 2014, Welby told the Times in London that the church body may experience a schism over issues like gay marriage and female ordination.
"I think, realistically, we've got to say that despite all efforts there is a possibility that we will not hold together, or not hold together for a while," Welby told the Times, claiming it would only be a "temporary" separation.
"I could see circumstances in which there could be people moving apart and then coming back together, depending on what else happens," he said.