BOONE, Iowa — Presidential candidate Ted Cruz promised voters this morning that he plans to undo any "illegal and unconstitutional" executive actions on guns by President Barack Obama.
"If I'm elected president, let me tell you what I intend to do on the first day in office," the Texas Republican senator said in Boone, Iowa, Monday on his first campaign stop of a week-long swing. "The first thing I intend to do is rescind every single illegal and unconstitutional executive action."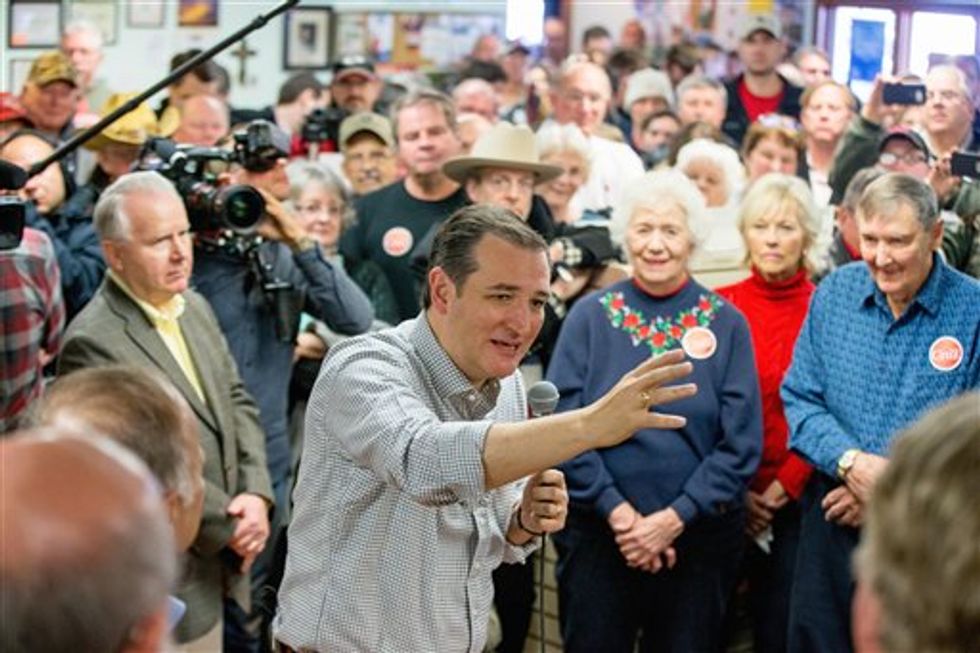 Sen. Ted Cruz, R-Texas speaks at King's Christian Bookstore in Boone, Iowa, Monday, Jan. 4, 2016. (AP/Andrew Harnik)
Obama is meeting today with Attorney General Loretta Lynch to "discuss our options" and determine which legal steps he can take in his own executive authority to restrict gun purchases in the United States.
"President Obama is talking about this week issuing yet another executive order trying to go after our right to keep and bear arms," Cruz said, prompting loud boos from the packed crowd at Kings Christian Bookstore.
Cruz, who's currently leading in Iowa polls, promised that if he's elected, any actions Obama makes on gun control will be temporary.
"He can abuse his power all he wants — he has a phone and he has a pen," Cruz said. "But if you live by the pen, you die by the pen. And my pen has got an eraser."
—
Follow the author of this story on Twitter: