President Barack Obama asserted that the executive actions on gun control to be announced this week are legally in his authority and will have popular support.
"The good news is that these are not only recommendations that are well within my legal authorities and the executive branch but they are also ones that the overwhelming majority of the American people, including gun owners, support and believe in," Obama said Monday from the Oval Office.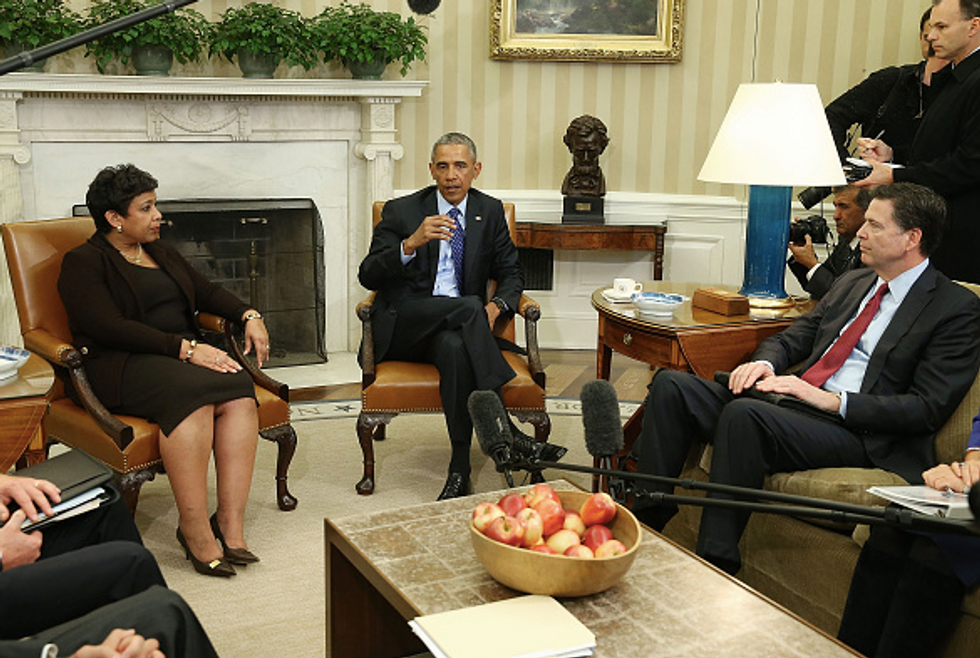 President Barack Obama speaks about gun control during a meeting with top law enforcement officials, Attorney General Loretta Lynch, left, and FBI Director James Comey, right, in the Oval Office at the White House Jan. 4. (Mark Wilson/Getty Images)
He was joined by Attorney General Loretta Lynch, FBI Director James Comey, Bureau of Alcohol, Tobacco, Firearms Deputy Director Thomas Brandon, Deputy Attorney General Sally Yates, senior adviser Valerie Jarrett and counsel to the president Neil Eagleston.
"Over the next several days, we'll be rolling out these initiatives. We'll be making sure that people have a very clear understanding of what can make a difference and what we can do," Obama said. "Although we have to be very clear that this is not going to solve every violent crime in this country — it's not going to prevent every mass shooting, it's not going to keep every gun out of the hands of a criminal — it will potentially save lives in this country, and spare families the pain and the extraordinary loss that they've suffered as a consequence of a firearm being in the hands of the wrong people."
"I'm also confident that the recommendations that are being made by my team here are ones that are entirely consistent with the Second Amendment and people's lawful right to bear arms," Obama continued. "We've been very careful recognizing that although we have a strong tradition of gun ownership in this country that even those who possess firearms for hunting, for self-protection, and for other legitimate reasons, want to make sure that the wrong people don't have them for the wrong reasons."