The words from President Ronald Reagan's first inaugural address, "government is the problem," still rang true in 2015 with at least the plurality of Americans who believe the government was the country's biggest problem for the previous year — even more than the lagging economy, immigration, race relations or terrorism.
This is the second consecutive year government attained this dubious honor in a year-end Gallup poll that surveyed 12,000 Americans — drawn from totaling of Gallup's monthly surveys of the nation's biggest problem.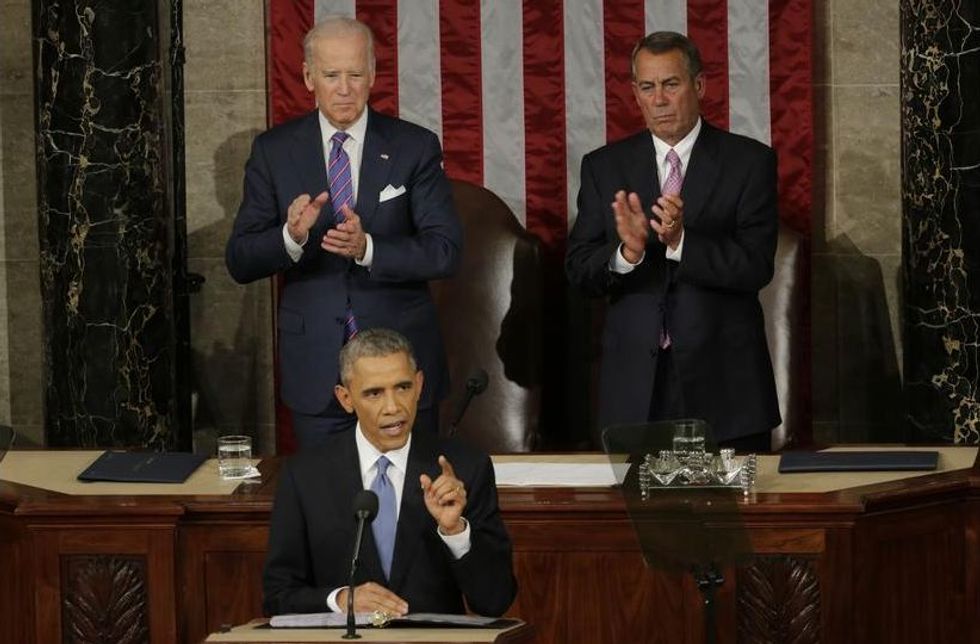 Vice President Joe Biden and House Speaker John Boehner of Ohio applaud President Barack Obama on Capitol Hill in Washington during the State of the Union address Jan. 20, 2015. (AP Photo/J. Scott Applewhite)
The survey found 16 percent believe government is the biggest problem facing the country, a slight decline from 18 percent who saw government as 2014's biggest problems.
A close second was the 13 percent who said the economy was the biggest problem. Unemployment and immigration tied for third at 8 percent each, and 6 percent believed health care was last year's biggest problem. There was a five-way tie at 5 percent for terrorism, moral decline, race relations, education and the federal deficit/debt.
According to Gallup's summary of the results, respondents "mentioned some aspect of government, including President Barack Obama, Congress or political conflict, as the country's chief problem." However, there's hardly a single dominant issue as in the past years.
From 2008 through 2013, the economy led the poll as the country's biggest problem with between 22 percent and 41 percent identifying the issue. In the years before, the war in Iraq and terrorism led with 20 percent or more.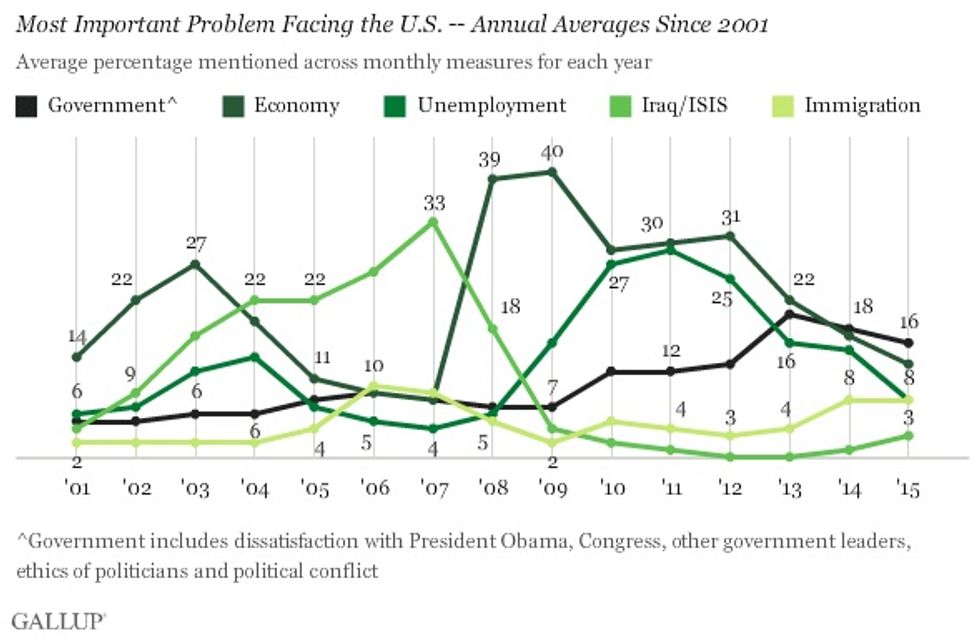 Image source: Gallup.com
"This lack of a prominent public concern provides an interesting setup to the 2016 presidential election," the Gallup summary said.