TEHRAN, Iran (TheBlaze/AP) -- Allies of Saudi Arabia followed the kingdom's lead and on Monday began scaling down their diplomatic ties to Iran in the wake of the ransacking of Saudi diplomatic missions in the Islamic Republic, violence that was sparked by the Saudis' execution of a prominent Shiite cleric.
The tiny island kingdom of Bahrain announced it would sever its ties completely from Iran, as Saudi Arabia did late on Sunday. Sudan announced on Monday that it is also cutting off all ties with the Ayatollah.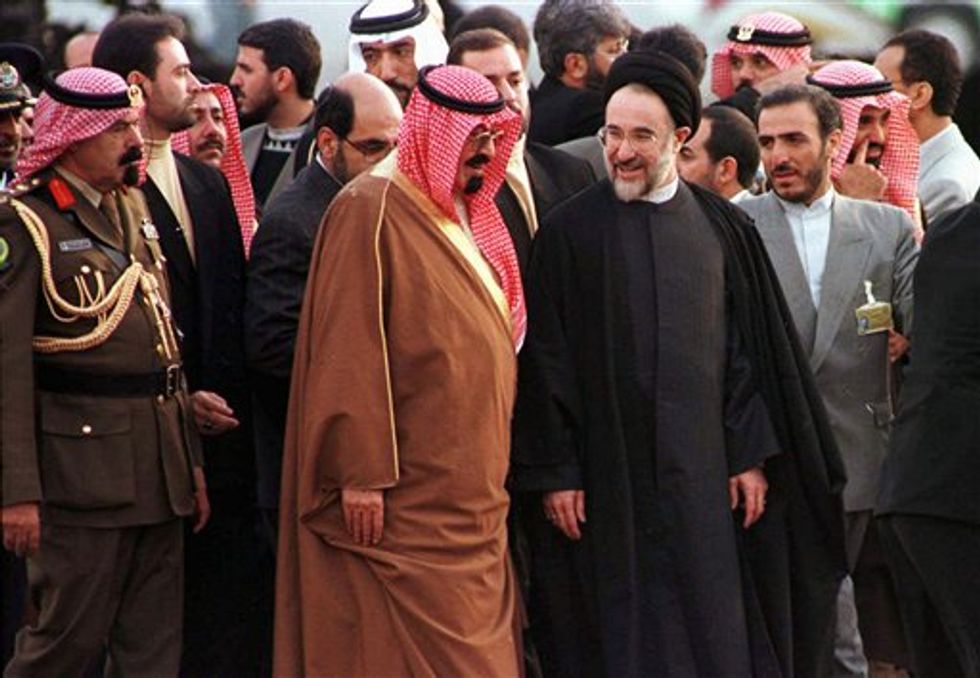 In this Dec. 8, 1997 file photo, Saudi Arabia Crown Prince Abdullah Bin Abdul Aziz Al-Saud, center left, is greeted at Mehrabad Airport in Tehran by Iranian President Mohammad Khatami, center right, ahead of the Islamic Conference in the Iranian capital. Prince Abdullah's arrival marked the first visit by a high-ranking Saudi leader since the revolution. It follows almost a year of diplomatic efforts to improve ties between Iran and Saudi Arabia, a key U.S. ally and the world's largest oil exporter. (AP Photo/Enric Marti, File)
Within hours, the United Arab Emirates announced it would downgrade its own diplomatic ties to Tehran, bringing them down to the level of the charge d'affaires and would from now on focus entirely on the business relationships between the two countries.
The Saudi decision to halt diplomatic relations came after its the mass execution Saturday of Shiite cleric Sheikh Nimr al-Nimr and 46 others - the largest carried out by Saudi Arabia in three and a half decades - laid bare the sectarian divisions gripping the region. Shiite protesters took to the streets from Bahrain to Pakistan while Arab allies of Sunni-ruled Saudi Arabia quickly lined up behind the kingdom.
Al-Nimr was a central figure in the Arab Spring-inspired protests by Saudi Arabia's Shiite minority until his arrest in 2012. He was convicted of terrorism charges but denied advocating violence.
Bahrain enjoys particularly close relations with Saudi Arabia, which like Bahrain's leadership is suspicious of alleged Iranian efforts to destabilize the island nation, which has a tiny Shiite-majority but is Sunni-ruled. Riyadh, along with the UAE, sent tanks and troops to Bahrain in 2011 to quell widespread anti-government protests spearheaded by Bahrain's Shiite majority.
Bahraini officials have blamed Iran for training militants and attempting to smuggle arms into the country, which hosts the U.S. Navy's 5th Fleet.
In October, Bahrain ordered the acting Iranian charge d'affaires to leave within 72 hours and recalled its own ambassador from Tehran after alleging Iran sponsored "subversion" and "terrorism" and funneled arms to militants.
The UAE, a country of seven emirates, has a long trading history with Iran and is home to many ethnic Iranians.
Saudi Foreign Minister Adel al-Jubeir announced the cut in Riyadh-Tehran relations late Sunday and gave Iranian diplomatic personnel 48 hours to leave his country. All Saudi diplomatic personnel in Iran have been called home.
The move could affect the annual hajj pilgrimage. Lawmaker Mohammad Ali Esfanani, spokesman of the Judicial and Legal Committee of the Iranian parliament, said security issues and the fact that Iranian pilgrims wouldn't have consular protection inside the kingdom made halting the pilgrimage likely, according to the semi-official ISNA news agency.
Both Saudi Arabia and Iran have yet to make any formal announcement about how the diplomatic spat would affect the hajj, a pilgrimage to Islamic holy sites in Saudi Arabia required of all able-bodied Muslims once in their life. The hajj this year likely will begin in early September, though Muslims travel to the holy sites all year long as well.
"When a country has cut diplomatic relations with us, it means it is hostile with us," Esfanani said. "It appears that protection (of pilgrims) and security issues will prevent hajj from taking place."
When Saudi Arabia severed ties with Iran from 1988 to 1991, Iran stopped its pilgrims from attending the hajj. Also, with Saudi diplomatic missions closed in Iran, it will make it difficult for Iranians to get visas for the hajj.
World powers have sought to calm the tensions, with a Russian state news agency on Monday quoting an unnamed senior diplomat as saying Moscow is ready to act as a mediator in the escalating conflict. The RIA Novosti news agency did not say whether Moscow had made the mediation proposal to either side.
In Washington, State Department spokesman John Kirby said the Obama administration believes "diplomatic engagement and direct conversations remain essential in working through differences."
"We will continue to urge leaders across the region to take affirmative steps to calm tensions," Kirby said.
Earlier Sunday, EU foreign policy chief Federica Mogherini spoke to Iranian Foreign Minister Mohammad Javad Zarif by phone and urged Tehran to "defuse the tensions and protect the Saudi diplomats," according to a statement.
The disruption in relations between Saudi Arabia and Iran may have implications for peace efforts in Syria. U.S. Secretary of State John Kerry and others spent significant time trying to bring the countries to the negotiating table and they both sat together at talks aimed at finding a diplomatic solution to the civil war.
Last month, Saudi Arabia convened a meeting of Syrian opposition figures that was designed to create a delegation to attend peace talks with the Syrian government that are supposed to begin in mid-January.
Meanwhile, al-Nimr's family is holding three days of mourning at a mosque in al-Awamiya village in the kingdom's al-Qatif region in predominantly Shiite eastern Saudi Arabia. The sheikh's brother, Mohammed al-Nimr, told The Associated Press that Saudi officials informed his family that the cleric had been buried in an undisclosed cemetery, a development that could lead to further protests.
Early Monday, the state-run Saudi Press Agency said a shooting targeting security forces in the village killed a man and wounded a child. It offered no motive for the attack, nor for another it said saw a mob beat and briefly kidnap a man driving through the area.
–