For Carly Fiorina, one of her fellow Republican candidates for president reminds her of reality star Kim Kardashian.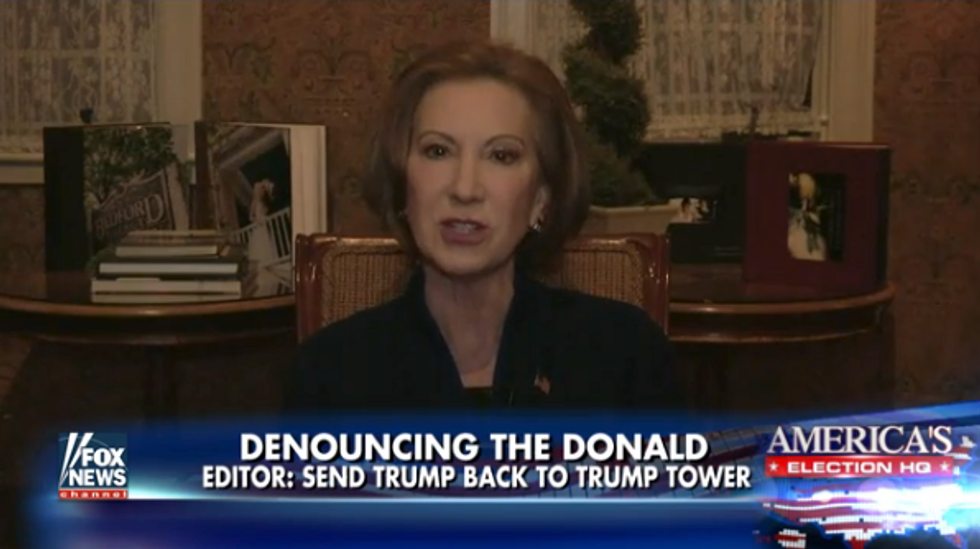 Image source: Fox News
During an interview on "Fox and Friends" Tuesday morning, the former Hewlett-Packard CEO revealed that candidate to be real estate tycoon Donald Trump. She and the Fox panel were discussing Esquire's February cover story, which labels Trump the "Hater in Chief."
"Look, I don't exactly think Esquire is an authority, but there is no doubt: Donald Trump is an extremely divisive candidate. That's why he cannot win. That is why he cannot be our nominee," Fiorina said. "But honestly, Donald Trump reminds me of the Kim Kardashian of politics."
"They're both famous for being famous," she added, "and the media plays along."
Fiorina also rebuked Democratic front-runner Hillary Clinton for the fact that her husband, former President Bill Clinton, is now campaigning for her.
"Bubba is back," Fiorina said. "Well, I'm here in New Hampshire as well drawing pretty big crowds. Look, Bill Clinton is fair game, he's a former president. But elections are about the future, not about the past. So this election is about Hillary Clinton."
"The way to beat [Clinton] is to talk about her complete lack of accomplishment, and the fact that she's gotten every foreign policy challenge wrong," she continued. "And the fact that she continues to lie to the American people. It's the Clinton way. Lie as long as you can get away with it and say whatever you need to say to get elected."
—
Follow the author of this story on Twitter and Facebook:
[facebook //www.facebook.com/plugins/like.php?href=