An 18-year-old German girl was simply trying to see the New Year's Eve fireworks in Cologne with her friends when the men descended on them.
The teenager, identified only as Michelle by German news station N-TV, said she and a group of 11 friends were on their way to the New Year's Eve festivities when they noticed how packed the train station was with "almost all foreign men." Fearful, her group stayed together and held hands, but soon they were surrounded by approximately 20 to 30 men on all sides.
Michelle said the men appeared to be angry and organized. She said the men reached for the females in the group and groped them. Thankfully, she said, everyone was wearing many thick layers of winter clothing, but still the men tried to get through.
This Dec. 31, 2015, photo shows people gathering in front of the main railway station in Cologne, western Germany. Police in Cologne told AFP they have received more than 100 complaints by women reporting assaults ranging from groping to at least one reported rape, allegedly committed in a large crowd of revelers during year-end festivities outside the city's main train station and its famed Gothic cathedral. (Markus Boehm/AFP/Getty Images)
Even though some of the girls shouted, "What are you doing," at the men, Michelle speculated that they could not understand their language as they were "foreigners."
Once the group of girls finally made it away from the men, they realized they had been robbed as well. The men took wallets, cell phones, cigarettes and headphones. The group looked for police to report the incident, but none could be found.
On the way home, the group became separated, and Michelle recounted that she and a female friend had to walk home alone on foot as the train was no longer running.
Michelle said they were "glad" when they finally arrived home, and all they wanted to do was sleep.
"We were not beaten, have no permanent damage, but it was disgusting and not funny," the teenager said.
Cologne police have said that more than a thousand men "of Arab or North African appearance" stormed Germany on New Year's Eve. The men appeared to be "heavily intoxicated" and descended on the crowds of people "seemingly with the specific intention of carrying out attacks on women." Dozens of people have reported various sexual assaults, robberies and at least one rape to the police.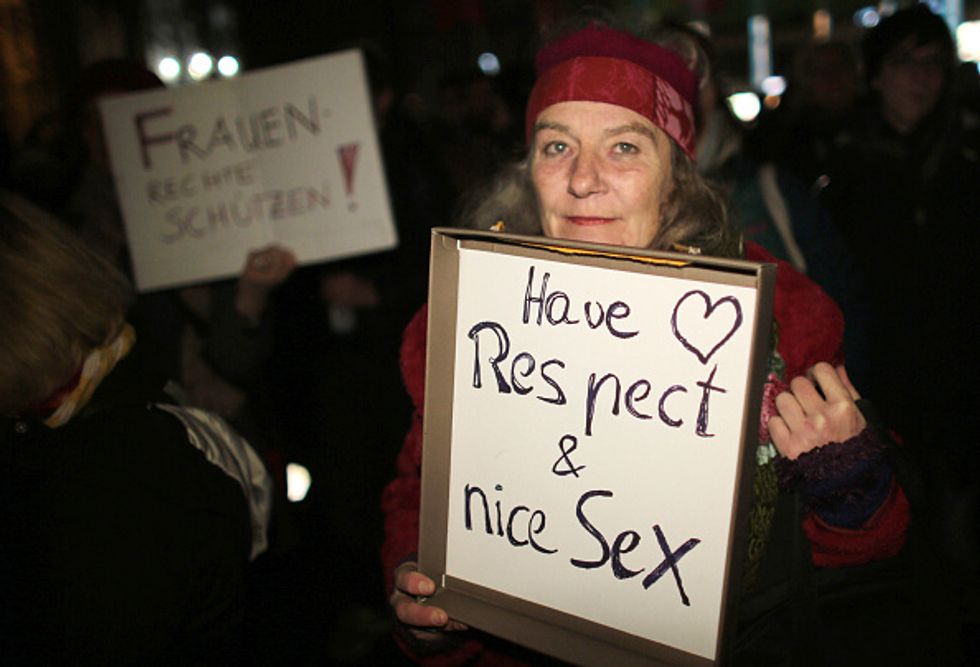 A woman holds a sign reading "Have respect and nice sex" during a demonstration in Cologne Jan. 5. German leaders expressed shock over dozens of apparently coordinated sexual assaults against women on New Year's Eve in the city blamed on "Arab-looking men" but warned against anti-migrant scapegoating. (Oliver Berg/AFP/Getty Images)
Cologne Mayor Henriette Reker has issued a "code of conduct" for women following the harrowing attacks. The code of conduct, which has faced heavy criticism, includes keeping at least an arm's length from strangers, staying with a group, asking bystanders to intervene or help and informing police of assaults.
"We need to prevent confusion about what constitutes happy behavior and what is utterly separate from openness, especially in sexual behavior," Reker said.
Police have advised against linking the men to the current influx of refugees. Reker, too, said that it is "completely improper" to link the group of Arab and North African male assailants to the migrants.
Hundreds of people, mostly women, protested in Cologne on Tuesday evening. Many held signs imploring for German Chancellor Angela Merkel to help.
Cologne Police Chief Wolfgang called the attacks a "completely new dimension of crime" and said no arrests have been made as there are no suspects.