CONCORD, N.H. - Rep. Jason Chaffetz (R-Utah) formally endorsed Sen. Marco Rubio (R-Fla.) for president at a campaign stop in New Hampshire today.
Chaffetz said that "it's time to have somebody who's a trustworthy conservative" in the White House and praised Rubio's record of defeating an "establishment" candidate in Florida during his run for the Senate.
Rep. Jason Chaffetz (R-Utah) speaks during the Utah Republican Party nominating convention, in Sandy, Utah, April 26, 2014. (AP Photo/Rick Bowmer, File)
"Charlie Crist was supposed to be the next senator from Florida," Chaffetz said. "And thank goodness Marco Rubio stepped up and challenged him, didn't go with what Washington, D.C., wanted to do, and said, 'No, conservatives have a place at the table.' He ran, he won, and he's going to do the same thing when it comes to November."
Chaffetz also cited endorsements that Rubio has earned from Reps. Darrell Issa (R-Calif.), Trey Gowdy (R-S.C.) and Mia Love (R-Utah) as proof of Rubio's conservative credentials.
"There's a reason we're all endorsing and supporting and getting behind Marco Rubio," Chaffetz said.
Rubio "has a vision" of what this country can and should be, Chaffetz said.
Rubio thanked Chaffetz for his endorsement and said that, "if we had more people like this in Congress, the country would look a little different."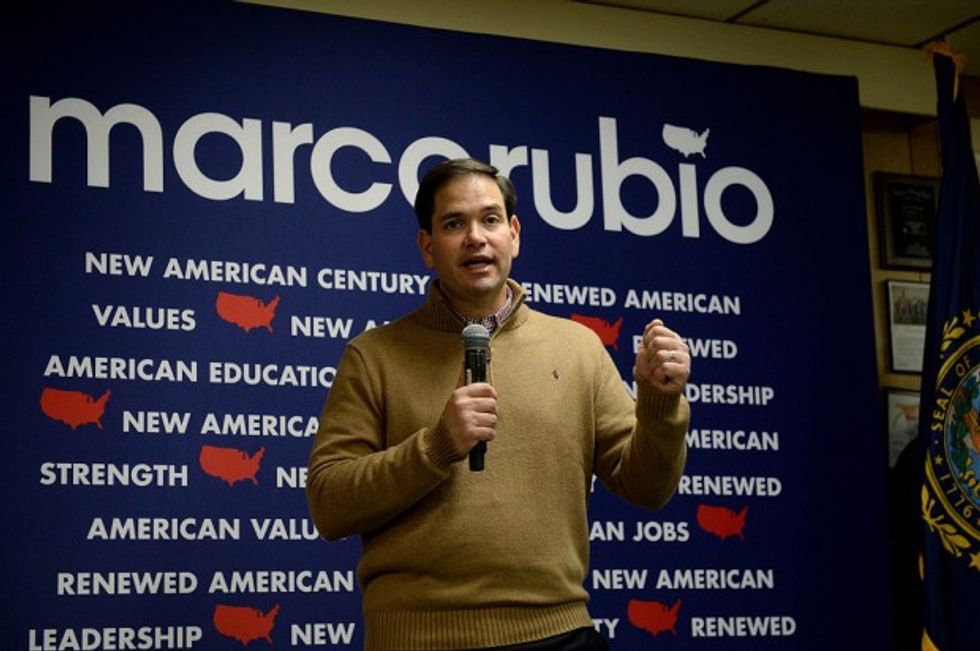 Republican presidential candidate Florida Sen. Marco Rubio speaks at a pancake breakfast at the Franklin VFW, Dec. 23, 2015. (Getty Images/Darren McCollester)
Rubio said that the president views the Constitution as an "outdated document" that he tries to figure out "how to get around," and that as president, he would abide by the Constitution.
"That's why he's obsessed with undermining the Second Amendment," Rubio said. "That's why he's obsessed with undermining our religious liberties in this country."
Rubio also rejected the notion that he is part of the "establishment" of the Republican Party.
"In 2009, I ignored the establishment of the Republican Party. They said to me, 'You can't run, it's Charlie Crist's turn. He's the Republican governor of Florida, he's beating you by 70 points in the polls.' But I ran, and we won. Because I wanted my next senator to be someone who would stand up to Barack Obama, not help him."
Rubio criticized the president's recent executive actions on gun control and vowed to overturn all of the unconstitutional executive actions Obama has taken.
The Florida senator said he is prepared to defeat the presumptive Democratic nominee Hillary Clinton. "She doesn't want to run against me, but I can't wait to run against her," Rubio said.
In a lighter moment, Rubio encouraged a mother with a fussy baby to stay. "The baby doesn't bother me, you can stay if you want," he said as she went to leave. "I have four of my own, trust me, it doesn't bother me at all."