CNN anchor Carol Costello clashed with Erich Pratt, executive director of Gun Owners of America, over the Second Amendment on Friday — and things became briefly tense after she claimed the majority of Americans support President Barack Obama's executive actions, but didn't want to give him a chance to respond.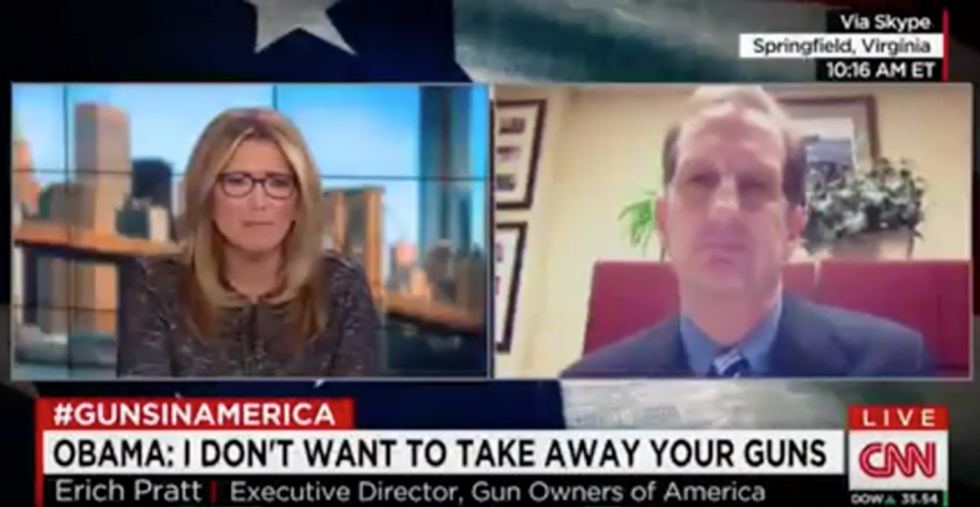 CNN
Pratt first argued that the media should give more attention to law-abiding gun owners who actually stop mass shootings, "like the doctor in Darby, Pennsylvania; or the worker in the Youngstown, Ohio, bar; or a concealed carry holder in a Philadelphia barber shop; or the pastor in the Orlando church about a year ago."
After Pratt expressed his distrust of Obama on the issue of gun confiscation, Costello claimed that the "most Americans, according to our poll, support the president's executive orders, they support it because it's strengthening existing laws on the books."
When Pratt, who clearly strongly disagreed, tried to respond, Costello cut him off and moved on to another topic, ignoring his persistent objections. Even after she asked a different question, Pratt made sure to address the point.
"The polls are conflicting," he said. "There are many polls that show Americans don't want stricter gun control."
"That's not my question," Costello interrupted.
"Frankly, it doesn't matter what the polls say because the beauty of the Constitution and the Bill of Rights is that it trumps what people think," Pratt added.
Watch the segment below via CNN:
He then said CNN's polling on guns is "reminiscent of 1994 when your polls were saying that the American people loved Clinton's gun control."
"And guess what happened when he lost control of the Congress? He lamented it was my gun control initiative that cost me control of Congress," he added.
---