Could former New York City Mayor Michael Bloomberg be considering a possible run for president?
According to the New York Times, sources close to Bloomberg said he was intrigued by the possibility of running as a third-party candidate. In anticipation of a Trump-versus-Clinton 2016 race, the politician and billionaire media mogul commissioned a poll last month to see how he would fare if thrown into the mix.
Bloomberg served as New York City's mayor for three terms, beginning in 2001 and ending in 2013. He was succeeded by current mayor Bill de Blasio (D).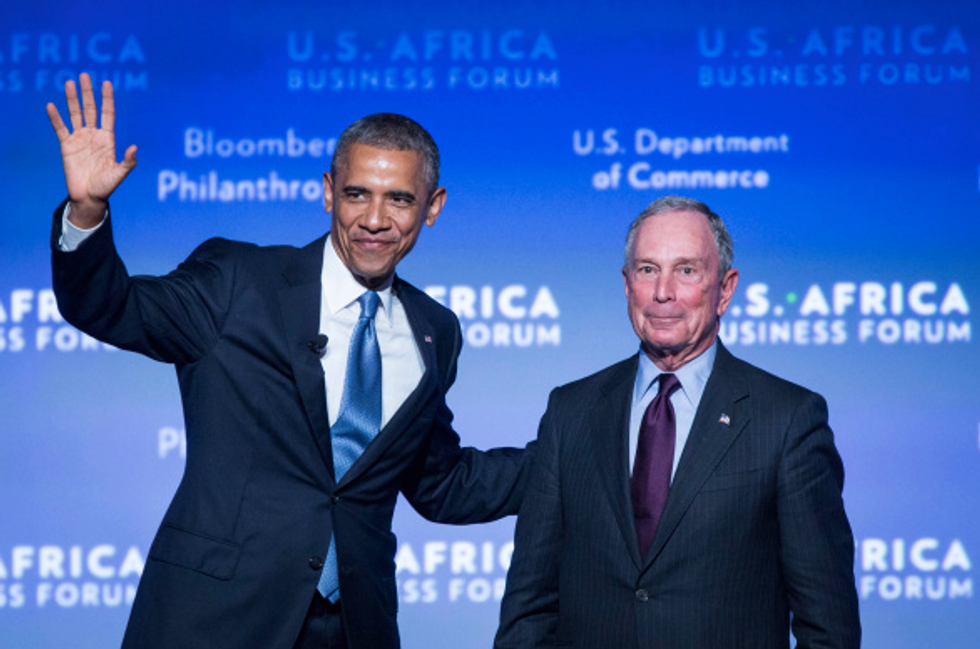 President Barack Obama, left, waves to the audience after being introduced by Michael Bloomberg, former mayor of New York, at the U.S.-Africa Business Forum in Washington, D.C., Aug. 5, 2014. (Drew Angerer/Bloomberg via Getty Images)
Bloomberg has experienced the spectrum of political affiliations. Though he is currently identifies as an independent, Bloomberg was a registered Republican from 2001-2007, and before that, he belonged to the Democratic Party.
This wouldn't be the first time Bloomberg entertained a presidential run. He supported a research effort back in 2008 to gauge his chances as an independent before ruling out a bid during the primary season, CNN reported. And in 2012, Bloomberg waited until November to finally endorse President Barack Obama, after the president addressed climate change in the wake of Hurricane Sandy.
And just last June, the New York Post reported that Democrats pressed Bloomberg about a 2016 bid.
The findings of the poll have yet to be disclosed.
(H/T: CNN)