A mountain lion that was recently killed in southeast Idaho was discovered to have an unusual deformity: a second set of teeth and whiskers growing from its head.
According to the Idaho State Journal, the yearling cougar was harvested near the town of Weston on Dec. 30 by an unidentified hunter. The deformed animal has biologists stumped.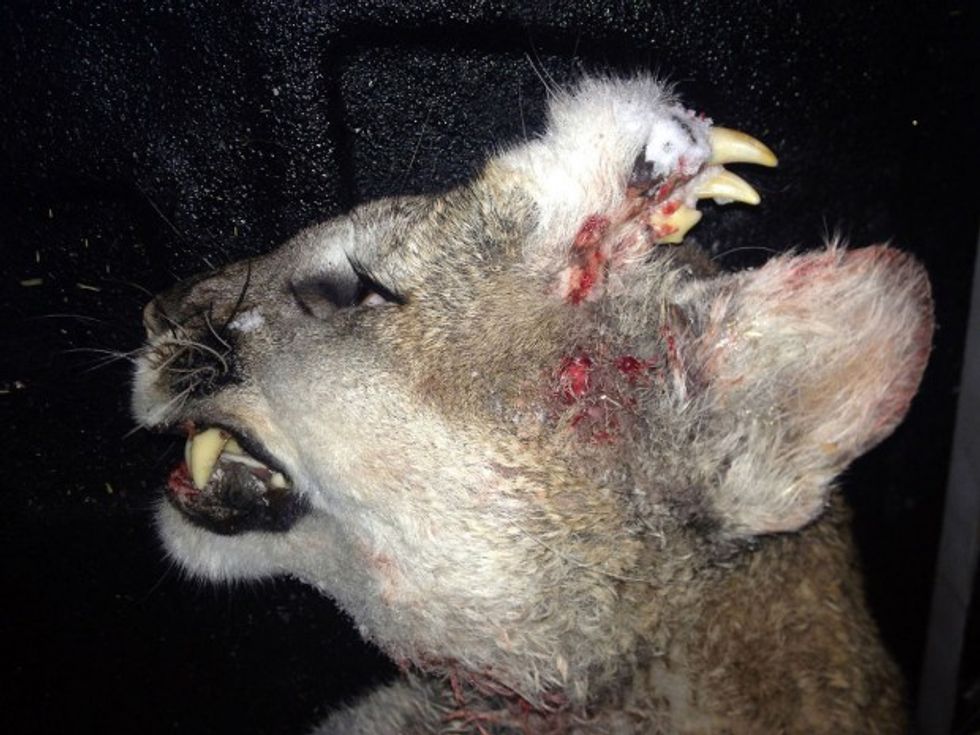 Image source: Idaho Department of Fish and Game
"It has all of us scratching our heads," regional wildlife biologist Zach Lockyer told the State Journal. "It's a bizarre situation and a bizarre photo."
In a press release Friday, Idaho's department of fish and game said that they could not fully explain the deformity, but offered several possible explanations.
"It is possible that the teeth could be the remnants of a conjoined twin that died in the womb and was absorbed into the other fetus," the press release said. "It is also possible that deformity was a teratoma tumor. These kinds of tumors are composed of tissue from which teeth, hair, and even fingers and toes can develop. They are rare in humans and animals."
A third, but unlikely, possibility is that the lion suffered an injury to its mouth and teeth, and that the deformity is a result of healing, according to Lockyer.
However, Lockyer says that the cause of the deformity may never be known: Though biologists have requested that the animal be brought in for an in-depth analysis, the hunter who bagged the big cat plans to have it stuffed by a taxidermist.
(H/T: Idaho State Journal)
—
Follow the author of this story on Twitter and Facebook:
[facebook //www.facebook.com/plugins/like.php?href=