A robber walked into a convenience store and attempted to fight the store's clerk, but the attacker wasn't the only one with a knife.
As seen in a surveillance video, a man dressed in all black and wearing a mask jumped onto the counter of the Jarek's Market in Falls River, Massachusetts, wielding a knife around 10 a.m. Sunday. However, the store clerk pulled out an even larger knife, and the two duked it out for almost a full minute.
According to WBZ-TV, the robber got away and is still at large. The store clerk suffered only minor injuries. It is unclear if the robber suffered any injuries.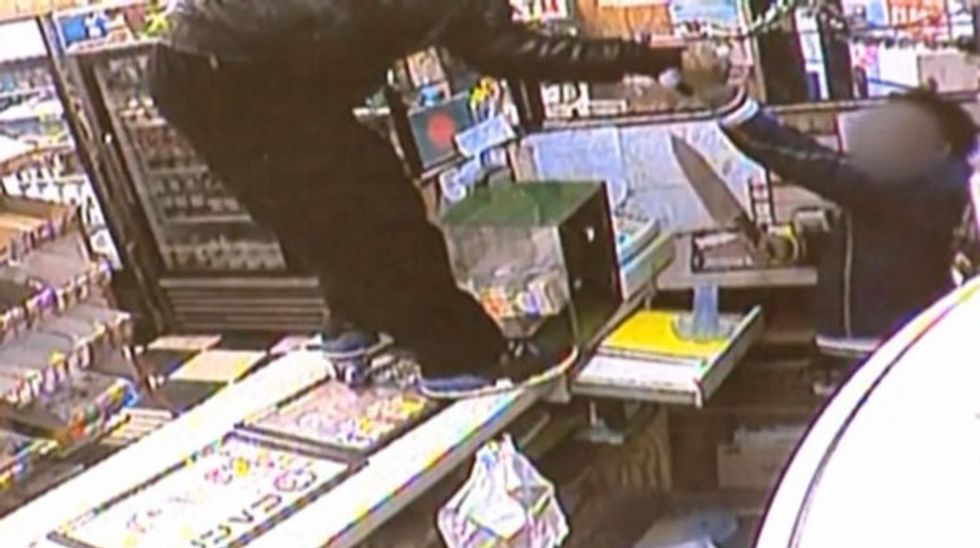 Image source: WBZ-TV
"I had to do what I had to do to protect myself," the store clerk, who wished to remain anonymous, told the Falls River Herald with a bandaid on his face.
The clerk described the suspect as a Hispanic man whom he recognized from being in the store a few days prior. The suspect left behind his bicycle.
"Of course I was scared, but I didn't have a choice," the store clerk said. "What am I gonna do?"