Former NFL running back Lawrence Phillips was found dead in a California prison cell Wednesday morning, according to ESPN.
Staff at Kern Valley State Prison found Phillips, who was facing a murder charge, unresponsive during a security check. Authorities believe that it is likely that Phillips' death was a suicide.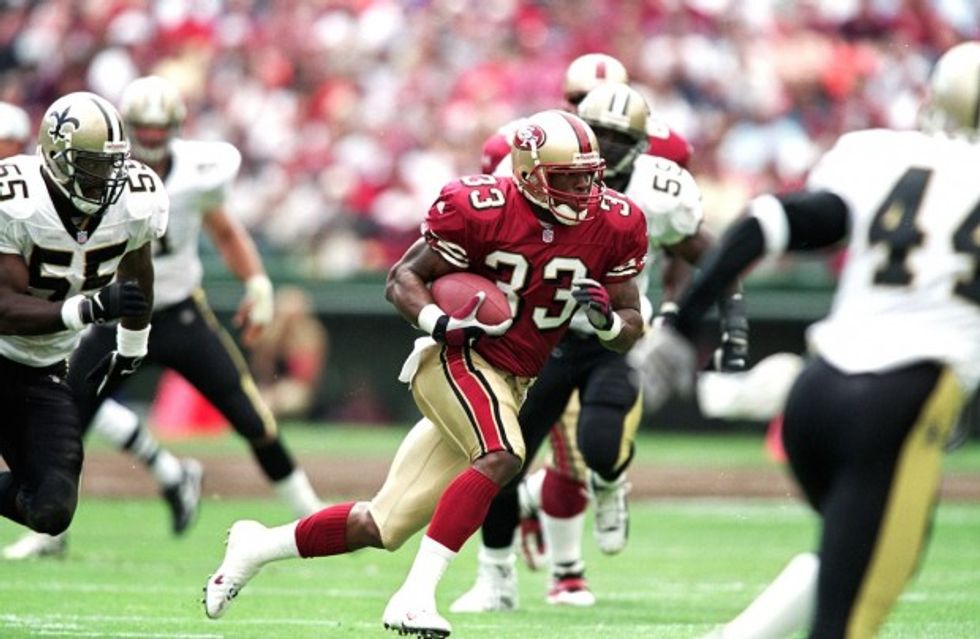 Lawrence Phillips (33) of the San Francisco 49ers carries the ball during a Sept. 9, 1999, game against the New Orleans Saints in San Francisco. (Jon Ferrey/Allsport)
According to ESPN, Phillips has been imprisoned since 2008. Prior to the murder charge, he was serving a 31-year sentence for crimes "including inflicting bodily harm including domestic violence, corporal injury to a spouse, false imprisonment and vehicle theft."
TMZ reported that Phillips has been kept in solitary confinement since April, when he allegedly killed his cellmate, Damion Soward.
Phillips was recently charged with Soward's murder.
According to the Bakersfield Californian, a Kern County judge found that there was enough evidence to try Phillips on a first-degree murder charge Tuesday.
Prosecutors said they believe Phillips strangled his cellmate Soward in his sleep. Had he been convicted, Phillips would have faced the death penalty.
According to TMZ, Phillips was a running back at the University of Nebraska during the 1990's before playing for the Rams, Dolphins and 49ers in an NFL career "cut short by off-field incidents and legal trouble."