WASHINGTON, D.C. — Hours before her youngest child was born, Diane Black was in a Maryland emergency room — working.
Black, who now represents the people of Tennessee's 6th Congressional District, likes to say that hard work and self-sufficiency are the two qualities instilled in her by her parents that not only turned her to conservative politics, but also got her to where she is today — sitting behind a dark desk in a cozy office on Capitol Hill. Yet when she tells her life story, it's peppered with memories and experiences rooted in perseverance and dedication, too.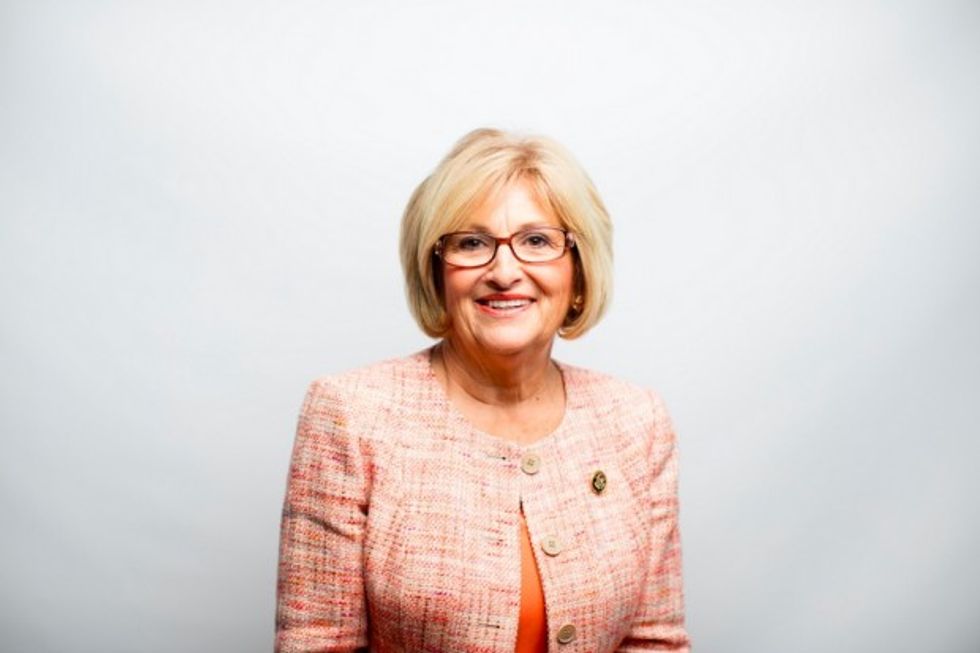 Tennessee Rep. Diane Black (Image provided to TheBlaze)
The Tennessee congresswoman's third child — who is now a grown woman — was born at 2:17 a.m. But just 10 hours earlier, Black, a nurse, had been downstairs in the hospital's emergency room working. As her shift ended at 4 p.m., she left the hospital, knowing she was in labor. She picked up her two other children form the babysitter, dropped them off at her mother's house and headed straight back to her place of employment.
Laughing, Black said that about an hour after her daughter had been born, she realized that she was scheduled to work that day.
"I thought, 'Oh my gosh, I've got to call in sick.' So I called down — I was in the hospital that I actually worked in — I called down to the emergency room, and they said, 'Oh, are you in labor?' I said, 'Actually, I had a little girl at 2:17 a.m., and I can't come to work today,'" she told TheBlaze.
Tuesday, the day of President Barack Obama's final State of the Union address, Black detailed for TheBlaze her road to Congress — which wasn't a necessarily easy one. She described her neighborhood in Maryland as having those quintessential tracks — on one side were the wealthy families; on the other side were the poor families. She spent a few young years living in public housing, yet, she made it work.
She started work at 12-years-old — first cleaning houses and then gaining employment at a dry cleaning business. On rare, rich occasions, she would take public transportation to a popular Baltimore department store, Hochschild Kohn's, and survey the in-style fashion. From there, she would buy fabric and patterns and replicate the clothes to a tee. 
When she was pregnant with her third child, Black's first husband, who struggled with alcoholism, left. He didn't leave her behind with three children, she says, he "blessed her" with them.
"My parents had always taught me: take care of yourself and work hard and [be] wise with your dollars," Black told TheBlaze. "I mean, I couldn't spend dollars unwisely. It was a budget, and we were on a budget."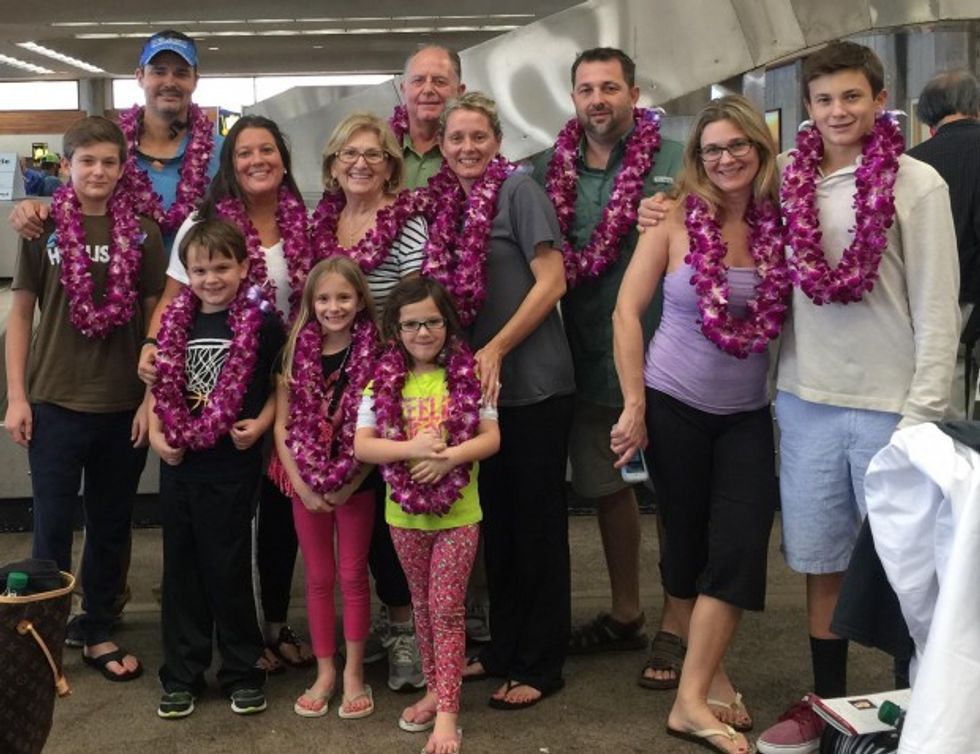 The Black family gets together for a Christmas vacation in 2015. (Image provided to TheBlaze)
A chicken could be purchased for $1.25 back then, and from that $1.25 chicken, Black would make three meals. "They were all good meals, by the way," she added assuredly.
"I was very blessed to have parents that taught me to be frugal with my dollars and [be] self-sufficient," she said. "I was also very blessed to have a guy who came along that I met earlier in life, and we kind of were in and out of each others' lives during those years, and 11 years after I met him, we ended up getting married and he adopted all three of my children."
"I never got any government assistance," Black said. "I would not have gotten government assistance because I believe strongly that I had the ability to take care of my family."
The new family eventually moved to Tennessee, and Black obtained her bachelor's degree from Belmont University. It was in Tennessee, as she worked for a hospital, that she saw how the health care system was failing those around her — and she knew she needed to help.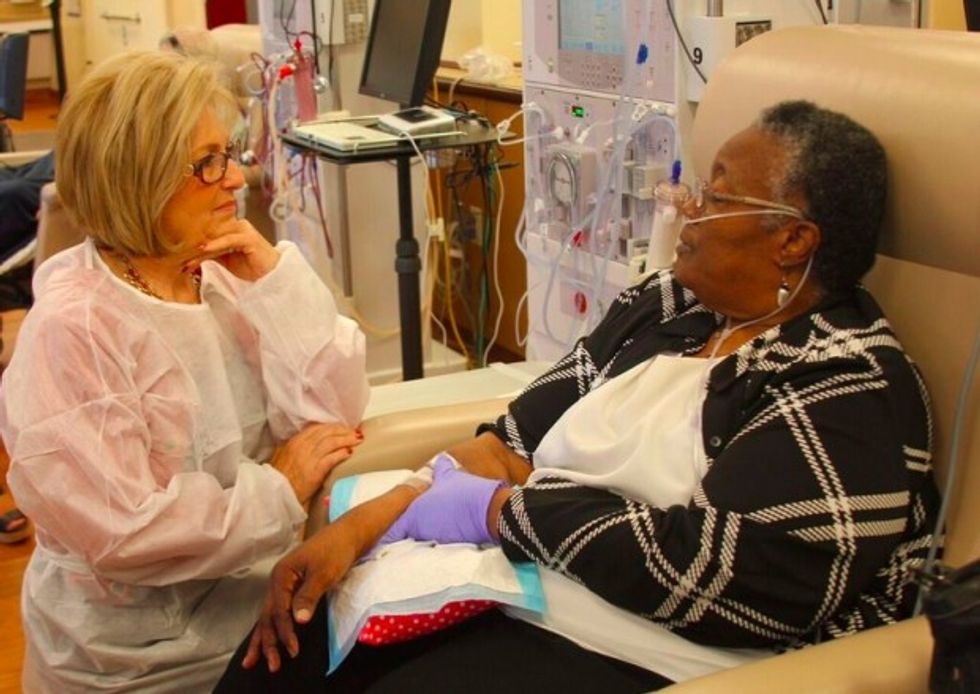 Rep. Black tours Fresenius Medical Care Facility in Hendersonville, Tennessee, in 2015 where she meets with a dialysis patient (Image provided to TheBlaze)
"It was 1998. I was working in the hospital, and I was watching what was happening to our health care there in Tennessee," Black said. "People were, even though they had health care, it wasn't the kind of health care that would have been good for them. They were over-prescribing, they were having difficulty finding the provider that they wanted. It just wasn't working well for our state, and it was breaking our state. That's really what made me run for office. I felt that as a nurse, I could have some good advice and suggestions for a health care system that I knew."
Looking toward Obama's State of the Union address that evening, Black said she wished he would lay out a plan to alleviate the difficulties — especially financial difficulties— people were having with the Affordable Care Act.
"Talk about hurting people; that hurts people," she said of the rising costs of premiums and copays.
"I think he should look at this piece of legislation that was passed by a very partisan vote and acknowledge that it is not working," Black continued. "I think a good leader has ideas, and the ideas are initiated, and a good leader goes back and checks them and says, 'Are they really working?' A good leader would acknowledge, 'Perhaps this didn't work quite the way we thought it would, and we've got to change some things.' Yet we don't hear that from him. He'll continue to stand on the ground that this will save the American health care system." 
While talking about the financial burden the president's health care law has created, Black said her road to Congress would have been "absolutely" hindered had the Affordable Care Act been in place while she was growing up and raising her children. 
"I would probably still be here, but it would be a struggle," Black said. "When you have people at the lower income, and they're told if you get on Obamacare and get these subsidies that this is the greatest thing since sliced bread, and you're going to be able to afford it, and then they get coverage but when a deductible is $5,000 ... If you would have taken that kind of money out of my pocket, when I was struggling with children as a single mom, I could not have afforded it."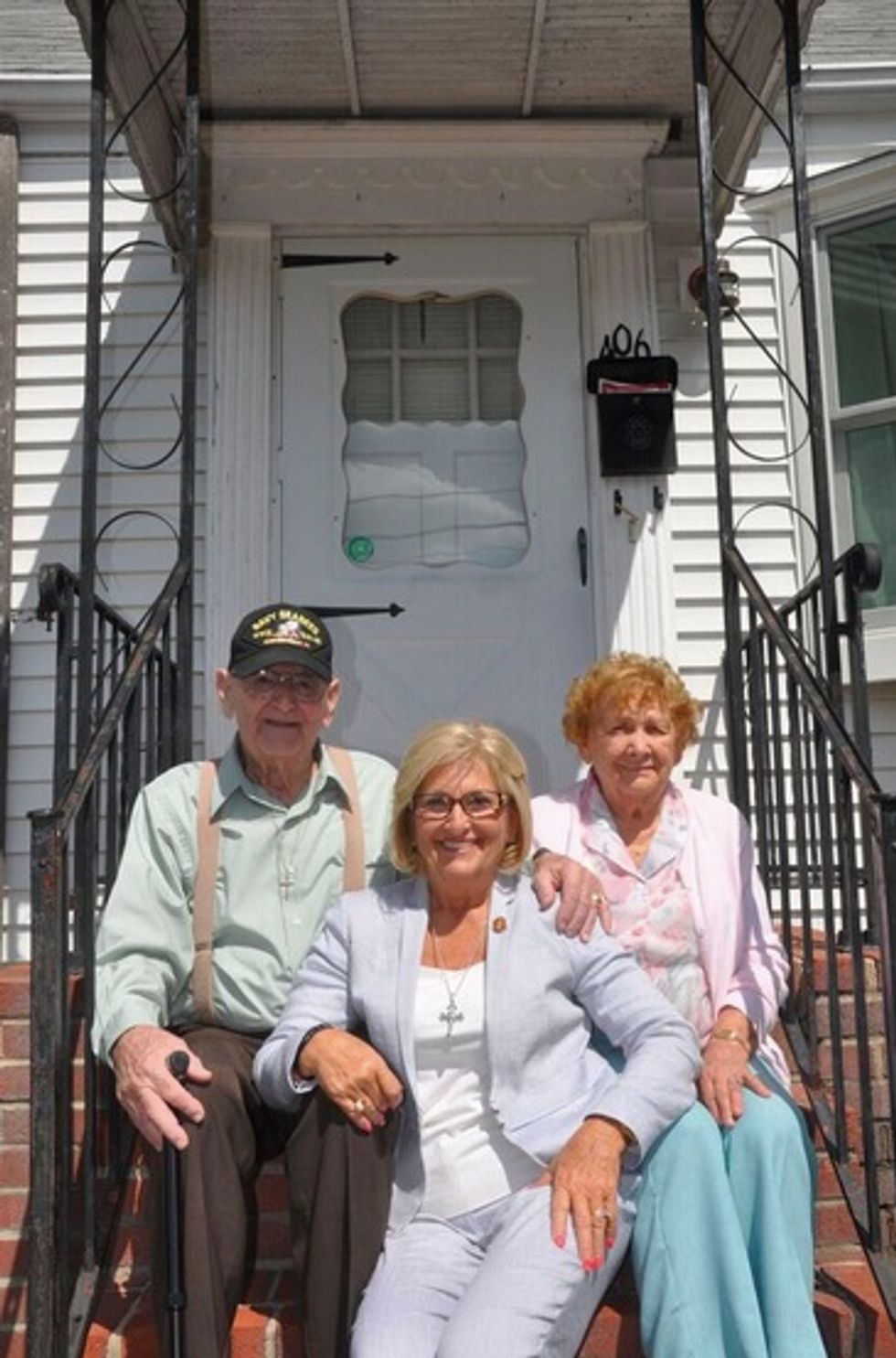 Rep. Diane Black (R-Tenn.) sits with her parents. (Image provided to TheBlaze
Of the things she has learned in the past six years in the nation's capitol, Black said she's discovered how slow policy and ideas can move.
"Good ideas here take longer to actually get traction, to be heard, to be effected. And in some ways that's not so bad," she said. "Here things move slowly, and there's good and bad in that. The bad thing is that you see something that you think very clearly could help, and yet it takes such a long time to get there. In another way, you see that maybe what you thought was good at the beginning as you more study it and get more folks talking about it, you get a lot of input that it would grow and be a better bill at the end of the day. There are pros and cons to being here in a slow-moving process."
Besides exercising even more patience, Black said that being in Congress has taught her — as well as others — how to work with those who might be vastly different ideologically. It's that willingness and ability to work with others who have different viewpoints that Black said could have been a "tremendous help for this president and his administration."
"I have Democrat colleagues who are very good friends of mine who have told me behind closed doors that this is a president who doesn't even work with them," she said, "and some of them have been here for a long time and worked with both Democrat and Republican presidents in the past who say the president of the opposite party would invite them [to the White House]."
Black said that she was invited to the White House three times — one of which was when she first arrived in Washington, D.C. There, Black and the other guests received a simple handshake from the president — nothing more.
"There is betterment for the people when there is more dialogue, and this president does not dialogue," she said. "Not just with the Republicans; he doesn't dialogue with his own party well."
That frustration is heard, she said, on either side of the aisle and it echoes through the halls of Congress. But as she said in her own address to her constituents following the president's speech on Tuesday, it's his final State of the Union address, and the frustrated lawmakers have only to persevere for a little while longer.