© 2023 Blaze Media LLC. All rights reserved.
Benghazi Security Team Says CIA Officer Did Not 'By Any Means' Deserve Medal of Honor
"From the very beginning, you guys walk in, and the CIA chief is really hostile."
Three security contractors from the CIA annex in Benghazi, Libya, joined Glenn Beck Thursday evening to discuss Michael Bay's new film "13 Hours" and what went wrong on the night of Sept. 11, 2012. One of the first things they said the government got wrong: handing a Medal of Honor to the officer in charge of the intelligence annex, known only as "Bob."
"From the very beginning, you guys walk in, and the CIA chief is really hostile. ... I think most Americans would find this awful to know that you guys are treated this way. Can you tell me, was that overplayed at all [in the movie]?"
"No, it really wasn't," Kris "Tanto" Paronto quickly replied.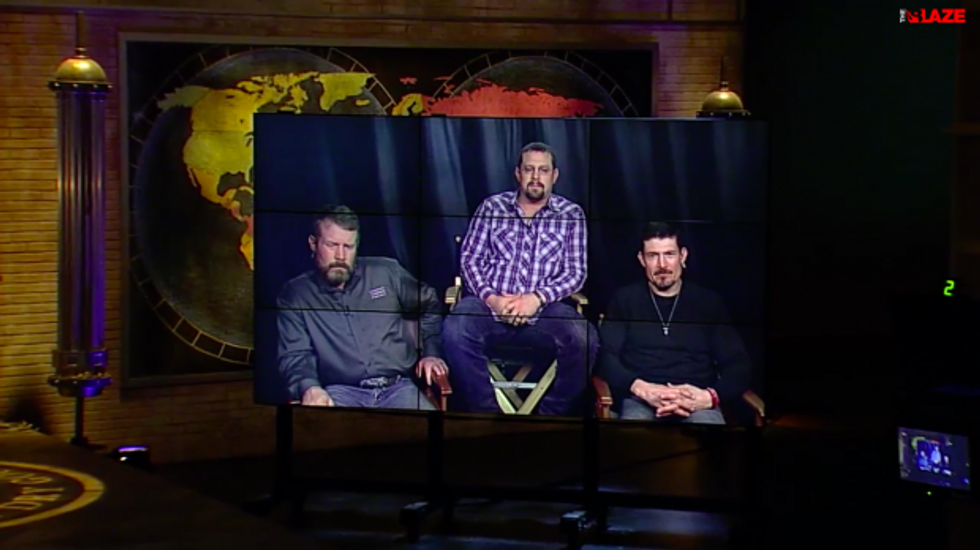 Kris "Tanto" Paronto, Mark
"Oz" Geist, and John "Tig" Tiegen discuss the Benghazi attack with Glenn Beck Thursday, Jan. 14.
Paronto told Beck that the tension between him and "Bob" depicted in Bay's movie, which is a film adaptation of the book "13 Hours" that purports to explain what happened the night of the Benghazi attack, was "pretty accurate."
Paronto and his fellow security team members Mark "Oz" Geist and John "Tig" Tiegen strongly skewered "Bob," who has been criticized for his delayed response to the attack. In fact, they went so far as to say the officer in charge didn't deserve to receive the Medal of Honor at all.
After about 10 seconds of silence, Teigan finally answered a question from Beck, who asked if they had a "problem at all" with the commanding officer receiving the high honor. At first, he offered "Bob" tempered praise, but then he elaborated.
"Personally, 'Bob,' one-on-one, for his job, he was really good at it," Teigan said. "But I don't think he really, truly understands the capabilities of the security team he had around him."
Paronto, too, had something to add. "It's where pride gets in, and you have to, as a leader up top, and that's just how he was, he let his pride overcome his lack of experience in combat situations," he said.
According to Paronto, "Bob" was "overcome" with pride the night of the attack, which led him to maintain control of the situation, "instead of relinquishing control to the guys who had the expertise on the ground, which is us."
"We're glad we put that in the movie, as far as him getting a metal, [but], my opinion, did he deserve that? No — not by any means," Paronto told Beck.
In fact, Geist said it was Teigan who truly deserved the Medal of Honor, claiming that it was him who saved several lives that horrific night in Benghazi.
But, in the end, Teigan, Geist and Paronto each walked away with a Medal of Valor, which Teigan seemingly felt wasn't enough.
"We all got a Medal of Valor, which they gave to everybody that was there that was a contractor, to include the cook and everybody else, so, I mean, it doesn't, when you do that, it kind of," Teigan said before trailing off.
Complimentary Clip from TheBlaze TV The full episode of The Glenn Beck Program, along with many other live-streaming shows and thousands of hours of on-demand content, is available on just about any digital device. Click here to watch every Glenn Beck episode from the past 30 days for just $1!
—
Follow the author of this story on Twitter:
Want to leave a tip?
We answer to you. Help keep our content free of advertisers and big tech censorship by leaving a tip today.
more stories
Sign up for the Blaze newsletter
By signing up, you agree to our
Privacy Policy
and
Terms of Use
, and agree to receive content that may sometimes include advertisements. You may opt out at any time.