© 2023 Blaze Media LLC. All rights reserved.
I Guess the Bromance Is Over': Trump, Cruz's Gloves Come Off At South Carolina Debate
"Now he's doing a little bit better."
Donald Trump and Ted Cruz's simmering tensions finally erupted Thursday, with the two candidates taking swings at each other on Cruz's Canadian birth and the meaning of "New York values."
It's crunch time for the candidates to get in their final blows, and Trump and Cruz each did their best to land a knockout punch Thursday. With just over two weeks until the Iowa caucuses, the South Carolina debate stage was a battleground for the two candidates — who have been running neck and neck in Iowa polls in recent weeks.
Republican presidential candidates Donald Trump and Sen. Ted Cruz (R-Texas) participate in the Fox Business Network Republican presidential debate at the North Charleston Coliseum and Performing Arts Center on January 14, 2016 in North Charleston, South Carolina. (Photo by Scott Olson/Getty Images)
Cruz and Trump have been battling over Cruz's citizenship since last week, when the Republican frontrunner and business mogul said at a campaign event that the Texas senator will likely face a legal challenge early in his presidency over his eligibility for office.
Trump even admitted that Cruz's rise in the polls is why chose to attack the candidate's birth.
When Fox Business debate host Neil Cavuto asked why he brought the issue up now, Trump responded: "Because now he's doing a little bit better. I didn't care before."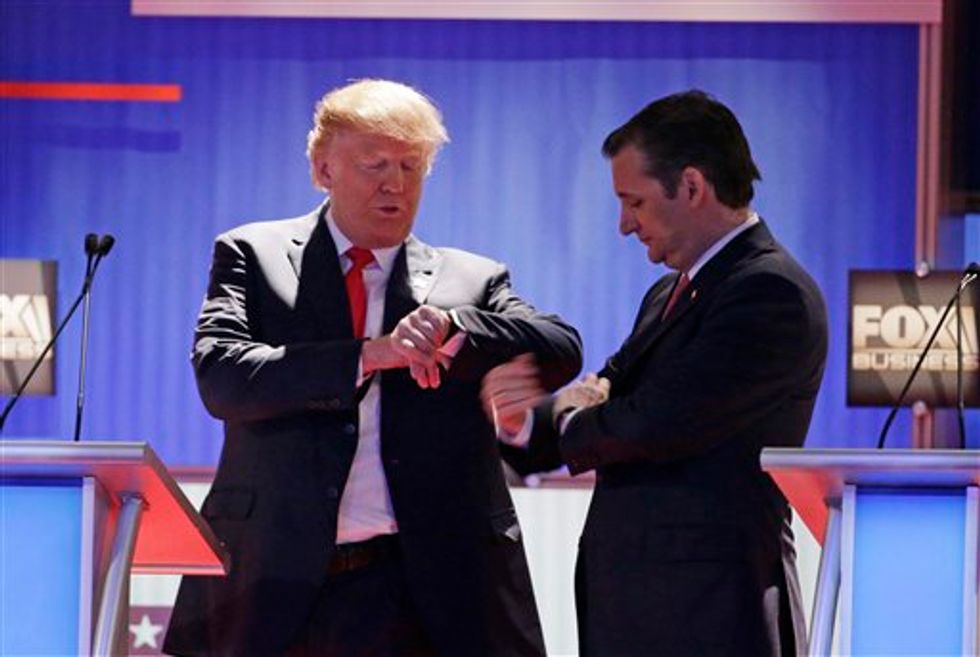 Donald Trump speaks to Ted Cruz at a break during the Fox Business Network Republican presidential debate at the North Charleston Coliseum, Thursday. (AP/Chuck Burton)
Cruz came out on top of the "natural-born citizen" exchange, getting off a good line about how, he as a lawyer, didn't plan on taking legal advice from Trump.
"You know, back in September my friend Donald said that he had his lawyers look at this from every which way. And there was no issue there. There was nothing there to this birther issue," Cruz said. "Now, since September, the Constitution hasn't changed. But, the poll numbers have. And I recognize that Donald is dismayed that his poll numbers are falling in Iowa."
But in a second exchange, Cruz was asked to explain what his campaign trail jab at Trump's "New York values" meant.
Cruz tried to be coy, saying that "most people know exactly what New York values are." He went on to explain that the values of New York City are "socially liberal, pro-abortion, pro-gay marriage ... focused around money and the media." He added that "not a lot of conservatives" come out of New York.
This time Trump was prepared, name checking conservative icon William F. Buckley and taking the opportunity to point to Sept. 11, 2001 as an example of what New York values really are. He talked about how the city rebuilt downtown Manhattan after the terror attacks, and detailed the "smell of death" after the Twin Towers fell.
"That was a very insulting statement," Trump finished, prompting cheers from the crowd.
In an interview aired on CNN after the debate, Trump said: "You can't insult New Yorkers in front of me."
In his post-debate interview, Trump blamed Cruz for going after him, summing it up this way: "He hit me, I didn't hit him. So I guess the bromance is over."
Both candidates quipped that they'd offer the other the vice presidential slot if they were chosen as the nominee.
—
Follow the author of this story on Twitter and Facebook:
[facebook //www.facebook.com/plugins/like.php?href=
Want to leave a tip?
We answer to you. Help keep our content free of advertisers and big tech censorship by leaving a tip today.
more stories
Sign up for the Blaze newsletter
By signing up, you agree to our
Privacy Policy
and
Terms of Use
, and agree to receive content that may sometimes include advertisements. You may opt out at any time.