LYNCHBURG, Va. —Despite an obvious early slip-up when quoting from the Bible, 2016 presidential contender Donald Trump seemed successful in his attempt to connect with evangelical voters at Liberty University on Monday.
The Republican frontrunner touted his lead in national polls and expressed concern over the persecution of modern Christians before a packed house at the private Christian university, which mandates student attendance at events like Monday's convocation.
But then Trump used the phrase "Two Corinthians" instead of "Second Corinthians" to introduce a popular verse from the New Testament, garnering chuckles from the crowd.
"I hear this is a major theme here, but Two Corinthians, right, Two Corinthians 3:17, that's the whole ball game," Trump said. "Where the spirit of the Lord, right, where the spirit of the Lord is, there is liberty. And here there is liberty too, but Liberty University. It is so true."
Trump, a Presbyterian himself, has alienated some evangelical audiences with statements during the campaign about how he doesn't like to ask for forgiveness and instead tries to lead a "very good life." Repentance, or belief that salvation comes through grace alone, is a key tenet of the Christian faith.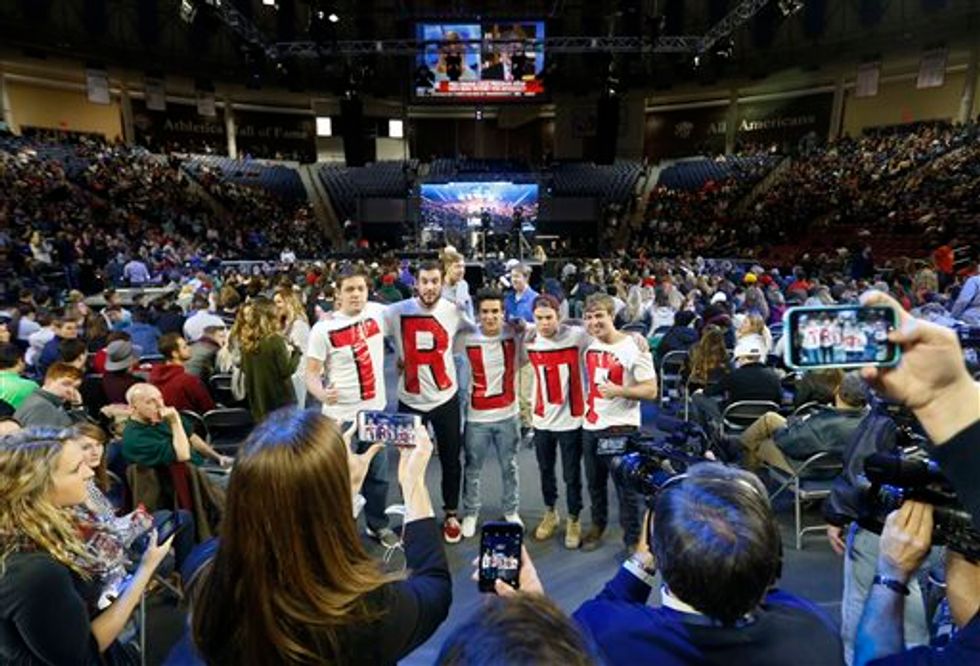 Liberty University students show support for Donald Trump on Monday. (AP/Steve Helber)
Speaking to a record crowd of more than 11,000 people, Trump vowed that his presidency will make the United States a better place for Christians to live and improve Christians' lives abroad.
"We are going to protect Christianity," Trump said, as the audience cheered. "I can say that. I don't have to be politically correct."
Christians need to band together to fight back against persecution particularly in countries in the Middle East, Trump said.
"Throughout the world, you look at Syria, where there are Christians and chopping off heads. If you look at the different places, Christianity is under siege," Trump said. "We have to protect [them] because bad things are happening, very bad things are happening."
Liberty University president Jerry Falwell, Jr. gave Trump a glowing introduction — calling the business mogul a "visionary" who exemplifies Christ through generosity with his personal wealth and "servant leadership" toward his campaign staff. Falwell clarified that no invitation to speak at the school is an endorsement, but he praised the candidate for not being able to be bought.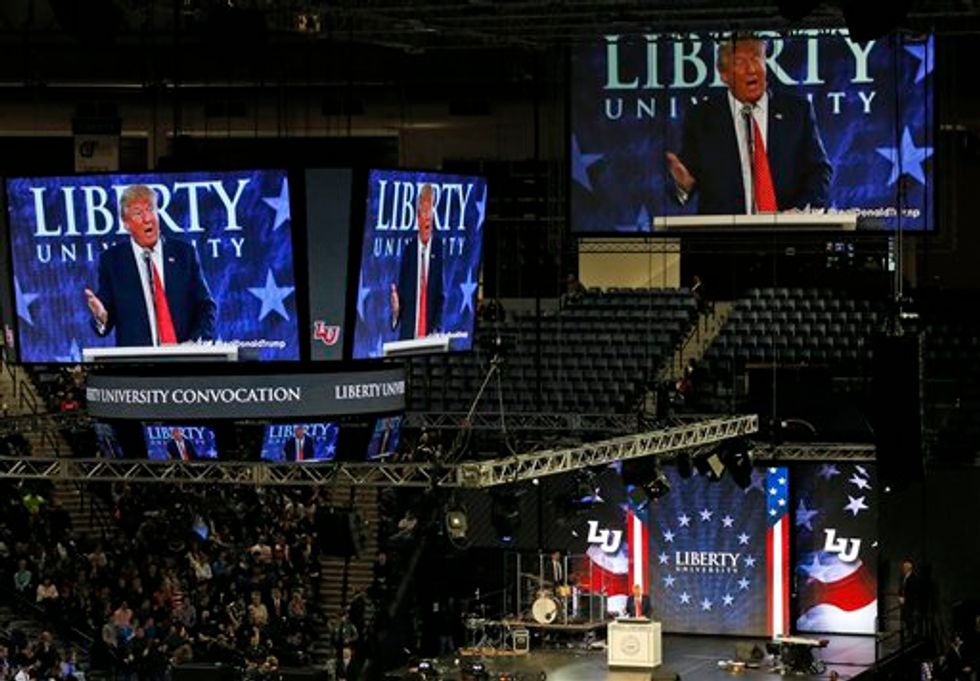 Donald Trump gestures during a speech at Liberty University on Monday. (AP/Steve Helber)
"Imagine how wonderful it would be for once that the United States had as its president ... a man or a woman who not only refused contributions, but has built companies from scratch," Falwell said. "Who knows what it feels like to be solely responsible for finding the money .. to cover payroll. Who runs the nation with the same entrepreneurial business principles that have brought success to their own companies."
Trump has 33 percent support among white evangelical voters, according to the most recent NBC News poll. Sen. Ted Cruz (R-Texas) was at 21 percent with white evangelicals, neurosurgeon Ben Carson was at 12 percent and Sen. Marco Rubio (R-Fla.) was at 8 percent.
"We're doing great with evangelicals, evangelicals are amazing, the Tea Party's been amazing, and we're doing really well," Trump said Monday.
He also pushed back on political correctness, vowing to bring back the term "Merry Christmas" instead of "Happy Holidays."
"When was the last time you saw 'Merry Christmas?' You don't see it anymore," Trump said. "They want to be politically correct. Trump President — you can say Merry Christmas if you want."
At the end of his speech, Trump got a standing ovation.
—
Follow the author of this story on Twitter and Facebook:
[facebook //www.facebook.com/plugins/like.php?href=