Democratic presidential candidate Vermont Sen. Bernie Sanders is under fire for his characterization of some progressive groups — including Planned Parenthood — as "establishment," but many of his supporters agree.
During an interview with Rachel Maddow on MSNBC Tuesday evening, Sanders said his campaign is "taking on not only Wall Street and the economic establishment, we're taking on the political establishment."
Asked why groups like the Human Rights Campaign and Planned Parenthood have endorsed former Secretary of State Hillary Clinton instead of him, Sanders said that he has "friends and supporters" in those groups, "but you know what, Hillary Clinton has been around there for a very, very long time and some of these groups are, in fact, part of the establishment."
Clinton responded on Twitter:
Really Senator Sanders? How can you say that groups like @PPact and @HRC are part of the "establishment" you're taking on? -H

— Hillary Clinton (@Hillary Clinton) 1453268385.0
Planned Parenthood has given Sanders' voting record a score of 100 percent. The organization faced backlash for its endorsement of Clinton from many Sanders supporters who noted that the daughter of Planned Parenthood President and CEO Cecile Richards works for the Clinton campaign.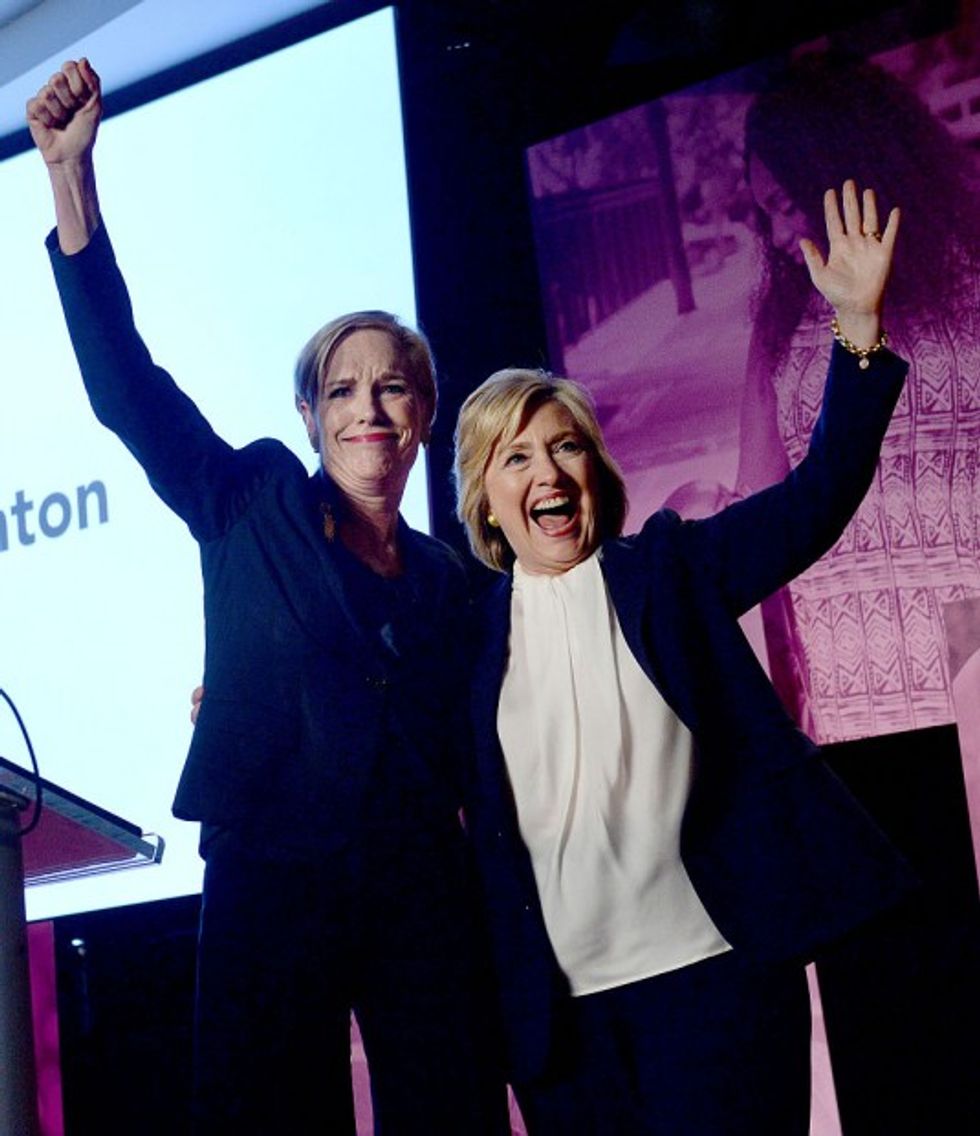 Cecile Richards, Planned Parenthood Action Fund President, introduces Democratic presidential candidate Hillary Clinton at an endorsement event at Southern New Hampshire University Jan. 10 in Hooksett, New Hampshire, marking the first time the organization has ever given an endorsement in a primary race. (Darren McCollester/Getty Images)
A spokesperson for Planned Parenthood did not immediately return TheBlaze's request for comment. The organization did respond to Sanders' comment on Twitter:
We respect @SenSanders. Disappointed to be called "establishment" as we fight like hell to protect women's health. https://t.co/kiimTsVw2x

— Planned Parenthood Action (@Planned Parenthood Action) 1453264709.0
Sanders' supporters defended his remarks on Twitter.
@PPact @SenSanders I respect your efforts, Planned Parenthood, but honestly, your endorsement of Hillary feels like an establishment move.

— Bekah_Rigby (@Bekah_Rigby) 1453264844.0
@PPact @SenSanders Fighting to protect women's health does not entail endorsing Hillary over Bernie.

— Blake Gearin (@Blake Gearin) 1453264838.0
@PPact Want to play a fun game? Create a Twitter poll to ask your followers who they'd choose, Sanders v Clinton. Watch it be 80-20 Sanders.

— Alex Berish (@Alex Berish) 1453267252.0
@PPact Clearly you don't respect @SenSanders if you have to resort to twisting his words to gain support for Hillary. That's disappointing.

— ALD9119 (@ALD9119) 1453267570.0
Some Twitter users defended Planned Parenthood.
@schubie71 @PPact @ANNELAMOTT @SenSanders @rtraister U do realize that the head of PP has family working on the Clinton campaign, no?

— Casey Black (@Casey Black) 1453268703.0
The Human Rights Campaign also defended their endorsement of Clinton on Twitter:
We share @PPact's disappointment in Sanders' attacks. @HRC has proudly taken on the establishment & fought for LGBT people for over 30 years

— Human Rights Campaign (@Human Rights Campaign) 1453298733.0