Senate Minority Leader Harry Reid (D-Nev.), who announced in March that he is retiring when his current term ends in January 2017, is not going to bother getting permission from the Federal Elections Commission on whether he can apply $600,000 in unused campaign funds for personal use such as hiring an assistant.
Reid's attorneys asked the FEC for an advisory opinion in December. Daniel Petalas, FEC general counsel provided a draft approval in December. However, FEC Commissioner Lee E. Goodman said at an FEC meeting later that month, "This issue of personal use vexes us."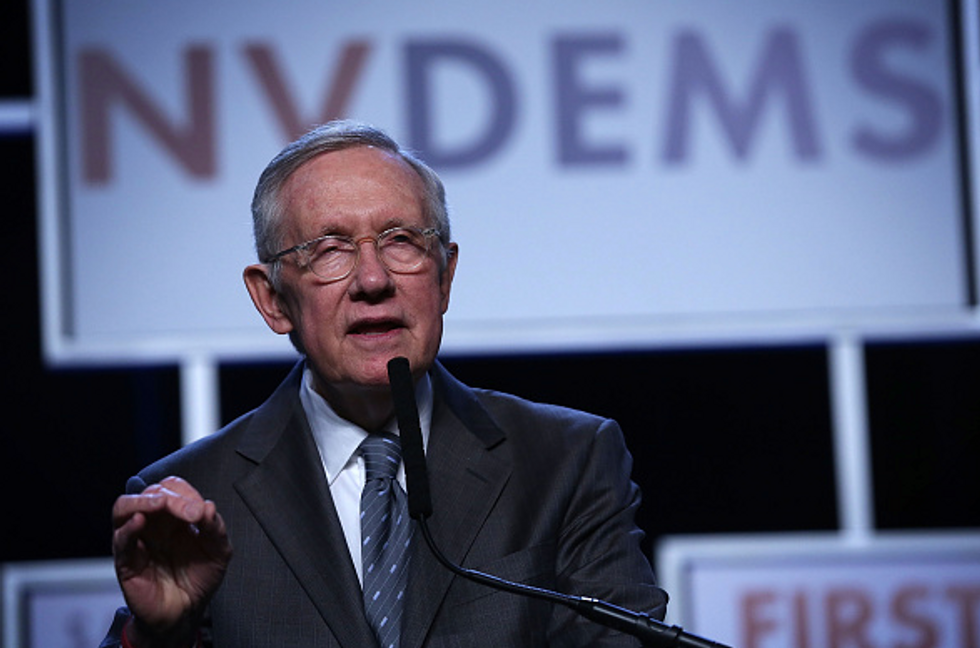 Senate Minority Leader Harry Reid (D-Nev.) speaks prior to the Battle Born/Battleground First in the West Caucus Dinner at the MGM Grand Jan. 6 in Las Vegas. (Alex Wong/Getty Images)
Further, two Democratic members of the commission recused themselves from the decision. Before the commission had a chance to decide on the request, Reid withdrew it, and his attorney said he would use the money without FEC approval, according to the Wall Street Journal.
Various loopholes laws governing leadership political action committees could mean what Reid plans to do with the money is perfectly legal even if ethically questionable, said Tom Fitton, president of Judicial Watch, a conservative government watchdog group.
"It's outrageous, but Reid may be right," Fitton told TheBlaze. "Given the way leadership PACs have been used in the past this is not a big leap. The hypocrisy  of someone who wants to amend the First Amendment regarding political money is notable."
Reid has advocated for a constitutional amendment to overturn the Citizens United case regarding free political speech.
Reid's counsel, Marc Elias, wrote to the FEC that Reid would use the $600,000 anyway based on his own reading of a 2001 FEC opinion that allowed retired Democratic Sen. Bob Kerrey of Nebraska to apply unused campaign funds to hire a public relations firm to answer press questions about his Vietnam record.
"Applying this standard, there is no question that Leader Reid could use campaign funds here," Elias wrote. "After all, each of the proposed activities results from his tenure in office. Had he not been in office, he would not need an assistant to manage correspondence, draft materials, or schedule appearances pertaining to his tenure in office. As a result, we now believe that no further opinion is needed."
Reid's office did not immediately respond to inquiries from TheBlaze Wednesday morning.
Typically, federal office holders are not allowed to use leftover campaign funds for personal use except for organizing their congressional papers.
Reid's attorney contends that Reid's public service will create expenses that will require an assistant and traveling to deliver speeches.
"It's aggressive lawyering," Fitton said. "Rather than give bureaucrats a chance to say 'no,' they decided to pursue the prior opinion."
The Wall Street Journal editorial board criticized the Senate Democratic leader Wednesday.
"Let's see. Senator Reid is a champion of campaign-finance regulation who complains the FEC doesn't do enough to purge money from politics. Yet he now wants to use campaign funds for personal use," a Wall Street Journal editorial said, adding, "Mr. Reid seems to think that holding a powerful political office has its privileges even if he's no longer in office. If you want to know why Americans loathe politics, Mr. Reid's behavior is a prime exhibit."
This post was updated to include comment from Judicial Watch President Tom Fitton.