A young woman interrupted a news conference Wednesday morning without saying a word.
April Goggans, a member of the Black Lives Matter movement, halted a speech by Baltimore Mayor Stephanie Rawlings-Blake at the U.S. Conference of Mayors in Washington, D.C., when she stood up in front of Rawlings-Blake and other officials and held up a sign that read "16 Shots & A Cover Up #LaquanMcDonald #ResignRahm."
The sign was meant to critique Chicago Mayor Rahm Emanuel and the Chicago Police Department. Specifically, the sign called attention to the police shooting of Chicago teen Laquan McDonald.
Goggans, a native of the D.C. area, stood silently in front of the group for about 10 minutes, WBBN-TV reported.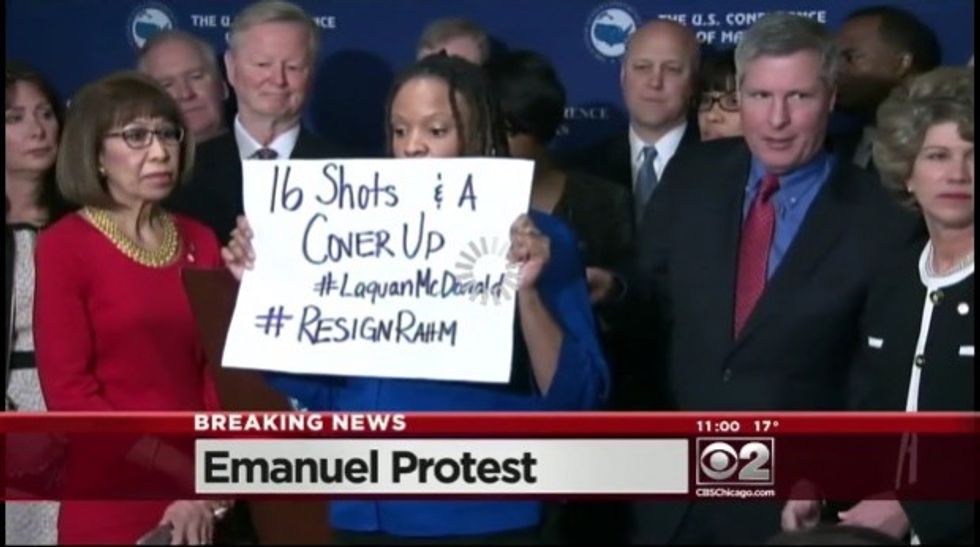 Image source: WBBM-TV
"Elected officials need to know that we are everywhere," Goggans told WBBM after her protest. "We are going to disrupt them. Black people are still being killed by police as these mayors keep investing in the police and not divesting from them to invest in black communities."
Though Emanuel was not at the news conference, he was in Washington for the meeting.
During a panel Wednesday, Emanuel restated efforts his administration has been making to reduce juvenile delinquency and gang violence through summer jobs and youth after-school programs.
"Long term, the biggest impact you can make on gun violence — getting kids to walk across the stage on graduation day," Emanuel said.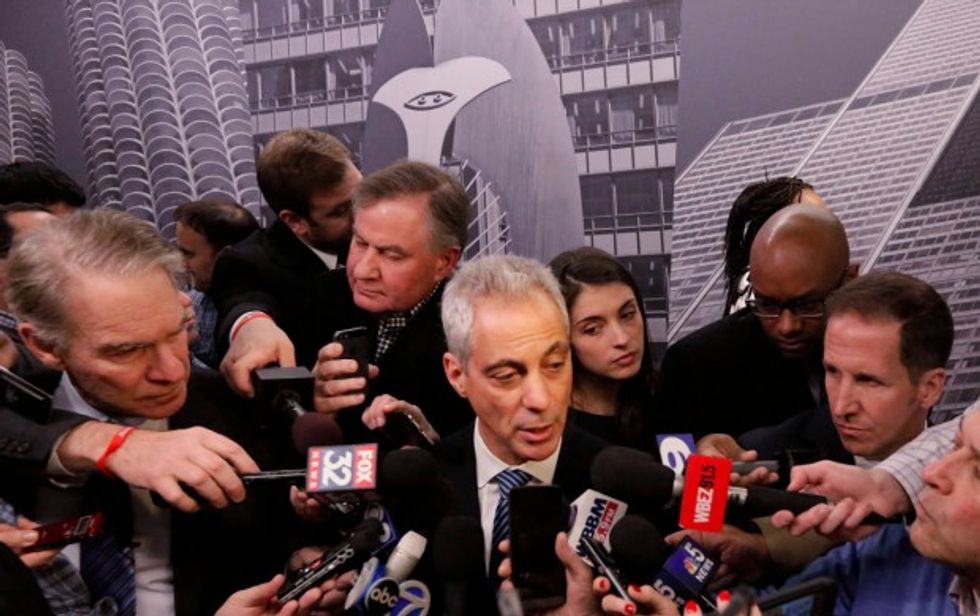 Chicago Mayor Rahm Emanuel (AP Photo/M. Spencer Green)
The shooting of Laquan McDonald by a white police officer did not come up during Emanuel's speech, WBBM reported.
McDonald was shot 16 times by Chicago Police Officer Jason Van Dyke. For an entire year following the shooting, the city's lawyers tried to conceal video evidence.
McDonald, who had a knife on him, was walking away from police when Van Dyke shot him. Police officers who were present at the time of the shooting initially reported that McDonald lunged at them before being shot.
Van Dyke was charged with murder and is currently awaiting trial.
Emanuel has received severe criticism for the city's handling of the McDonald shooting, and some have dismissed his newly proposed police training reforms as too little too late.
Earlier this month, a senior attorney under Emanuel's administration resigned after a federal judge ruled that the attorney hid evidence in the fatal police shooting of Darius Pinex.
Goggans is one of many who have protested Emanuel's regime, though she is the first to have interrupted a mayoral news conference to do so.
Watch the video of Goggans' protest here:
(H/T: WBBM)