Taxpayers have spent almost $73 million on President Barack Obama's travel for political fundraisers and vacations, according to federal documents obtained by the conservative watchdog group Judicial Watch.
The latest tally comes after the Air Force released documents showing the public's share of the cost for Obama and his family to travel to California for a fundraising swing was more than $2 million. This brought the known total expense to taxpayers for non-government related travel on Air Force One to $72.8 million — more than $10 million per year.
"Barack Obama is now the $10 million-man when it comes to wasteful presidential travel," Judicial Watch President Tom Fitton said. "It looks like that visit with grieving families was an excuse to get out to sunny California for some fundraising with celebrities such as Kanye West — and golfing."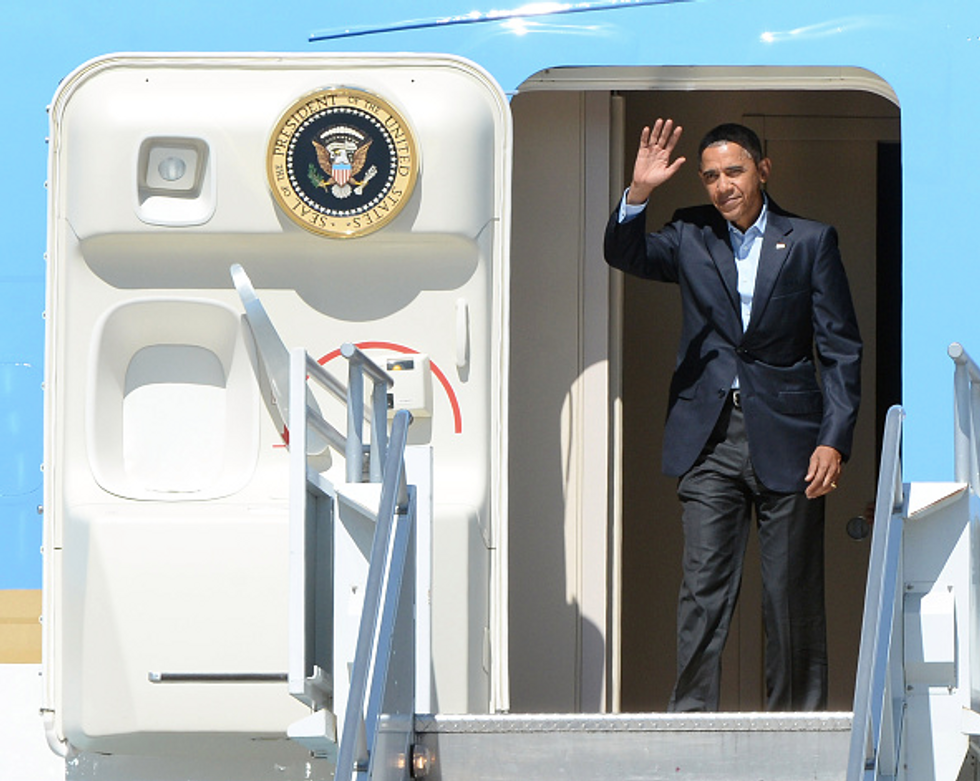 President Barack Obama arrives in Air Force One at LAX Airport Oct. 10. (Michael Kovac/WireImage)
In October, Obama hit Los Angeles, San Francisco and San Diego for high-dollar Democratic fundraising events, where he met with several stars, including West. On the way to California, Obama stopped in Oregon to visit the families of victims from the Oregon community college shooting.
The conservative organization released the records Thursday that it obtained in a Freedom of Information Act request. The records show that Obama's California fundraising tour for the Democratic party cost taxpayers $969,783 in flight expenses — the flights to Los Angeles and San Diego were 4.7 flight hours at $206,337 per hour. The newly released documents did not show the cost of the return flight, but previously released documents show it was more than $1 million, which would bring the total round-trip expense to $2 million.
A 2013 study by the National Taxpayers Union found that Obama was on track to be the most-traveled two-term president in history. Obama's travels did not let up during sequester budget cuts.
White House rules for vacations, or unofficial travel such as political travel, requires reimbursing the government the equivalent to the cost of what a first class commercial flight would have been. Such a reimbursement would amount to only a fraction of the total cost of most presidential travel because it does not include the cost of Secret Service protection and a commercial airline ticket is significantly less than the cost of operating a military passenger jet.