Conservative comedian and pundit Steven Crowder offered sharp critique for Republican presidential front-runner Donald Trump on The Glenn Beck Radio Program Thursday morning, saying he believes the billionaire Republican is "quite similar" to Democratic presidential hopeful Vermont Sen. Bernie Sanders.
"Listen, there are a lot of parallels. People don't want to acknowledge this. But if you look at their economic policy, outside of the marginal tax rates, Bernie Sanders and Donald Trump are quite similar," Crowder host Glenn Beck.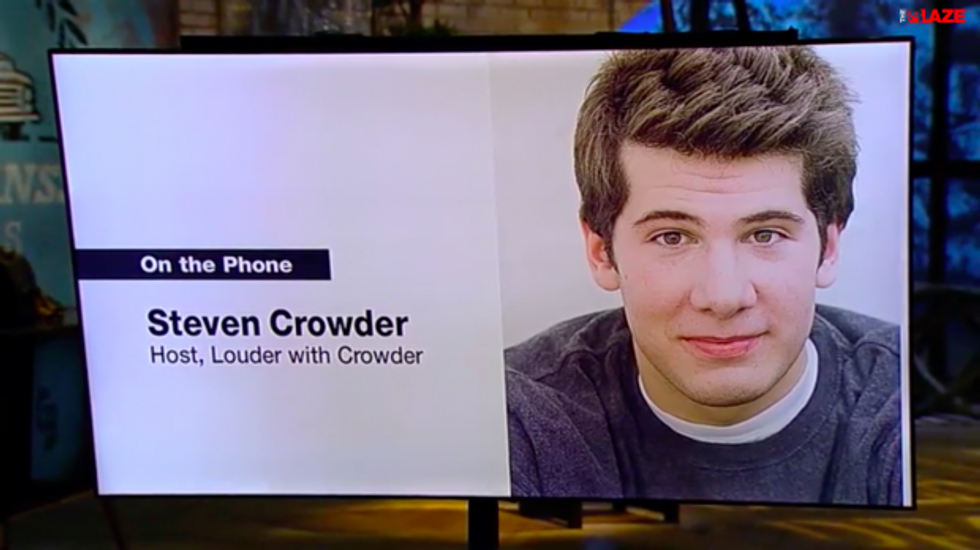 Image source: TheBlaze TV
To make his case, Crowder argued that Trump is peddling grandiose economic policies comparable to those of Sanders, just with a "different voice." Sanders, a self-avowed Democratic socialist, has been making income inequality and middle-class America a centerpiece of his presidential bid. Crowder argued that Trump is doing the same, but with different language.
According to the comedian, Sanders wants to protect the American worker from "foreign threats," meaning jobs moving overseas, and Trump says he wants to "stick it to China" — verbiage he has used often throughout his campaign.
"It's the same thing. You're talking about two protectionists and two people who essentially want to guarantee equal outcomes," Crowder told Beck.
He went on to say that he does not believe either candidate is talking about creating "incentives" or working toward a more "business-friendly society."
Later in the program, Beck asked Crowder, "Who does the left and the media hate more on the right? Donald Trump or Ted Cruz?"
Crowder's answer made it clear what he thinks about Trump: "Well, only one of those is on the right. So I don't know if this is a trick question."
Complimentary Clip from TheBlaze TV The full episode of The Glenn Beck Program, along with many other live-streaming shows and thousands of hours of on-demand content, is available on just about any digital device. Click here to watch every Glenn Beck episode from the past 30 days for just $1!
—
Follow the author of this story on Twitter and Facebook: