University of Missouri communications professor Melissa Click has been charged with third-degree assault, three months after video surfaced of her trying to physically remove student journalists who were trying to cover racially charged protests.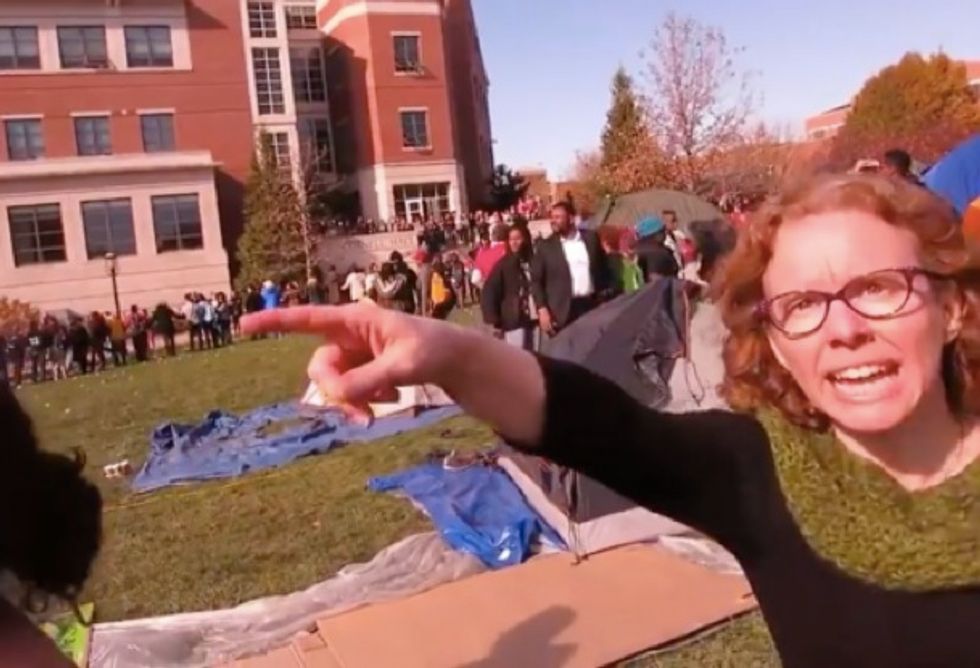 University of Missouri communications professor Melissa Click telling student-journalist Mark Schierbecker to leave students' space. (Image source: YouTube)
Click called for the removal of student journalists covering campus protests in November that eventually resulted in the resignation of University of Missouri President Tim Wolfe. In the video, Click can be heard calling for "muscle" to remove the student journalists, as TheBlaze previously reported.
At least 100 Republican state lawmakers in Missouri later called for the university to fire Click, but only one member of the university system's board of curators agreed with them. More than 100 Mizzou faculty members responded by signing a letter supporting Click, the Kansas City Star reported.
Click resigned a courtesy appointment to the university's School of Journalism following the dust-up but is still employed as an assistant professor in the Department of Communications. Click has apologized for her actions. If convicted, she could face 15 days in jail.
A University of Missouri representative did not immediately respond to a request for comment from TheBlaze.
State Rep. Caleb Jones, a Republican, responded to the charges Monday, telling KQFX-TV, "While the University of Missouri seems to have no accountability, the judicial system in Missouri does."
(H/T: KQFX-TV)