In an extremely awkwardly-worded inquiry, Republican presidential contender Sen. Ted Cruz's wife Heidi Cruz was recently asked on the radio to settle the question of her husband's natural-born status.
"Would you please respond to the fact of whether you're sleeping with a...uh...an immigrant?" the 1400 KVFD-AM radio host, who felt "silly bringing this up," asked Cruz, who was joined by Iowa Rep. Steve King, who has endorsed Ted Cruz.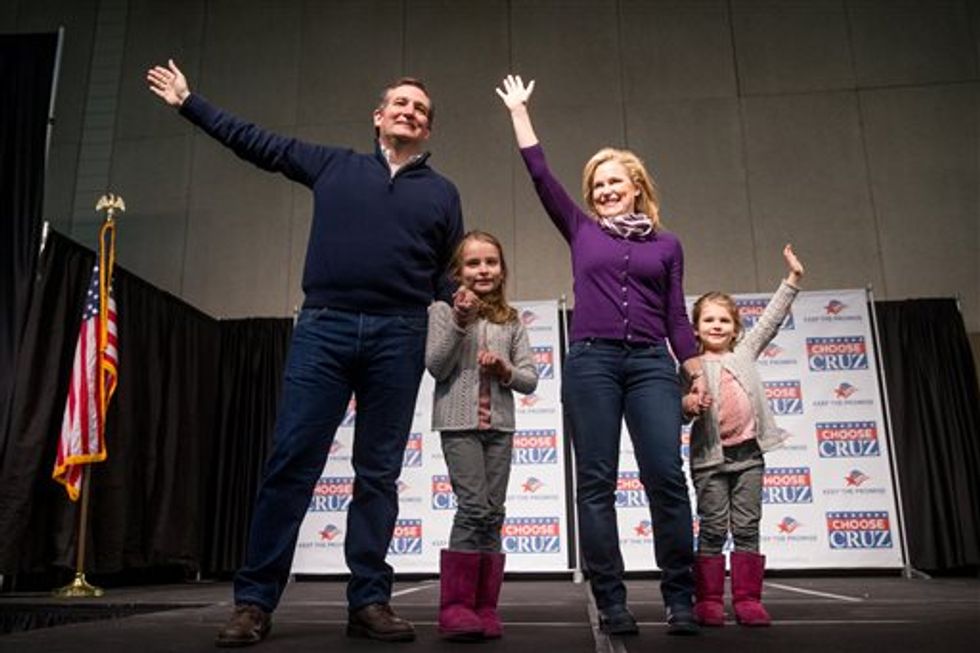 Republican presidential candidate Texas Sen. Ted Cruz, accompanied by his wife Heidi and their two daughters Catherine, 4, and Caroline, 7, waves to members of the audience after speaking at a rally at the Five Sullivan Brothers Convention Center in Waterloo, Iowa, Saturday. (AP Photo/Andrew Harnik)
Cruz, however, took the odd question in stride, making a joke and then continuing into a more serious answer.
"There was a funny post on the Internet that the Canadians are saying, 'Don't worry he's 100% American,' so I think that can partly settle the question," she said. "But this is not hotly contested in the law. There are a few liberal professors out there who are trying to stir this up, but there is a definition of a natural-born citizen, and Ted fits that definition. He was born to an American mother in a foreign country."
Heidi Cruz went on to tell the radio host that there have been a "number of other people" who have run for president who have had similar circumstances.
"[Mitt] Romney's father ran for president — he was born in Mexico on a ranch in Mexico. McCain was born in Panama and not on the base. Not on the American base in Panama. He was born in a hospital in Panama City. He ran for president," she told the host.
According to Cruz, the issue is totally settled. "It's stated in the Constitution that you're eligible if you're a natural-born citizen. There is a definition of a natural born citizen. There's no case here," Heidi Cruz said.
At that point, King, who said he has "looked into" the issue, chimed in.
"I'd like to simplify this. This is a Trump ploy. ... You are either natural-born or naturalized. No one questions Ted Cruz's citizenship — not even Donald Trump, he hasn't run that ploy yet," King, who sits on the House Constitution Subcommittee, said. "And, so, if you're not naturalized, you are natural born. And that means you're naturally born where you're automatically an American citizen. ... So I think there's zero legal question about this."
Listen to the radio segment below:
(H/T: BuzzFeed)
—
Follow the author of this story on Twitter: